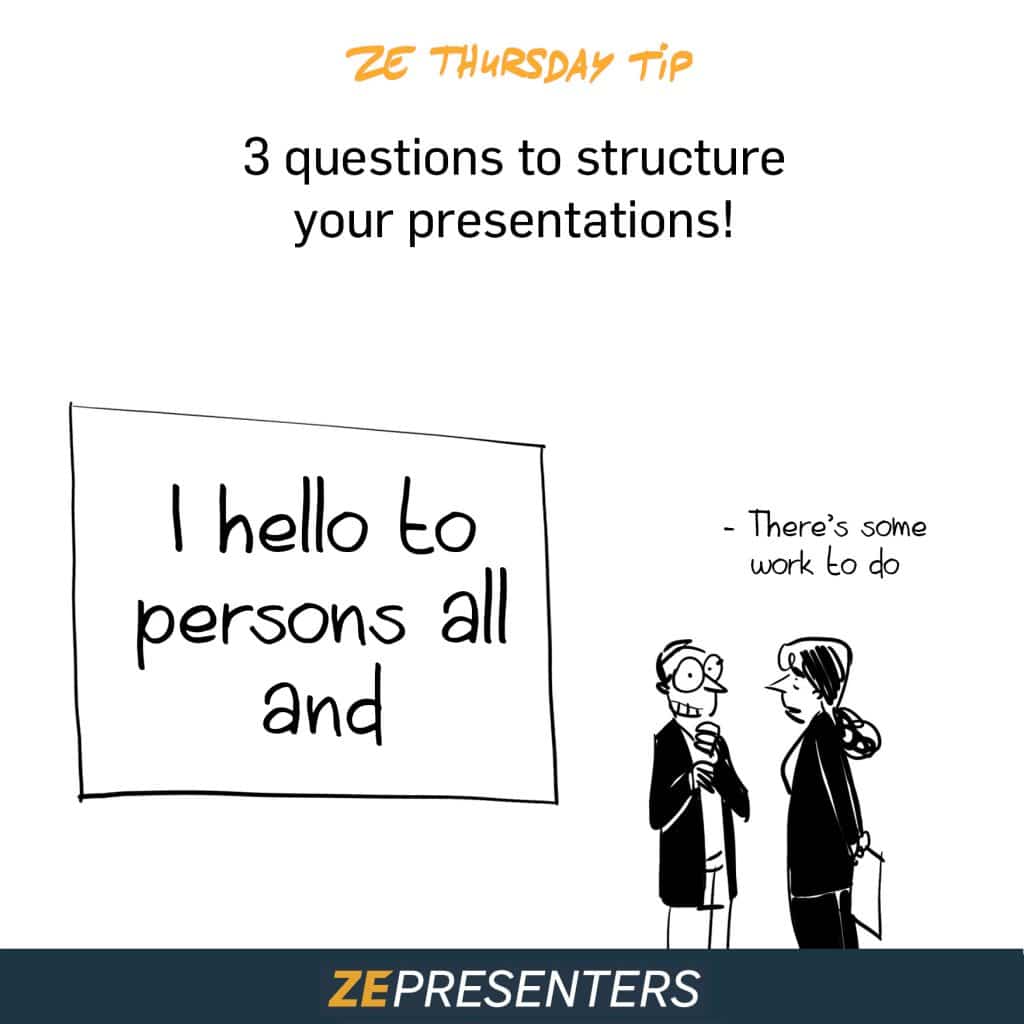 3 questions to structure your presentations!
You're a manager and you have just attended the presentation of one of your colleagues. Despite the commitment and willingness to do a good job, the results leave room for improvement…. But at the end of the presentation, the speaker comes to you and asks: "so, how was it?" And you know that you simply don't have any constructive feedback to give. To save time you try the usual spiel: "how did you feel?" Knowing full well that this is not how you will ensure your colleague improves his or her speaking skills.
Don't panic, we have what you need: 3 questions to organize your speaker's remarks. These 3 questions will, allow you to accompany your colleague before the presentation in structuring his or her remarks. And afterwards, they will also serve as a grid to provide constructive feedback after each speech. So, follow the guide, you're going to love giving feedback!
1 – What keeps your audience up at night?
If the beginning is choppy and the usual reminder of the context gives you the impression that you've heard it a hundred times before, you can help the speaker by asking: "what keeps the audience up at night?
The starting point is always about the audience and the problem it's facing. That's why it is so important to clearly know the profile of the audience, so as to have an opinion about what it is looking for or what it cannot do. This is what will capture interest and make your proposal all the more attractive.
2 – What is your promise of change?
Once you have captured the interest of your audience, the idea must be made clear and desirable. If it appears confusing, or unoriginal, you can challenge your colleague by asking: "what is your promise of change?"
The project that is presented is intended to change things for the audience! The goal: offer a better future thanks to the change brought about by your idea. A desirable Promise of change will bring your colleagues to present their ideas in an inspiring, distinctive and concrete manner.
3 – What do we gain?
Have you ever heard the magic words "in conclusion?" If it is not the case, there is still some work to do. There is nothing worse than a presentation that ends with the dismal: "there you go…"
A real conclusion allows you to summarize the key message of your idea and insist on the benefits that one will be able to draw from the experience, like a final bouquet! Tell your colleagues not to forget that the presentation will end with these final words and that it is their last opportunity to make a strong impression.
As a manager, these 3 questions arm you in any circumstance to never find yourself caught off guard when it comes to providing feedback to your team(s). But we have some more good news: what is valid for your team is also valid for you. So, don't hesitate to apply these guidelines for your own presentations; and maybe your teams can give you some feedback!