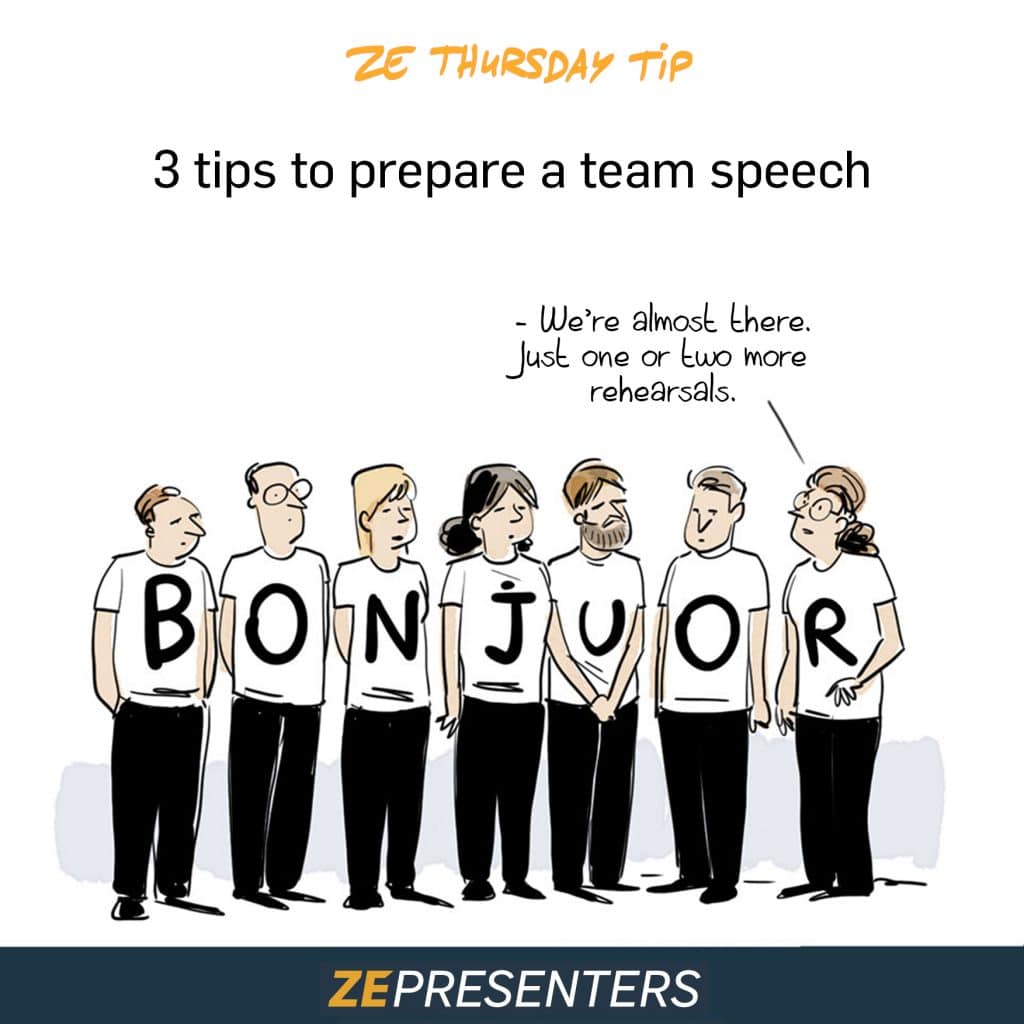 3 tips to prepare a team speech
More and more often in business, public speaking has become a teamwork exercise, in which we tend to have the reflex to prepare for… individually
The result: Rather than a coherent and united whole, a group presentation amounts to a series of individual speeches devoid of global meaning.
And if the experience is far from optimal for the speakers (and yes, group work is not very popular) it is even less so for the audience; a helpless spectator of a disorderly group effort.
Yet, speaking as a team has all the ingredients to keep people in suspense:
Changing speakers regularly gives rhythm to your speech
Several brains involved in the writing enrich its content
The different personalities bring your words to life in several ways
The options for staging are increased tenfold and give way to your creativity
So, here are 3 tips to prepare your team speech, and give you a taste for group work!
Prepare together
If you are speaking together, assume that you will need to prepare together. Since calendar compatibility is often an issue, aim for a rather small team (4 people), anticipate as much as possible, and plan several preparation sessions in advance (ideally 4 sessions).
Session N°1: Clarify your idea
 Your first session should allow you to clarify your subject together and agree on your presentation objective. A key question to ask yourselves: what is the idea? By answering it, you'll co-construct the pitch of your presentation, which will align the whole team with your idea, and will also serve as an introduction.
Session N°2: Structure your story
In this step, make sure that each team member is aligned with your common pitch, then decide together on the structure of your presentation. Keep in mind that an engaging and inspiring presentation is based on a logic of narrative loops borrowed from storytelling. 
Also take advantage of this step to start distributing the roles and the workload. Be clear on all the points raised but let each speaker write his own part. This will allow each person to maintain a firm grasp of the common ideas with his own words. Give yourself the goal of being ready the next time for a first rehearsal.
 Session N°3: Stage your presentation
That's it, the content is ready! Generally, this is where you consider yourself ready to present. Many groups then immediately get started, for lack of time or overconfidence, without working on their staging or rehearsals. Fatal error! And yet, staging is a crucial step in your presentation because it allows you to strengthen your impact.
This is the moment when you will:
Show your slides in order to standardize them. If there is someone in the team who is more naturally focused on simple and impactful slides, see how you can share the slide work or benefit from their advice.
Foresee how you will position yourself in relation to the screen, standing (always better), sitting (come on, a little courage, get up), or behind a podium (uh … why are you so bent on hiding yourself?)
Anticipate the sound system, a Capella, hand microphone or headset (preferred to leave hands free)
Prepare your transitions in order to convey confidence and increase the feeling of having a united, well prepared team
In short, everything that needs to be coordinated before… rehearsing!
 Session N° 4: Rehearse!
 You're almost there, just one step to go: rehearsal! And it's not about rehearsing your text alone in the shower, but together, in "real" conditions. Get together one last time and rehearse your entire presentation. Pay particular attention to your transitions and handovers. If you have taken the necessary time to clarify your idea and structure your story, your transitions should be done naturally with the aim of highlighting the next speaker.
By anticipating enough in advance and with a little goodwill on everyone's part, you should be ready to present as a team and increase your impact tenfold. Don't forget that "teamwork makes the dream work!"