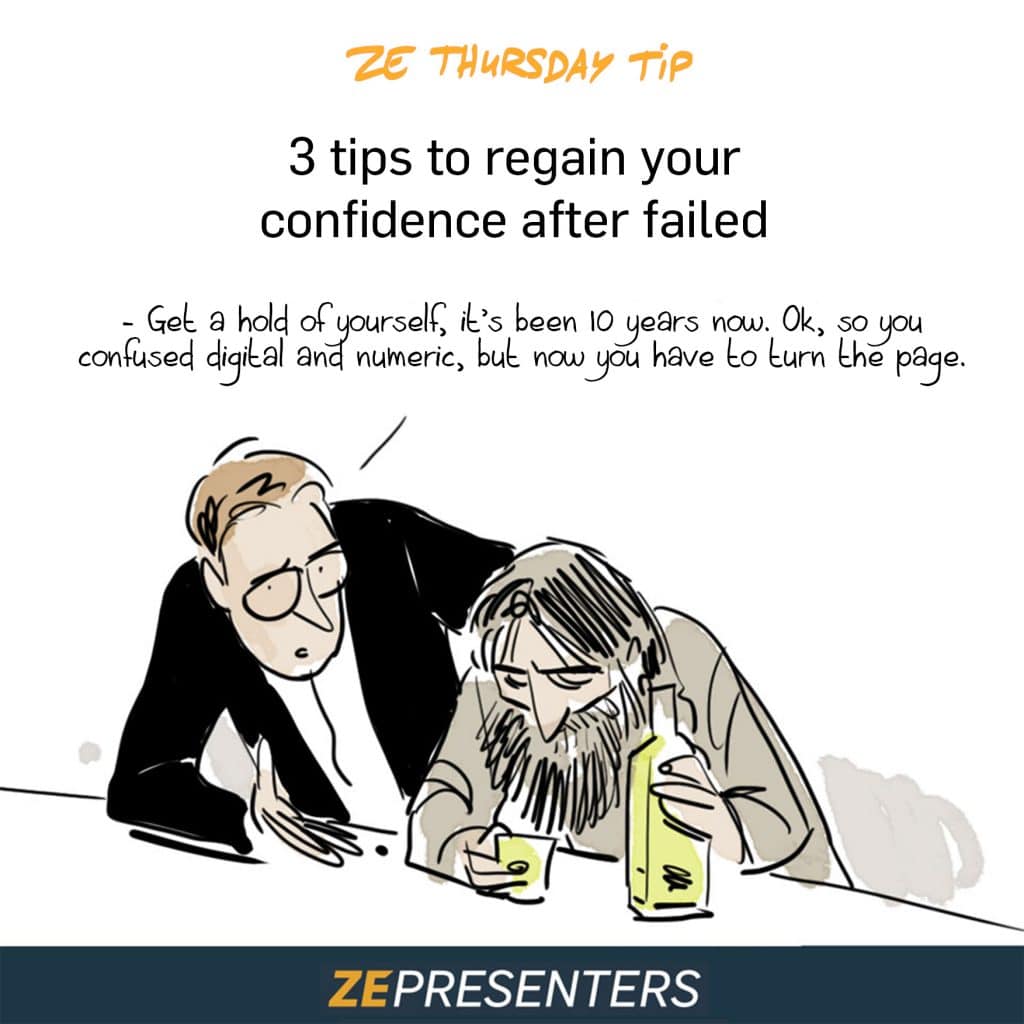 3 TIPS TO REGAIN YOUR CONFIDENCE AFTER A FAILED SPEECH
We all know of a time when our speaking engagement didn't have the impact we wanted, when we failed to get the amount of people on board we needed or had imagined. The feeling that sticks is that we weren't up to the task and this is never easy to live with. Faced with this situation, we don't all react the same way:
There are those who seem to not care about it

This is dangerous, because the reaction often goes hand in hand with thinking that it is systematically someone else's fault. We can always attribute our failed speech to the audience: they didn't listen, they had too many preconceptions… by reacting this way, we can protect ourselves for a time but we take away our ability to act and to progress.

There are those who will get sick over it

In this case it is the social image that is affected. We run into those who witnessed the "disaster" every day, and we endlessly relive the moment when we disappointed them… but this reaction is hardly more enviable because it prevents us from serenely analyzing our mistakes and learning from them.

And then there are those who will turn it into an opportunity

They are the ones who remember having had a very unpleasant time, but who also know how to take it upon themselves. They take a deep breath and look for a way to start again on a better footing by asking the right questions.
If you choose the latter path, here are 3 questions that hide 3 concrete tips to convert this failure into a great opportunity to learn and to grow.
1.What affected you? 
Public speaking is often summed up as an image issue. We take to the floor worried, wondering what people are going to say to each other. As a result, failure means that we were ridiculed and that people will forever have an image of us as an inept speaker. However, the purpose of a speaker is not to protect his/her image. The stakes are not to worry about your image but to offer a concrete solution to a public need. A speaker is a guide who proposes to an audience to follow him on the path of his idea in order to obtain their approval and commitment.
Learn to sort it through! If what affected you relates to your image, it will pollute your analysis and be of no use to you.
2.What did you learn?
Once you've come to terms with your awareness, you can get to work. The goal is to identify the lever(s) that you failed to activate to gain confidence. As you speaker, you have three:
How did you build your message? Was it optimized to involve your audience? How did you go about making the ideas you want to share desirable? Did you anticipate audience resistance and prepare a suitable pitch?
To strengthen your narrative strategy, you can re-read:
Help I don't know how to tell stories 
What didn't work in the relationship you created with your audience? When did they stop following you? What are the subtle signals you could have used before it was too late? Do you have in mind a reaction that could have appeased the situation?
To prepare yourself for a potentially hostile audience you can re-read: (English link)
: https://www.zepresenters.com/en/hostile-audience-easy-as-pie/
Were your intentions clear? Did you make your feelings known on the theme? Did you try to hide what you felt when you realized that the presentation was getting away from you? Do you have a clear idea about what the participants felt?
To learn how to better manage your emotions you can re-read: (English link)
By analyzing these three angles you can make a rational diagnosis of your presentation and do something to work more effectively the next time.
3. Can you still have an influence? 
Yes, you can, it's hard to fail. It's hard to come across someone in the hallways, who witnessed your "missed moment."  It's a hard moment to live with but it's even harder to not do anything about it, isn't it?
The only way to bounce back effectively is not to say "I need to catch up" but to ask yourself how you can still have a positive influence? How can you be useful now where the presentation wasn't before?
Ask yourself how you can:
Act on the relationship to remain a trusted person for your audience
Improve the narration of your idea to respond to the resistance that the idea may have generated
Strengthen and better share your emotional commitment
Because it is by being trustworthy, clear about the issues and by embodying your project that you will succeed in getting your audience on board.
So, of course, it is never very pleasant to rethink and rehash a moment that we would like to be able to forget. But it's important to go through it, so that this moment does not happen again. Turn this failure into an opportunity to improve yourself. Ultimately, this is how you will have a positive impact on your image, by affirming your leadership and your ability to bounce back.