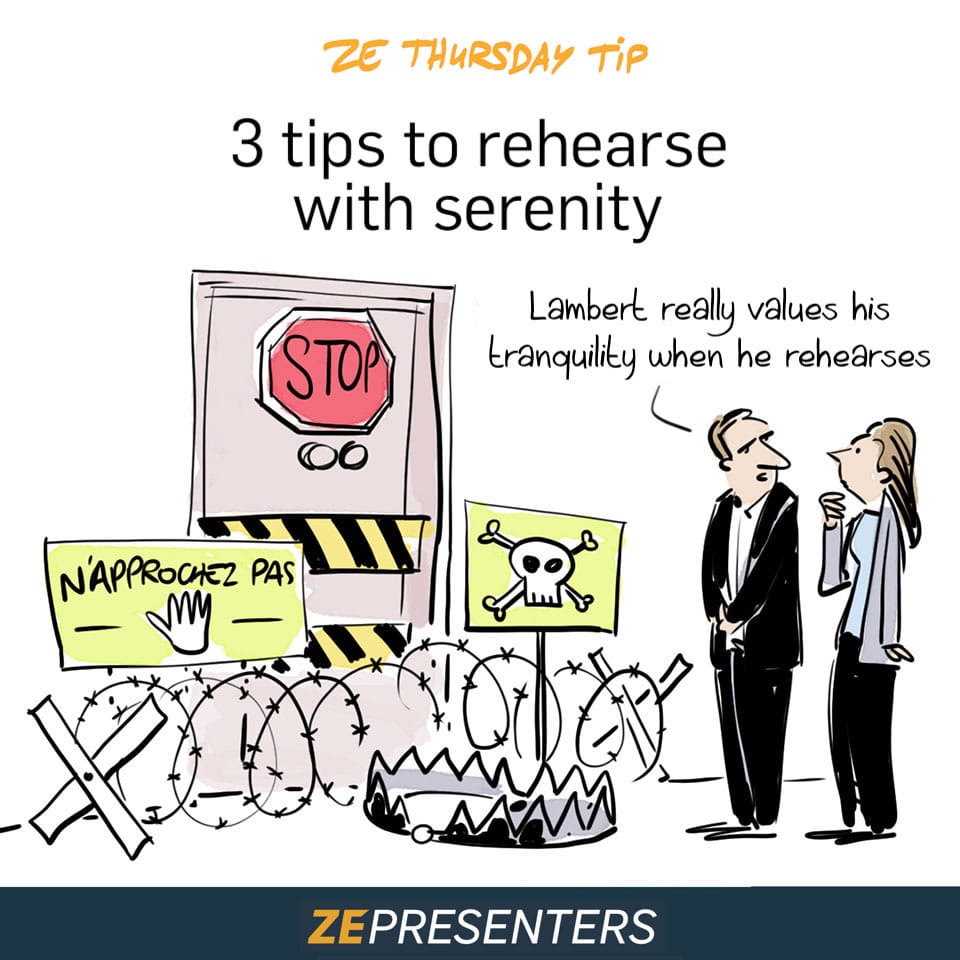 3 tips to rehearse with serenity
You have regularly seen in our previous tips that rehearsing is an essential step if you want to progress. When we encourage people to rehearse during our consulting and training sessions, everyone is convinced of its usefulness. But it's still just as hard to get started. Why do we always postpone rehearsal times?
There's always a good reason not to rehearse: I don't have the time, I prefer to stay spontaneous, I master the subject well. The moment when you're about to speak in public is never an insignificant one. It is not a question of being convinced of your know-how, it is a question of being ready! Postponing, or even refusing to rehearse is always an expression of stress. There are those who get angry (fight stress), there are those who always have a good excuse (flight stress) and there are those who get exhausted just thinking about it (inhibited stress).
Rehearsal is the only time you can test your narrative strategy and confirm that you embody it effectively. In the HUBSTORY® method (link), the Leadership step requires at a minimum a dress rehearsal. And this rehearsal takes on its full meaning when we follow all the steps of the method:
Having clarified the key idea of your message
Having structured your story
Having prepared an impactful presentation medium
The more you've worked beforehand, the more useful and effective the rehearsal will be, because it will really take the form of a trial run, and not solely the moment when we try to laboriously put all our ideas together from beginning to end.
Here are 3 tips to create the conditions for an effective rehearsal:
1 Accept that when we rehearse, everything is not ready
This is precisely why rehearsals exist! You'll feel ready because you've rehearsed. This work phase enables you to recreate the stress conditions that you'll experience in real life. It allows you to take a step back to see what you've prepared already and to bring the final touch to the formulation of ideas and their transitions. Rehearsal is the time when you can make all the mistakes that you won't make on D-Day. It is also the moment when your concentration will incite new ideas that are just waiting to be noted down.
2- Rehearse in the right conditions
We don't rehearse in front of our mirrors, in the shower, or in our heads while walking down the street! You'll risk alternating between euphoria ("this is a great idea!"), and periods of despair ("why did I want to do this already?"), depending on your stress phases.
An effective rehearsal must be as close as possible to the actual conditions. This will enable you to create the precise markers, which you can rely on when the time comes. If possible, do these rehearsals in the same room, it will take the stress off, if you know the area. Take a remote control, activate the presenter mode and get started.
3 – Rehearse in front of people
Indeed, these are the most stressful rehearsals! At the same time, you won't be alone in the room when the big day comes. The more you're uncomfortable in rehearsal, the more confident you'll be in the real situation.
Obviously, your "fake" audience will make comments, that's why you asked them to be there! Remember that the exercise is above all for you, in order to get you into condition. It will also teach you how to filter comments in order to take in what is constructive and to ignore what is not.
For most of us, making a speech is much more stressful than rehearsal. Yet we tend to push it back because it makes the big day seem even more real. The more you work the more you'll feel capable. You'll be focused on the here and now and everything will happen as it was prepared.
And to go further, if you want to understand why you feel like you've forgotten everything when the time comes to deliver the message, watch this video: (https://www.ted.com/talks/elizabeth_cox_the_surprising_link_between_stress_and_memory/transcript?language=fr)