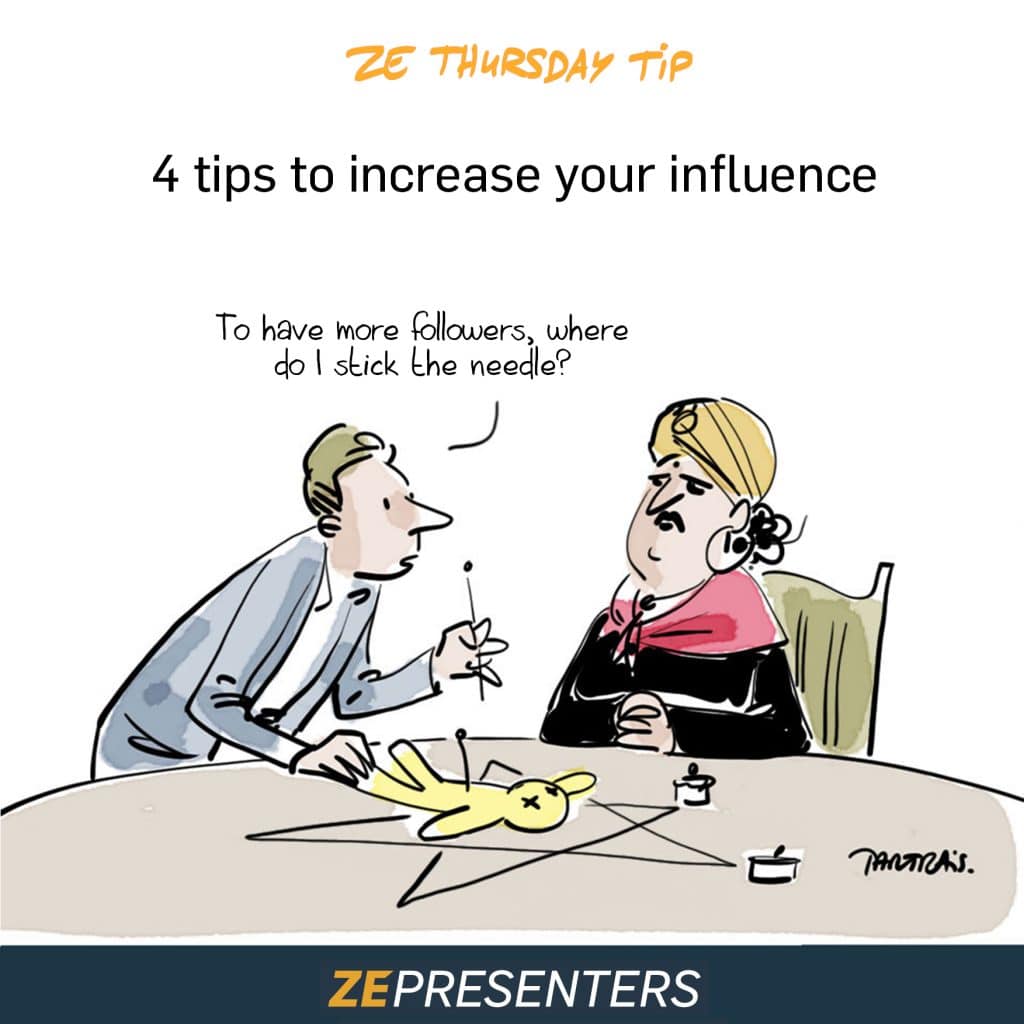 4 tips to increase your influence
More and more companies are looking to awaken the leadership skills of their employees, at the risk of the word becoming clichéd. Far from being a fad, many companies have realized the importance of having team leaders, i.e., people who stand out for their autonomy, their involvement and their ability to get others moving.
To become a key opinion leader is to decide to defend a cause, to assume a share of responsibility and to have an influence in the field where one can act. Whatever your hierarchical level, it means making the decision to invest and develop the area in which, with your skills and your relationships, you can make things happen.
How can you increase your influence with the HUBSTORY® method?
 Increasing your ability to influence, therefore, means increasing your ability to make your opinions and ideas heard, thereby promoting and accelerating transformation. The HUBSTORY® is an agile storytelling method developed by Bruno CLÉMENT and Sébastien BERNARD. Their goal was to create a step-by-step methodology that would transform an idea into a story, optimized for presentation.
But they soon realized that it is not the presentation that counts, but the change that you will generate with it. In the same way, it is not your speaking that counts, but the leadership that you will succeed in conveying. Seven years later, the HUBSTORY® method is made up of 4 stages – Pitch, Storytelling, Story design and Leadership – each of which is a super power to reveal your leadership skills and increase your ability to influence.
  The pitch to clarify your ideas
Influencing is first and foremost leaving a trace. However, it will be difficult for you to make an impression if the idea you are expressing isn't clear! Because the fuzzier your idea, the more likely it will be forgotten. For a simple reason: an idea that nobody understands is an idea that is not relayed. And without a relay, there's no ambassador and no influence.
To make a lasting impression, your project must be clear, concrete and comprehensible. And that's exactly the role of the Pitch. A Pitch is the art of responding concretely to the question: "what is the idea?" This is the trailer of your project that you should be able to pull out in any circumstance.
Being precise in your Pitch is being clear with your idea and therefore fueling your ability to influence.
  Storytelling to structure your history
Once the idea is clear, the goal is to engage your audience. However, just because they understand your idea does not mean that they will agree to implement it. Ideas change things and therefore generate resistance. Storytelling is a super power to increase your influence because it allows your interlocutors, even your detractors, to play a role in the history of your project.
Indeed, when faced with opposition, a reflex often consists in arguing and justifying oneself. It leads to sterile exchanges where everyone tries to be right without ever convincing anyone. On the contrary, Storytelling flourishes in controversy. The more resistance there is, the more interesting stories you will have to tell.
In your role as a key opinion leader, Storytelling is a real key tool because it invites you to narrate your project in the form of a story in which everyone has the opportunity to play a role.
  The Story design to stage your presentation
Presenting, often associated with the use of PowerPoint, is a strategic moment when the collateral damages can be numerous: loss of credibility of the speaker, audience boredom, misunderstanding of the projects… the list goes on.
Plenary meetings, informal exchanges, Story designing consists in proposing a staging that is coherent with your project and adapted to your audience. For a meeting, you will prepare some slides, in the elevator, using your tablet, while the annual convention will benefit from much more teamwork. You will further increase your impact by considering that the experience of a presentation begins well before speaking, when you send your first email invitation. Likewise, it ends well after, by sending a summary document or a proposed future meeting.
By transforming these presentation moments into adapted and coherent experiences, you create the conditions for your audience that are favorable to listening and making a strong impact.
  Leadership to embody your project
People don't subscribe to ideas in and of themselves but to the people who carry the ideas. Why do people who speak so well make such an impact? Because good speakers manage to obtain something that is infinitely precious: an "a priori" trust.
 We are used to trusting "after the fact;" it is the diploma that you obtain after your exam, the financing of your project after having presented in committee… it is a bit like if you were told "prove to me that you are competent and I will trust you." In this case, you need to prove that. You can be trusted. Yet, to innovate, to sell or to undertake, it is not enough. To assert your leadership is to conquer an "a priori" trust, which makes people want to listen to you even if you don't know everything, which makes you want to go further even if all the obstacles are not removed.
If you fail to build a priori trust, nothing will happen! Let's not forget that when you innovate by definition, you have nothing to show. There is nothing new, nor any desire, if there is no a priori trust. Your objective as a key opinion leader is therefore to build this a priori trust.
Trust is a vector of influence. It is that which invites us to pay attention to what is new and that makes us want to challenge the things that we used to take for granted.
These 4 steps are all superpowers that allow you to increase your influence step-by-step. An influence which, by your ability to make your voice and your projects heard and carried, will transform you into a true key opinion leader of your ideas.