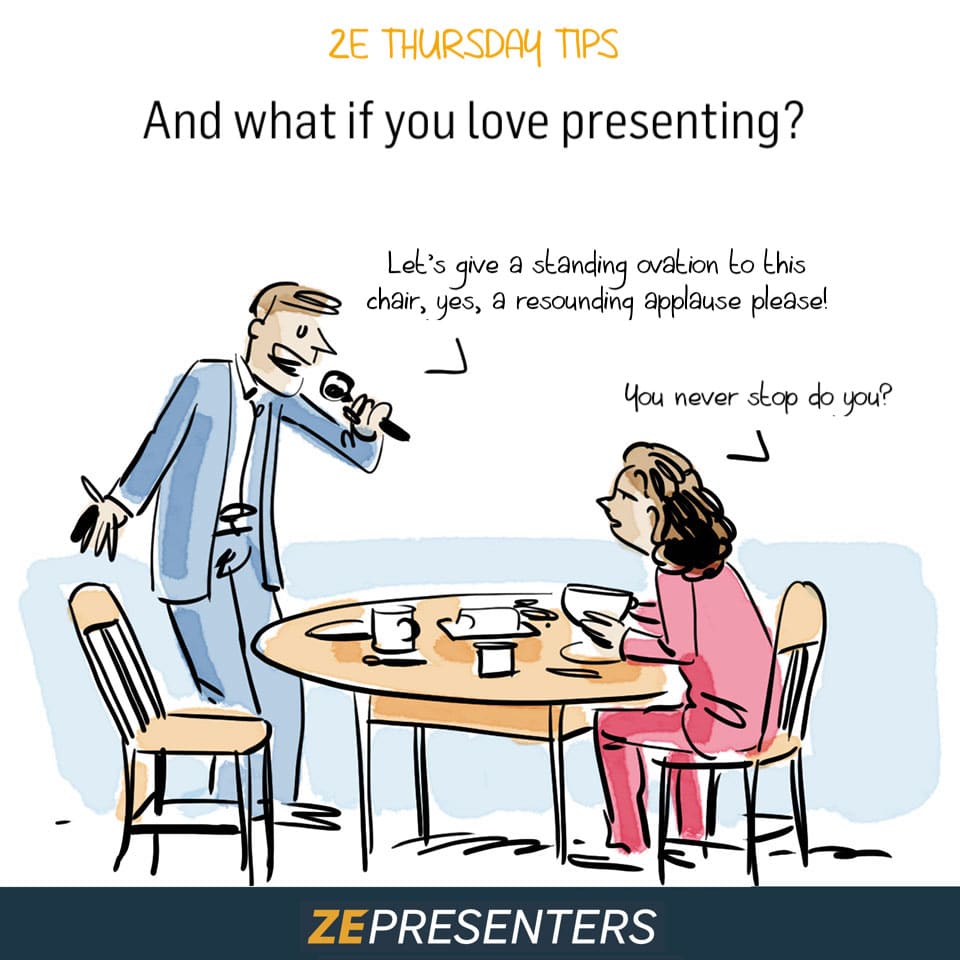 AND WHAT IF YOU LOVE PRESENTING?
We have regularly cited an American study which found that 75% of Americans are terrified of speaking in public. 3 out of 4 people is no small matter. But it also means that for a quarter of those polled, speaking in public is not a cause for concern. We can even imagine that among those 25%, some genuinely enjoy the exercise (yes, it is possible!). How about taking the time to talk about these lucky ones? If, on the other hand, you're on the other team, go straight to the second paragraph!
I love presenting ideas, to continue to progress
This may sound surprising, and yet, there are people who genuinely enjoy speaking in public. People who take great pleasure in expressing themselves in front of others. I know, it's strange… but true!
Since this is rather rare, when we meet this person in business, we tend to let him or her speak often. After all, they like it, they might as well go for it! However, in some cases, this can be counterproductive: just because you like the exercise does not mean that you are necessarily efficient, or that you are the right person to address a specific topic.
To stay focused on sincerity and authenticity, consider whether the chosen speaker would be the natural person to turn to for this topic. If the answer is no, turn to the particular person you need.
If you are that person yourself, ask yourself: "Can my presentation be understood and remembered by the general audience?" If not, don't leave some of them behind on the side of the road, it's time to work on your presentation. You must be clear and impactful on your key messages. This is how you can successfully guide your audience along the path of your thinking. Because, the pitfall, when you like presenting, is distracting your audience, without providing them with real answers to their questions.
As part of strategic speaking, entertainment is just one way to increase the likelihood that the audience shows interest, to make your projects more desirable. It is therefore essential to be in a rich relationship where what you say is at the service of your idea and your audience.
I don't like presenting, can it be treated?
Learn to live with stage fright
When it comes to public speaking, a criterion for success that often comes up is 'ease':
"They are comfortable, I am not."
As if verbal performances had to be shown with a form of comfort. This feeling is mostly wrong. There is a cognitive bias with stage fright: the stress we feel forces us to idealize what others are going through, while minimizing their stress. However, we have a secret to tell you: it is natural to feel uncomfortable! Ease and performance do not necessarily go hand in hand, on the contrary!
Defining your stage presence goal is essential to prevail over stage fright:
What is expected of me?
What is my key message?
What emotions do I want to convey?
By asking yourself these questions and preparing your answers, you can focus on what really matters: your idea.
Learn to structure your remarks
Beyond stage fright, one of the things that amplifies the feeling that you really don't like speaking in public is that you don't like the way you approach topics. We often don't know where to start or find that what we have to say isn't impactful.
Often, when we don't know how to go about something, we take less time to do it; we postpone until the last minute and it ends up being too late. In the end, the remarks we have planned are neither pleasant to deliver nor to receive. In short, we feed our own fears.
Once again, ask yourself these key questions:
What is keeping your audience up at night?
What is your promise of change?
What's in it for them?
These questions are a first step in preparing and structuring your talk. This is a fundamental step in gradually de-demonizing public speaking. Because, when you like what you have to say and have found a way say it in a way we can appreciate, you inevitably get more enjoyment in sharing it with others, and it shows!
Like it or hate it, public speaking shouldn't make you lose sight of the most important thing: your audience. How do I get them on board? Beyond the entertainment aspect, think about providing real answers. And if you are nervous, think about what you sincerely want to share with your audience and try to apply some of these little exercises.