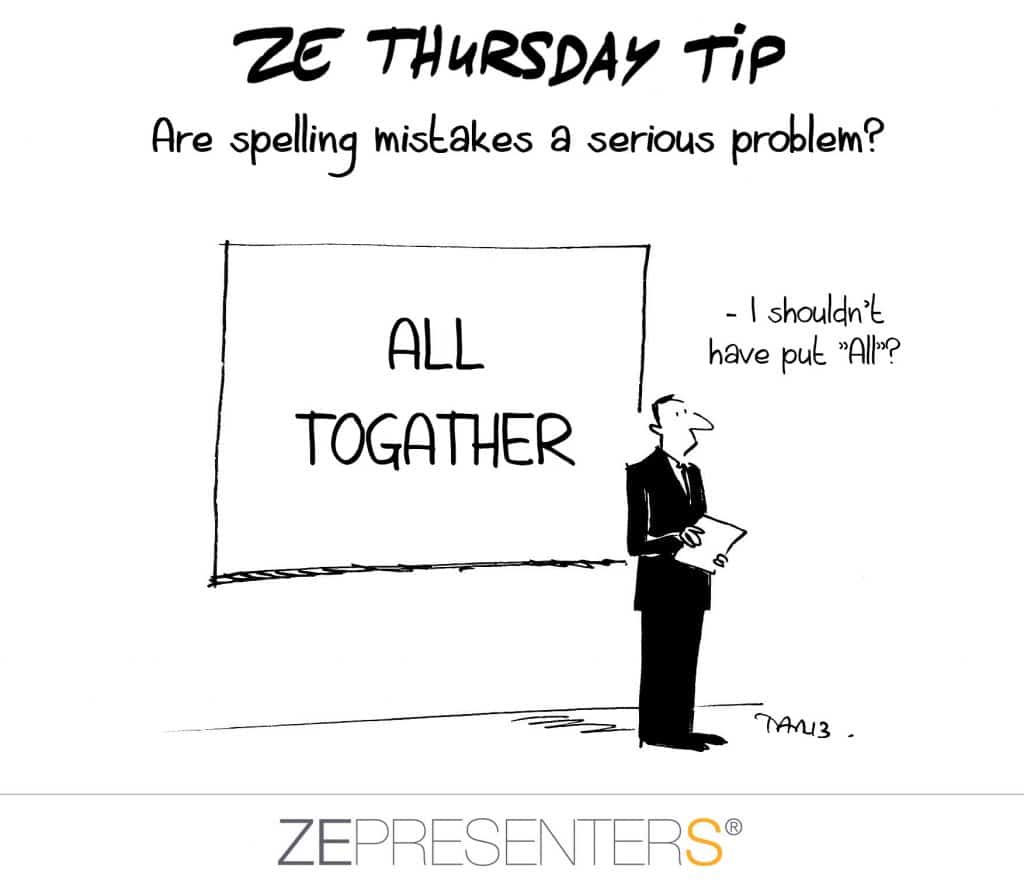 Are spelling mistakes a serious problem?
Having let slip between these lines some beautiful typos, we thought it might be interesting to squarely address the question: is it so bad to make mistakes? It will be fun to leave some suspense before answering since the subject often attracts a lot of animosity. Mistakes are obviously an obstacle to effective communication. But, as part of a presentation, it is curious to see how a simple blunder, a completely isolated mistake that doesn't affect the meaning of the sentence is sufficient to instantly lose the audience's attention and influence the credibility we give to the speaker.
That's right, the question is not to promote laxity and condemn dogmatism…or the contrary. The point is to take the question a bit further. Why is the sight of a mistake so unbearable to some of us? And why do others continue to make mistakes without seeing them?
Grammar and spelling take us far back to primary school. And mistakes awaken our 'pupil' anxieties and feed our fear of being caught. For some, mistakes put their skills and self-confidence into question. This horror of being humiliated again because of a simple mistake haunts many adults for whom sending any email increases the risk of making a mistake that is likely to discredit them. For others, usually influenced by a strict upbringing with a strong attachment to appearances, mistakes are seen as a violation of social conventions, to the point of wanting to punish those who make them.
Though maintaining a "zero mistake" goal is important, it is also important to remember that mistakes are in no way an obstacle to intelligence and creativity. However, consistently tracking them down actively participates in giving you self-confidence and strengthening the credibility of your message. For if after proofreading there is still a mistake, it is someone in the audience who will point it out to you. The more you will have worked on it, the better you will be able to handle the comment without questioning your legitimacy to speak.
Even if we know the rules, it is sometimes difficult to see the mistakes. When we have developed a strong verbal culture, it is actually difficult to pay attention to the grammatical structure of sentences without being caught up by the sense. An effective technique is to read your texts backwards.
And to improve your compliance to the rules, the 'Projet Voltaire et les Timbrés de l'orthographe' (Voltaire Project and the Spelling Nuts) published a list of the most frequent mistakes made (in French):
The plural of compound nouns (56 %)
The distinction between future and conditional (34 %)
Plural numbers (27 %)
Repetition of consonants (24 %)
The agreement of the past participle (23 %)
So look-up the most common mistakes in English grammar, go back to your grammar book and happy proofreading!