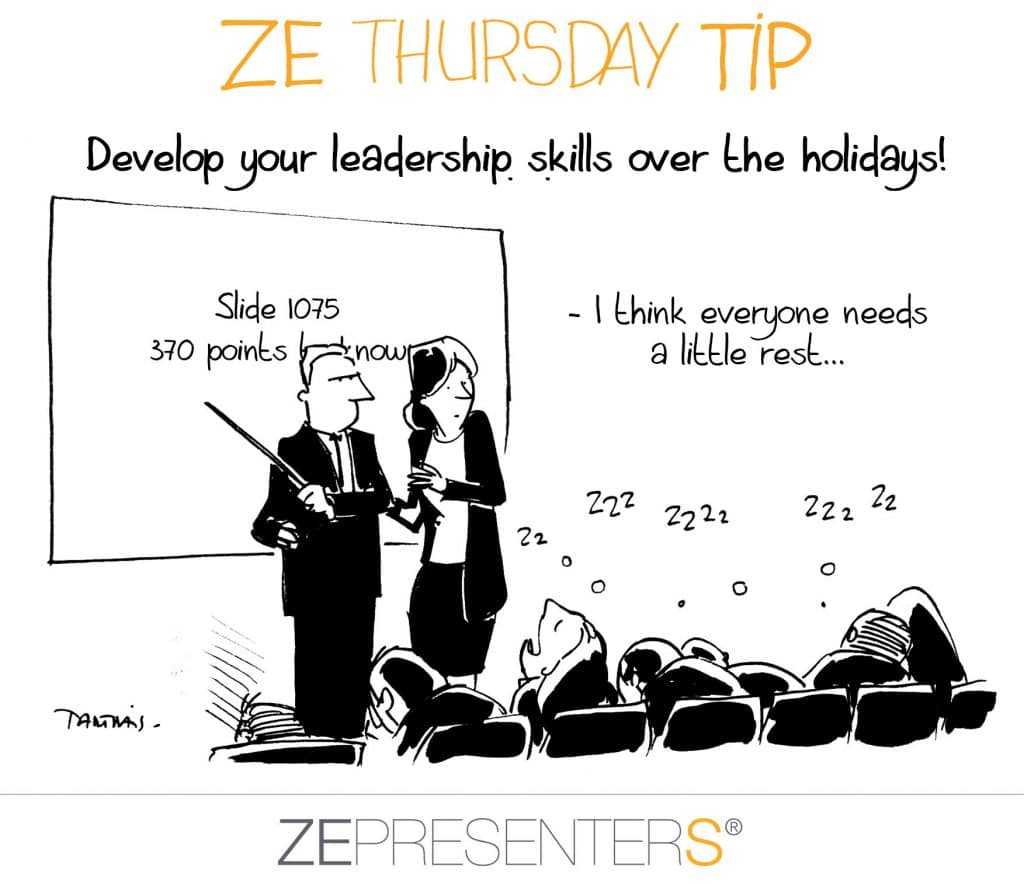 Develop your leadership skills over the holidays!
The time has come for ZE Thursday Tips to take advantage of the summer season and get some rest. With or without holidays, summer is usually a time where work pressure is lower, when we take the time to finally do what the bustle of everyday life make impossible or not a priority. This is the perfect time to take stock of your leadership presence and how you express it.
When we talk about leadership development, our aim is not to address a small part of our readers, a necessarily ambitious fraction who strive to impose their views and establish their domination. First, if leadership is such a prevalent word in our vocabulary, it's because it isn't limited to one way of expressing power. Then there are some of you who have no inclination to assert yourselves as leaders.  Yet like Mr. Jourdain who practices prose without realizing it, we are convinced that all of us are concerned by the need to understand and to beef up the leadership we express. Do you need to be heard? Are you affected by the way people consider your views and listen to your ideas? Do you need to encourage those around you to want to keep moving, to change, to dare and to give meaning to what they do? If your answer is yes to one of these questions, here are some opportunities to practice during the holiday:
Go into story mode.  The summer is the time when we meet people we haven't seen in awhile and to whom we have lots of things to say. There are many moments in life where we naturally go into "story mode." Where we instinctively do what seems so difficult during the rest of the year when we have to present professional subjects to an audience. Take the time this summer to remember these moments where it seems so simple and important to tell a funny story or anecdote. You'll see that when we go into narrative mode, we always have an intent in mind. We never tell a story just for the fun of telling it but to reach an objective: drawing attention to ourselves, setting an ambiance, making others see who we are, showing the importance of our views… This way when we start again in September, you'll not speak in public only because you were asked to but because it will be the chance to express your intention. You'll be more involved and will give more meaning to your words.
Test your personality. The holidays are also a moment where we have all the time in the world to do some crazy personality tests. Don't be afraid of the results, in general, they're devised so that in the end you're happy with yourself! We always recognize a bit of ourselves in these tests. Whether we're at the office with colleagues, at home or at the restaurant with friends, we have the opportunity to express very different parts of our personality.  Asserting yourself and the image you have of yourself is an essential factor to improving your way to approach public speaking. When you read the results of the test, ask yourself: what are this person's strong points when he speaks? What distinguishes him from others? What motivates him to get over stage fright and put forth his projects and ideas? And what if you were to become this person? …
Pitch! We have written a lot this year about the primacy of desire over reason. Indeed it is totally useless to put on meticulous demonstrations to someone who is mistrusting, has prejudices or is simply afraid of following you… he will not listen!  You will find yourself in the situation of a political conversation where everyone states his or her views without really taking into account what others are saying. Pitch techniques are precisely optimized to create desire around your projects and ideas. And especially, the desire to know more… When you prepare job or training interviews, your goal is indeed to make the other person want to know more, in the form of a second meeting or a trial period. When you like someone and propose a meeting, your goal is always the same: create the desire to know more.
We wish you a wonderful summer and hope you'll join us on Thursday September 1 for a new season of ZE Thursday Tips!