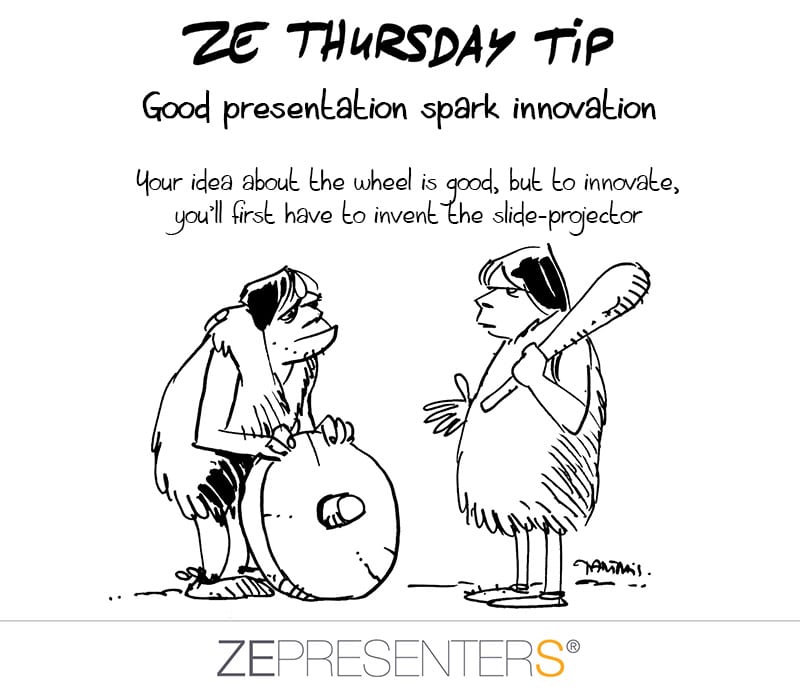 Good presentations spark innovation
The stakes in giving a good presentation aren't minor. The development and commercial success of companies depend on it. Because the ability to effectively present ideas is directly correlated to the potential for business innovation. Having good ideas is not enough to succeed. You must also be able to explain, share your vision and generate approval so that your ideas can be heard understood and spread. Every day we see average ideas take precedence over some great ones simply because they were presented more clearly by more credible speakers.
It must be said, it is not very fashionable to defend PowerPoint. From Jeff Bezos, Amazon's CEO, who prohibits the use of the software, to Michel Serres, who mocks how the application formats and limits our thought process, criticism comes from all sides. Yet, whether its Sway, presented by Microsoft as the successor of PowerPoint, or the French software Bunkr, which raised 1 million Euros in 2014, the news on presentation software is buzzing. Our view is simple: there is no more effective way to convey a message and make a strong impact, than to associate the commitment of a man with the impact of perfectly designed slides!
The latest news is that the new law concerning training accounts will no longer subsidize cross-disciplinary fields such as public speaking. Training organizations are already complaining about the shortfall. We believe that on the contrary it's a huge opportunity to bring the art of sharing ones ideas out of the sole field of personal development.
Contributing to the overall increase in the ability of men and women to express their ideas clearly and effectively is a major strategic stake for organizations. It's the raison d'être of the ZE TIPS and our activity. During this period of well wishes, the entire team at ZEPRESENTERS wishes you great success with your craziest ideas.