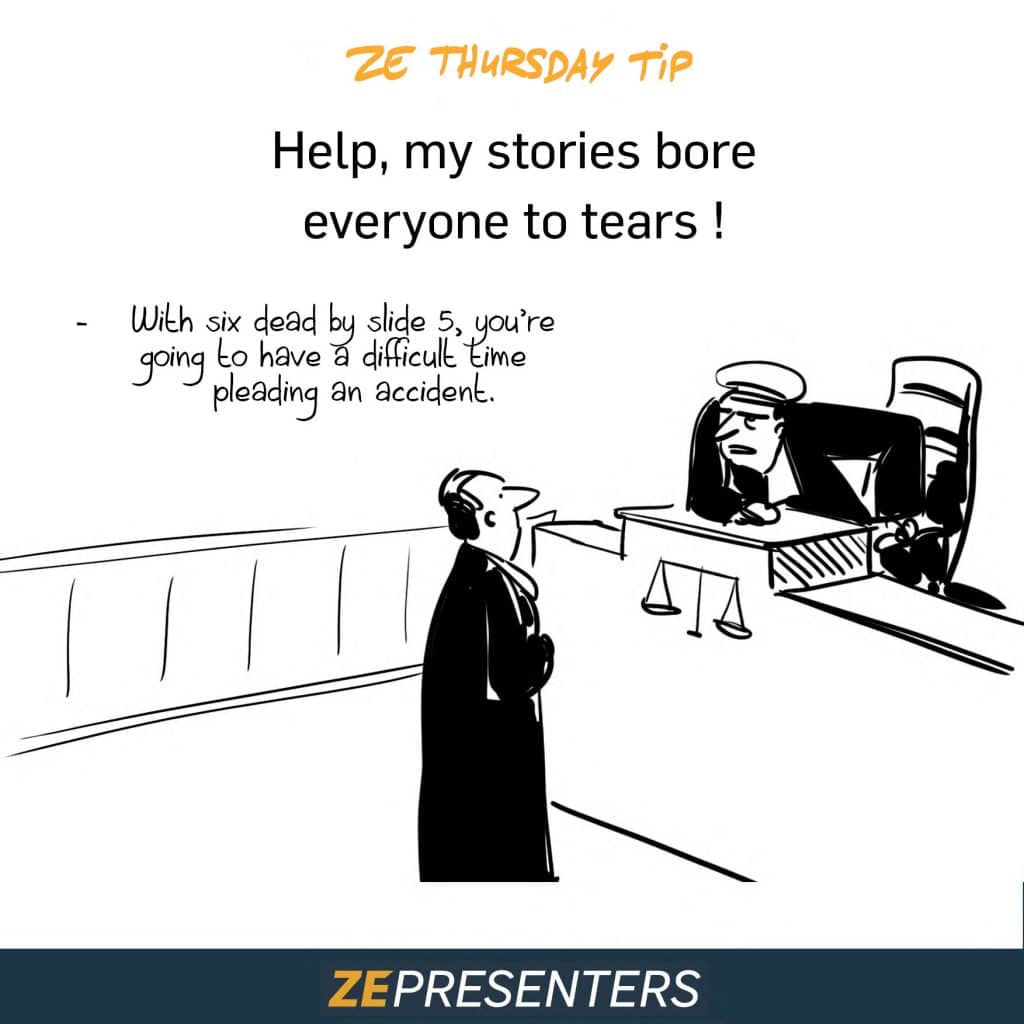 We have all attended presentations that turned into a nightmare: the speaker was boring, everyone knew it, everyone endured it, but he relentlessly kept going. The seconds turned into minutes, the minutes into hours and little by little the presentation turned into a hostage situation.
If you are this speaker, several questions arise: what's going on in your head? Do you really want to make people suffer? Of course not! This is why the solution is above all a question of posture. Here are some good practices to add value to your stage presence.
#1 – BECOME AWARE OF THE SITUATION
All too often, caught up in our presentation, we don't pay attention to our audience and so we don't notice how it is feeling. This is a dangerous posture to have because it makes us forget that we are there for our audience, and not the other way around. You need to develop an essential skill: active listening.
This will allow you to see if your audience is listening and feeling good. If on the contrary, you notice that your audience is bored…good news! You know how to detect a loss of attention, which is already very good. Now that you're faced with this situation, there's no time to lose: go to step 2.
#2 – STOP AT THE RIGHT MOMENT
Once you've realized your audience is bored, don't go on as if nothing's happened, stop! For one simple reason: if people are bored, what you're saying is useless; you're wasting your time and theirs. That said, it is not so easy to stop in the middle of a presentation. Especially since, being faced with an inattentive audience, you risk suffering the effects of intense stress. Whether it's anguish you're feeling, or anger, or intense fatigue, you need to regain control to react more serenely and more appropriately to your situation. Pause, breathe, look around you, pause your PowerPoint. It's time to reconnect with the audience.
#3 – UNDERSTAND YOUR AUDIENCE
Obviously, if you stop, it is not to shut down your computer and run away but to try to understand what is problematic. Why did the attention dissipate? What do they need? What can allow them to get back on board? Your audience surely has the answers to these questions. Accept the situation and go towards them by questioning, by reformulating the answers. The goal should not be to save time, but to sincerely understand their expectations. This posture will allow you to switch from a boring presentation mode to an exchange mode, which will make the moment richer for you and your audience.
#4 – MAKE A DIAGNOSIS FOR THE NEXT PHASE
After this exchange time, ask yourself if it is wise to continue your presentation. If your audience is receptive again and you have identified a more relevant angle, you can resume. If, on the other hand, what you prepared is not at all in line with the expectations of the audience, it is more pertinent and effective to stop for good. Better to appear pragmatic and responsible, rather than sour and stubborn. Confirm with your audience that you have understood what you can do better to prepare yourself next time and set a new rendezvous. Nobody will hold it against you for postponing this moment, on the contrary.