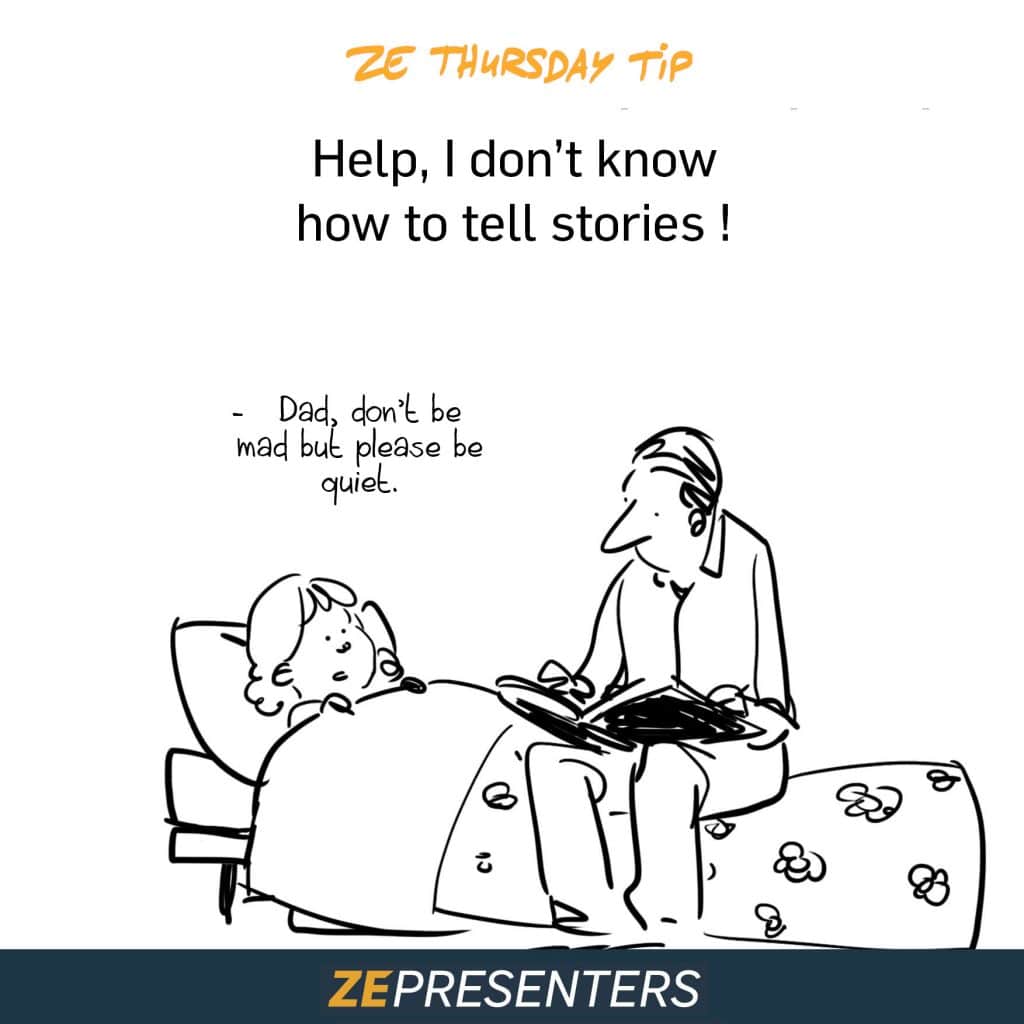 Help, I don't know how to tell stories!
Often, PPT presentations rhyme with boredom. Building our remarks in the form of a story seems like THE solution to getting our audience on board. But, we are not all seasoned storytellers. Faced with this reality, how can we turn our PPT presentation into a story that people want to listen to?
If you had to remember just one thing, it is this: every story is a story of change. And that's what makes stories so appealing. TV series are an example. The end of an episode is often a cliff hanger; a disappearance, a newcomer… the situation pushes the hero or heroine into acting during the next episode. It is this dose of tension and adaptation to change that captures our interest and makes us want to know more.
By designing your presentation like a story of change brought about by your idea, you will capture the interest of your audience over time. Here are 3 tips to help you:
#1 – Speak to your audience
To get your audience on board they must feel involved in your story. For this to happen, it is necessary for you to speak to them, respond to their needs and worries. Because yes, change is synonymous with fear of change. And any change provokes resistance. This is true for both the hero and the audience. It is therefore crucial to identify them to better deal with them. Two types of resistance are to be noted: emotional resistance and rational resistance. For the first, you will have to approach the resisters with empathy and sincerity. For the second, you will have to make tangible arguments without falling into the trap of justification. In any case, never forget to deal with the resistance because by empowering it you will make the resister want to play a role in your story.
#2 – Structure your speech
Stories are always built in three stages. First, the initial situation where a trigger element jostles the order of things (Stakes). Then there are all the trials that the hero faces to adapt (Actions). Finally, the last situation, which brings out all the consequences of the actions undertaken (Consequences). To be sure to structure your presentation in the form of a story, simply apply this narrative loop "Stakes – Actions-Consequences" for each major step in your story. To do this, ask yourself these three questions:
What are the stakes in this stage?  The risk(s) we take if we fail to overcome this ordeal. Or, on the contrary, the opportunity it represents. Formulating the issue makes it possible to give it meaning and highlight the importance of your different actions.
What actions can we put into place to address the stakes? All the arguments and concrete means implemented to meet the challenges of your project.
What consequences will these actions have on the project? All the tangible results that your actions achieve (ROI, KPI, Profits)
Like in the best movies and series, repeating this loop for each part of your arguments, will allow you to give rhythm and consistency to your speech.
#3 – Don't forget emotions!
Our decision-making process is guided primarily by our emotions. Rationale often comes in a second phase to try to justify our choices. Storytelling is a powerful communication tool because it appeals to the imagination and emotions of those who listen to you. Activating the imagination allows your audience to take ownership of your project faster. Soliciting emotions encourages your audience to remember your speech. The more you involve your audience emotionally, the better their attention and their adherence to your remarks.