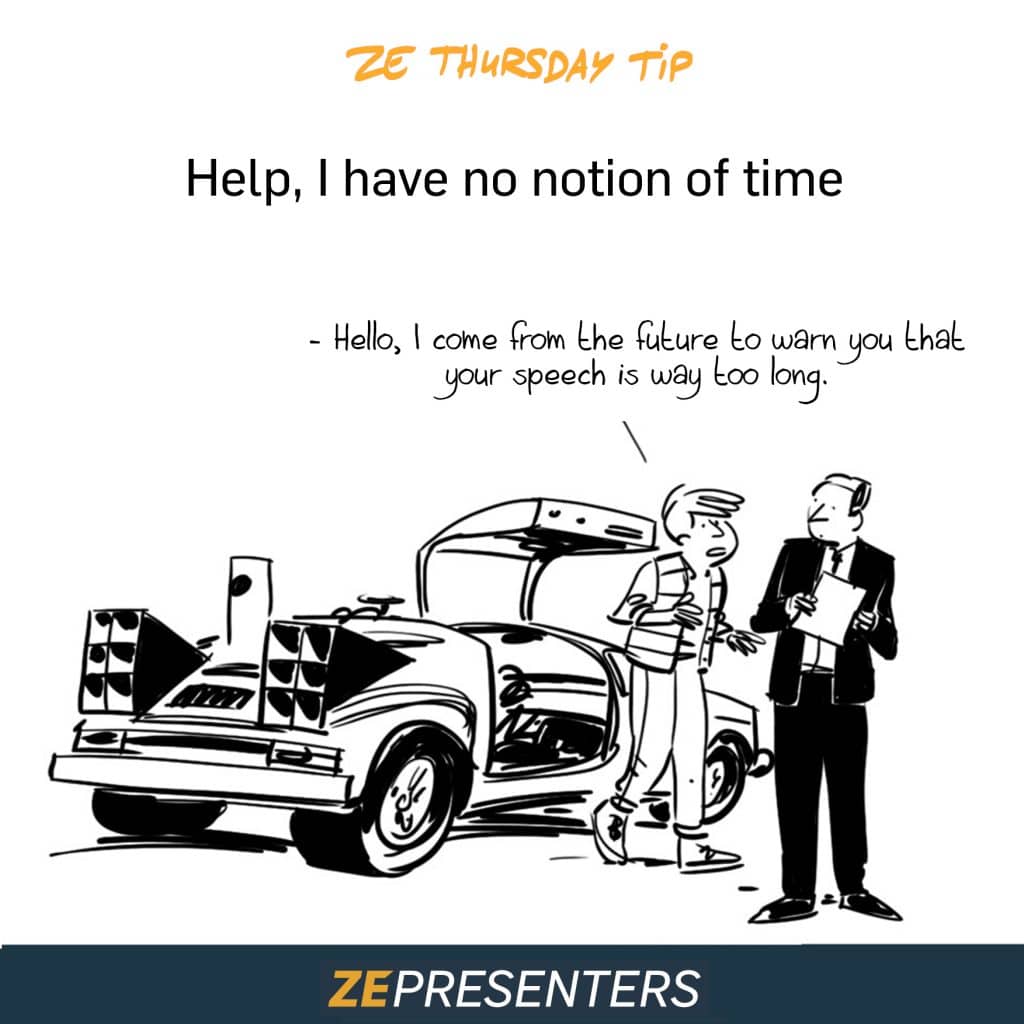 Help, I have no notion of time
It is customary to say that time goes by too fast… Except maybe for certain presentations! Because, even though there are presentations that go off without a hitch, others, which could be no longer than 5 minutes, may seem endless. All this leads us to be very rigorous about time management: How much time do I have? How can I organize my time? How much time should I devote to questions? How much time per slide? … so many stressful questions, to which we would like to take some time to address today. Because, if it is true that for some of us, time management comes naturally, for others, it can be much more complicated! Our tip this week will be to take the time to read the following 5 tips, so that time will no longer be a subject of anxiety.
Your condition, you will accept
To all of you who think you don't have any notion of time, the good news is that you already know it! And this is the first step in developing better temporal reflexes during your presentations. After all, whether it's to prepare yourself or to present, if you don't anticipate the time you'll need, you won't create the conditions to perform well.
The key time rules, you will follow
In speaking situations, there are some key rules to respect:
– 1h = 40 minutes. If you are given 1 hour to present, aim for 40 minutes, for 2 reasons. First, if you have to digress, or start a little later, you will always be on time. Secondly, it will allow you to have a real moment of exchange at the end, or to finish in advance, a real gift for your audience!
– 18 minutes: Is the average attention span of your audience. Unless you change your pace significantly, extending your presentation beyond 18 minutes is not optimal. TED conferences understand this concept well and have set their presentation formats on this rule. It is up to you to see if you are capable of getting your message across in 18 minutes… or less!
– How much time for slides? For once, the rule is that there are no rules. It's up to you to spend the time you need on each slide. However, to avoid surprises on D-day, adjust your timing during your preparation.
The presenter mode, you will adopt
The "presenter mode" is a valuable tool for time-sensitive presenters. In addition to having your notes in front of you, you also have the time and how much time has passed, that is, everything you need to effectively manage your time.
Your message, you will structure
Too often, behind a bad perception of time, there are difficulties in organizing and structuring one's message. And this is exactly where the HUBSTORY® method makes perfect sense, by guiding you in preparing and structuring your presentation. The pitch phase, the starting point of the method, is crucial to being clear on your ideas. Take the time to ask and clarify what your ideas are, step by step. Make the effort to write down your remarks, to be able to time yourself during rehearsal, and to avoid parasitic digressions that waste time. The more structured you are in your presentation, the more confident you'll be on D-Day and in control of your time.
More, you will rehearse
The ultimate secret to helping you to better manage your time is of course rehearsals. Spend more time rehearsing and anchoring your presentation so you don't get caught off guard on D-Day. By rehearsing, you can time your speech and avoid parasitic digressions that waste time. The more structured you are in your preparation, the more confident you'll be on D-Day and in mastering your timing. Connect your computer to your TV, turn on the presenter mode and its pendulum, and keep a close eye on the time. This is also the last opportunity to adjust your remarks if necessary, and fine tune the speech if it stretches out too long.Finally, your mastery of time on D-Day depends mainly on good preparation beforehand. So, our ultimate advice to better manage your schedule during the days before your presentation is none other than… an agenda and a watch you will buy!