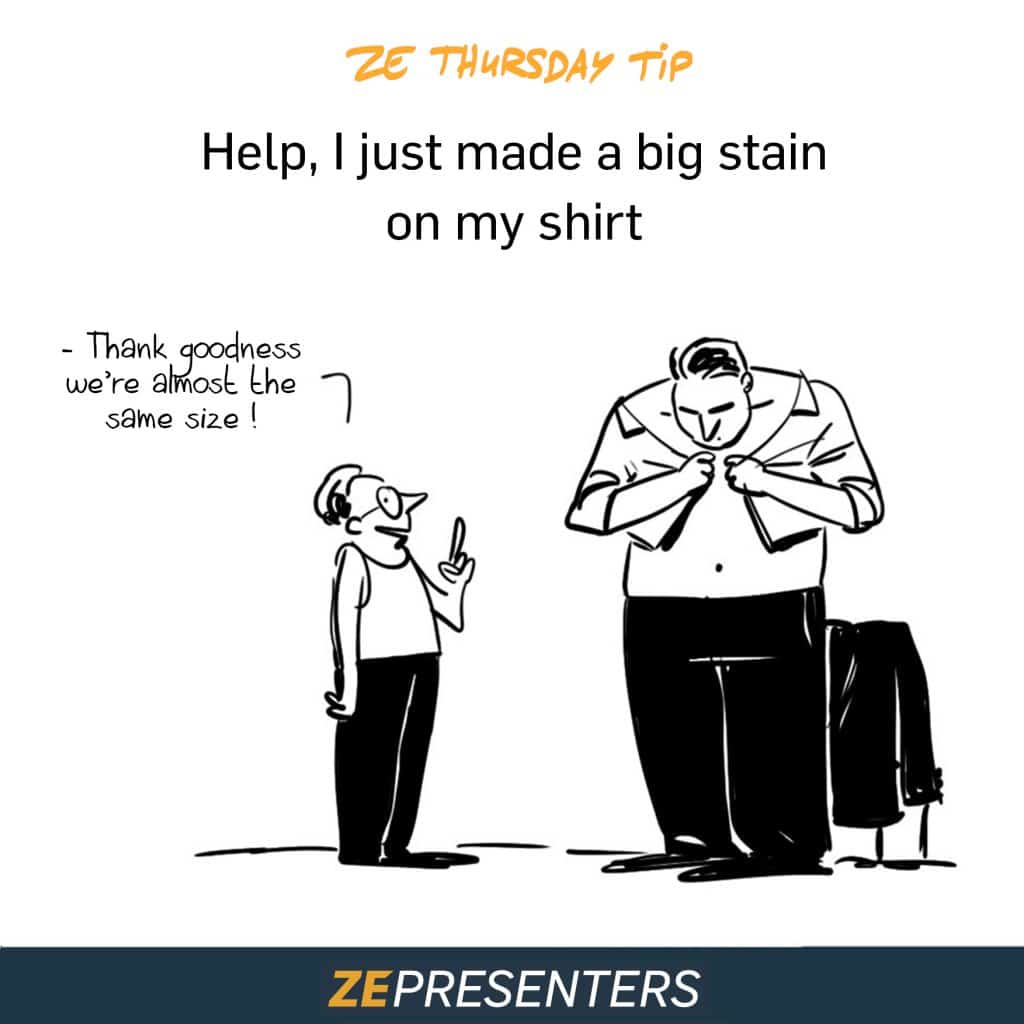 Help, I just made a big stain on my shirt!
"Early one morning, I was getting ready to run a workshop at my client's company. The 1st good news of the day was that at a glance I could tell the video projector wasn't working. Determined to find the source of the problem, there I was, on all fours, under the table, unplugging and reconnecting wires, when suddenly… RIIIP!! Yes, it was my suit jacket giving in to my morning acrobatics, so that was the 2nd good news of the day, which was looking to be a very long one…"
This is the story of a mishap that happened to one of our co-founders (but we won't divulge who J).  It goes to show that even when it comes to our own profession, presenting is not always easy sailing! So here are two tips to deal with unexpected incidents during speeches and spare you any extra doses of stress during an already naturally stressful exercise:
Be prepared!
A broken video projector, a computer that dies on you, a stain on your shirt or a room that's too small… Anything is possible on D-Day! It is impossible to anticipate what, by definition, is unpredictable, but experience will allow you to anticipate the most disturbing situations. The goal is not to be certain that nothing will happen unexpectedly, but to be sufficiently focused on what needs to happen in order to face the unexpected more serenely.
To assist you, here's what our story-managers put on their checklist:
Confirm the locations and times of your intervention beforehand. Anticipate your movements to provide a margin that can calmly cope with unforeseen commute problems.
Make sure the latest version of your visual aid is saved locally on your computer so that it doesn't depend on any network. If a colleague is with you, make sure he/she has the same file on his/her computer.
A USB key is never too much to slip into your bag along with your connectors and computer chargers. In addition to the PowerPoint file, it is always useful to store the PDF version there also. Even if it does not contain any video content, a PDF support maintains your layout whatever computer is used; A good backup plan to deal with compatibility issues.
Finally, if you are clumsy or get a bit too hot and sweaty, a spare top can be a good idea to avoid an awkward moment.
Accept the unexpected
You have prepared yourself conscientiously, but suddenly the improbable happens! When things don't go as planned, it is common to experience a lot of stress. You're going to want to give up or take it out on someone else. This "natural" reaction will not get you anywhere. By accepting a complicated situation, those who are watching you are not fooled, they know they would hate to be in your place. All the more reason to try to demonstrate your know-how.
You have every right to position yourself as a spectator of the situation. The more you have prepared beforehand, the less you will feel responsible and the more you'll manage things serenely. Whatever happens, always keep in mind that you are not there to put on a show but to share and defend an idea. And if your message is structured, prepared and rehearsed as it should be, you should be able to share it, whatever the circumstances, torn suit… or not!