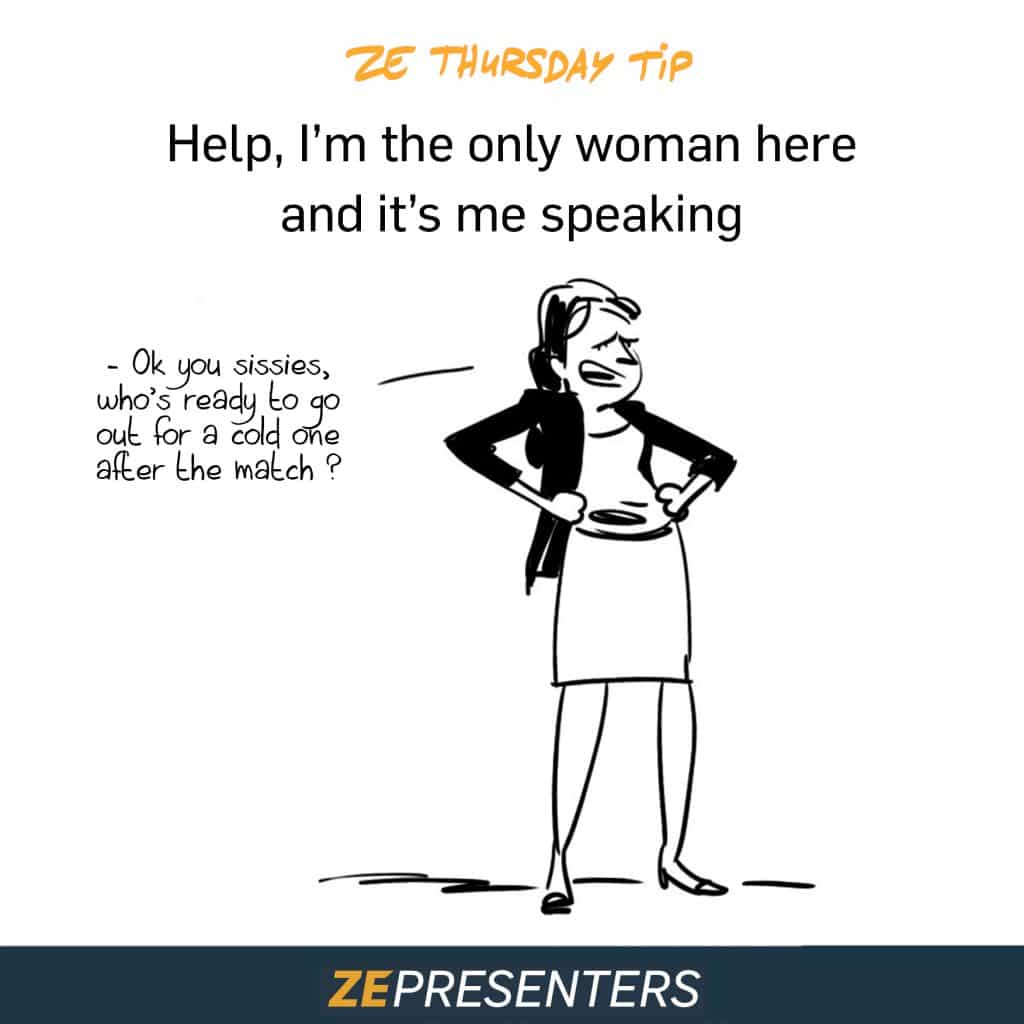 Help, I'm the only woman here and it's me speaking
We have good news, the world is moving forward, women are more and more represented in companies and given the chance to take the floor! This advancement has been done step by step, bastion by bastion, so that women now contribute on all levels of the organization. But when you are a woman and you stand up to speak to an assembly composed exclusively of men, it is difficult not to have your mind polluted with many questions like: "will they take me seriously," "will they listen to what I have to say…" these issues induce states of stress and restrictive thoughts, which can limit your ability to influence. Here's how to regain control in 2 steps:
1 – Don't mistake your objective
It is never easy to position yourself in a group when you're the only woman. We cannot forget that we have a special status, but before anything else, we want to be recognized for our competence. We want to assert our difference, but we also want to be able to forget about it. In this constant in-between state, the risk we take when speaking, is to be more concentrated on showing that we're "up to the task," instead of really being up to it. Whenever the purpose of your presentation is to "show" something – that you're right, that you know what you're talking about, that you made the right choices… – you're mistaken!
If you've been asked to speak it is because you have something useful for others, because your speech is capable of changing what people feel, think and do. Whether you use your difference or not to trigger this change depends solely on you. But change must be your only goal. At the same time, the more you seek to show that you're legitimate, the more you'll sow doubt.
2 – Never lose sight of your idea
You are the only woman, so what? Perhaps you are the only one to have noticed it, or to take this fact into account. Enjoy the attention you have on yourself to lead it to the story you have to tell. The only thing that matters is the idea you're defending. And to help you in this process, the 4 steps of the HUBSTORY® method are your best allies.
The pitch helps you clarify your ideas. Faced with an assembly composed mainly of men, it is not necessarily more difficult to get their attention, however the challenge is to capture their interest. All the more reason to develop the reflex of formulating what worries them and to express your ideas as part of the common cause that you're defending together. Whipping out a short, clear and inspiring pitch under any circumstance, will allow you to preempt the terrain of ideas rather than that of people.
Storytelling enables you to get your audience on board. You will certainly have to face resistance. And maybe some of it will be directly related to whether you are a woman, or to criticism that is more readily made to a woman. Remember that being a woman must be an opportunity. If this pertains to you, you can use this asset to fuel your personal narrative, by assuming your successes and your setbacks.
The Story Design increases the impact of your presentation. It's more than a question of slide design. The presentation is an experience that you make live to your audience and all the details matter. Being a woman in front of men in suits necessarily gives a lot of meaning to your outfit. Whatever you choose, must be assertive and consistent with your purpose. You also have a responsibility to change iconographic reflexes. Cohesion can be illustrated otherwise, then by men shaking hands!
And finally, show leadership to fully embody your projects. Whether you are a man or a woman, we do not decide on the trust we are granted. The only thing you can control is the trust you place on your project, in yourself and in those listening to you. Even facing a hostile audience, the more you will be convinced of their capacity to change, the less you will express any preconceptions that won't help anyone grow.
Finally, the point is not that you are the sole woman in the room. The sole point is whether your speech is able to move things forward.