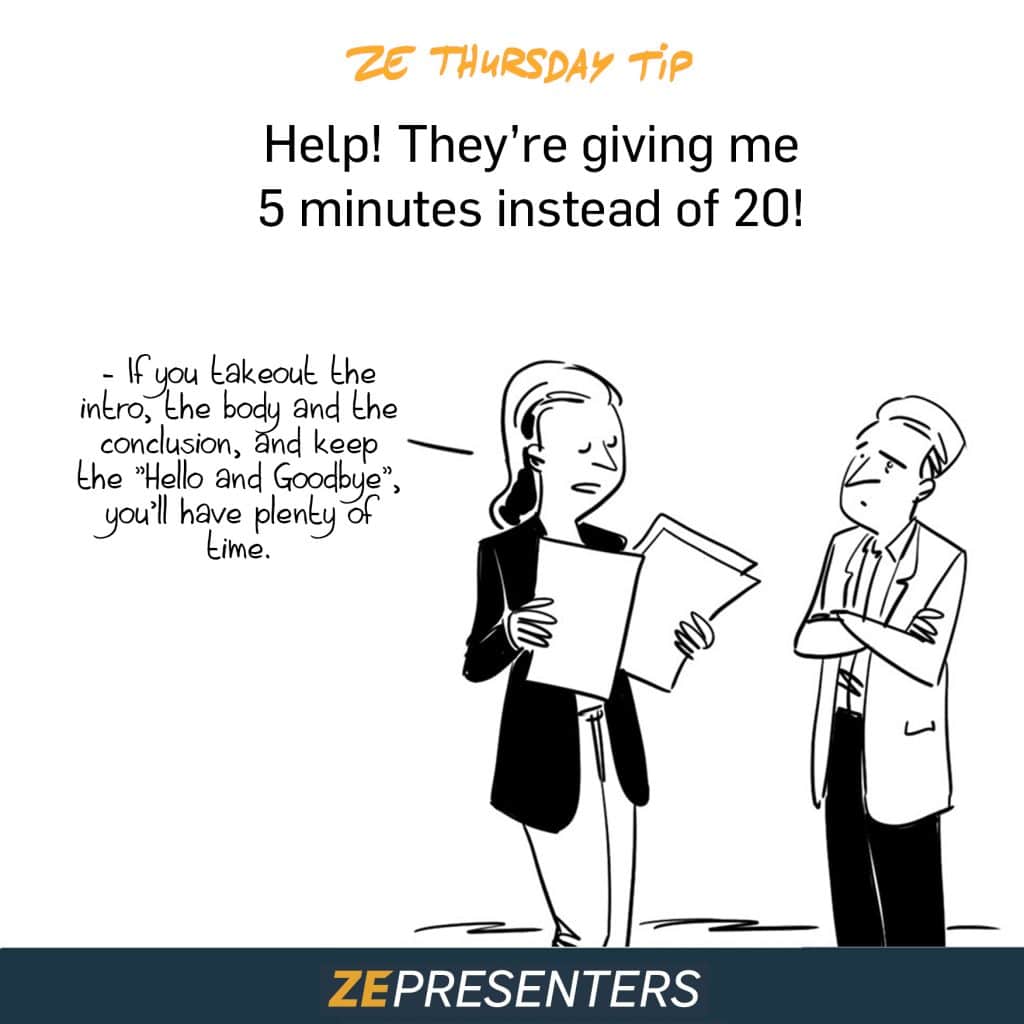 Help! They're giving me 5 minutes instead of 20!
You're happy this morning. Your supervisor just told you that you have 45 minutes to present to your Managing Director, a project on which you have worked hard for many months. It's been a stressful time and you're completely prepared. But when the day arrives, and you're about to speak, your Managing Director announces that he has to go to another meeting and asks you: "In 5 minutes, what do I need to retain from this project?"
If this scene is familiar to you, sorry to remind you of an unpleasant experience. But we want to reassure you that this is a situation we also experience regularly. While you see an unpleasant moment, we see a chance to pitch your project in a clear, inspiring and impactful manner. And that's exactly why we developed the HUBSTORY® Pitch tool.
Presenting your project with much less time than expected is often destabilizing because you have become accustomed to preparing presentations as a string of information. To get to point C, we must first go through A, then B, which makes it almost impossible to take shortcuts to extract the essence of the presentation.
Applying the HUBSTORY® method incites you to go through 4 steps:
Clarify your idea
Structure your story
Stage your presentation
Embody your project
You will note that before structuring your story, the first step will be to clarify your idea, that is, to answer the key question: "What is the idea?" And, to echo the anecdote in the introduction, "what's the idea?" Is exactly the question your General Manager is getting at by saying: "In 5 minutes, what should I retain from this project?" By starting to work on the pitch of your idea, you will be able to be clear and concrete whatever the circumstances, whether you are given 5 minutes or your computer has broken down.
There are several other benefits to systematically start with the Pitch step:
You can test the relevance of the core of your message with your colleagues and friends, well before finalizing your presentation
The pitch, optimized to make people want to know more, proves to be a perfect introduction for your future presentation
You are ready to whip out your idea, whatever the circumstances or constraints imposed on you: 1 hour, 5 minutes, while walking, with slides, on stage, sitting, standing, etc…
It is with this active posture that you will be able to evolve from a speaker who must endure the unexpected, to a committed speaker who's an engaged actor in his project. In addition to being identified as the person who knows how to clarify ideas, you gain considerable credibility. And that's the whole point of the Fast Pitch offer, which we have just launched; helping start-ups and small businesses to work on the ability to whip out a pitch under any circumstances!