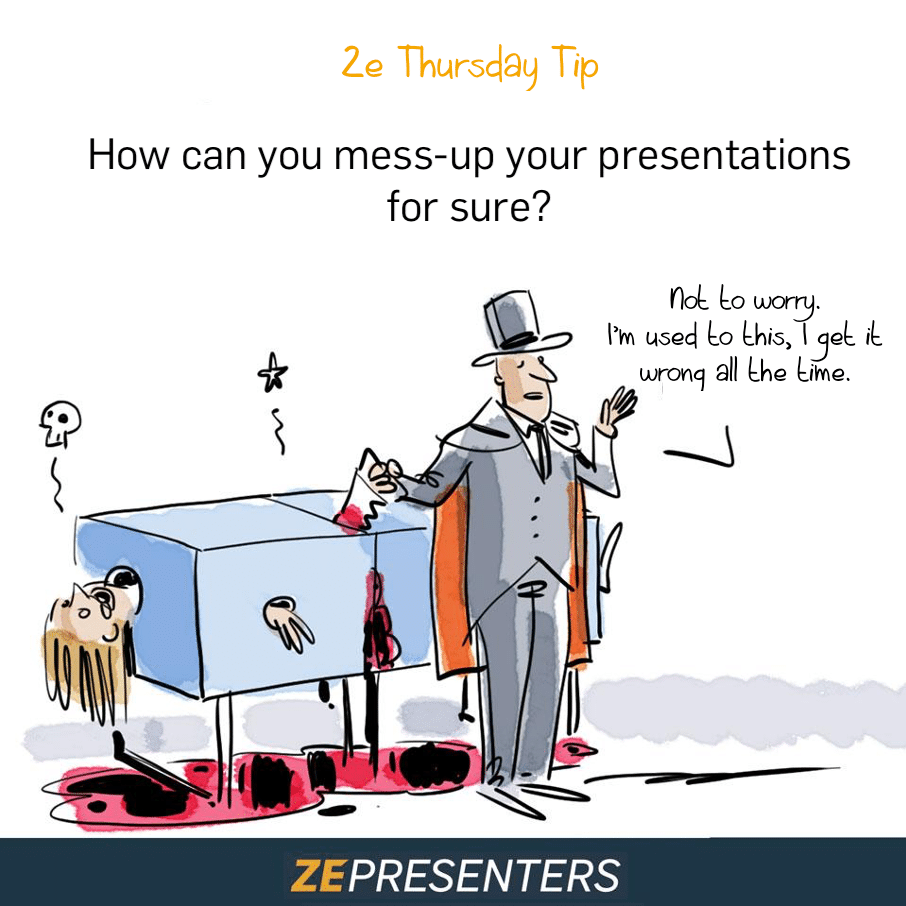 How can you mess-up your presentations for sure?
If there's one thing the coronavirus crisis has taught us, it is knowing how to distinguish between the things you can anticipate and things you cannot. It's the same when you speak in public. Even if you have full control over your preparation, you cannot anticipate all the unforeseen events on D-Day, and remedy the constraints of place and time, or control the state of mind of your audience (unless you're a magician). So, there is no point in worrying about things that you cannot control, because you will not be able to anticipate or avoid them. On the other hand, there is no reason to neglect your preparation on the pretext that, anyway, nothing will go as planned. Because it is precisely with adequate and structured preparation that you will be able to adapt and react positively to the vagaries of your presentation event.
This is the reason why ZEPRESENTERS developed the HUBSTORY® method almost 7 years ago; a 4-step method to support you in the preparation of your presentations:
– The Pitch to clarify your ideas
– Storytelling to structure your story
– Storydesign to stage your presentation
– Leadership to embody your project.
But this is for anyone who wants to be successful in speaking. However, if you're determined to mess-up your presentation, we've designed exclusively for you today: The little Survival Guide to failed Presentations!
The little Survival Guide to failed Presentations
Pitch
In this first step of the HUBSTORY Method, it is a matter for the "good speaker" to begin by clarifying his or her ideas with one goal: to create desire. The Pitch is the starting point, the foundation of your presentation, without which, it would be unstable.
To mess-up your presentation, make sure you skip this step. Just start by getting straight into the heart of the matter, without trying to make people want to hear more. After all, why waste time? So, just jump right into your arguments, without worrying about your audience, their motivations and what they need to hear.
The benefits are numerous: your idea is just as unclear to you as it is for your audience, and they are far from caring about what you're proposing.
Storytelling
This second step of the HUBSTORY Method consists of structuring your argument in the form of a story. It is by creating this storytelling dynamic that you will keep your audience spellbound over the duration of the presentation, and will be all the more successful in getting your point across.
To mess-up your presentation, and bore your audience to death, simply string your arguments one after the other without a causal link. For you, storytelling is just a waste of time that has no place in your business presentations; "Here, we are serious and busy people!"
The benefits: You give your audience the impression that you're stringing beads. Besides, they're not listening to you anymore because boredom has set in. And that serves you right, because you too get bored when you put yourself in their shoes.
Storydesign
Once your ideas have been clarified, and your presentation is structured, it will be time to stage it, in order to maximize its impact. At this stage, you understand that your presentation is a global experience and you design the visual aids that will amplify your points.
To mess-up your presentation
Why bother with all this structuring of stories? Immediately open PowerPoint and start designing your slides using the same templates of 10 years ago, by pasting your tables onto them.
The benefits: Your slides are far from being optimized and are doing you a disservice. Overloaded, lacking in clarity and consistency, they serve above all as "notes," to which you constantly turn to during your presentation. As for your audience, immersed in deciphering your slides and trying to understand your graphics, is not listening to you. Congratulations, everyone has already forgotten why they are there.
Leadership
You have arrived at the last step of the HUBSTORY Method. The goal here is to be able to fully embody your project, and to generate approval and engagement from your audience. For this, you need to create the conditions of trust, in yourself and your project, by being clear about your stage presence goal.
To mess-up your presentation, why bother trying to create a relationship with the audience? After all, you are there to talk and they are there to listen. If they do something else, too bad for them! And furthermore, you're an expert, you're there to show you've done your job, not to entertain people who don't care about what you're saying. Therefore, you stay focused on your visual aids, so much the better, it saves you from having to look at your audience.
The benefits: After your presentation has barely started, your audience is already bored to death, wondering why they came, and trying to make the most of their time by sending a few emails. Death by PowerPoint is slow and painful, and your presentation will clearly have no effect.
So, here you are, ready to mess-up your presentation for any circumstance. And if that's not the case, if you indeed want to take control of your preparation and empower yourself to succeed in your presentations, whatever the circumstances, we have also designed for you, the little survival guide to making your ideas desirable.