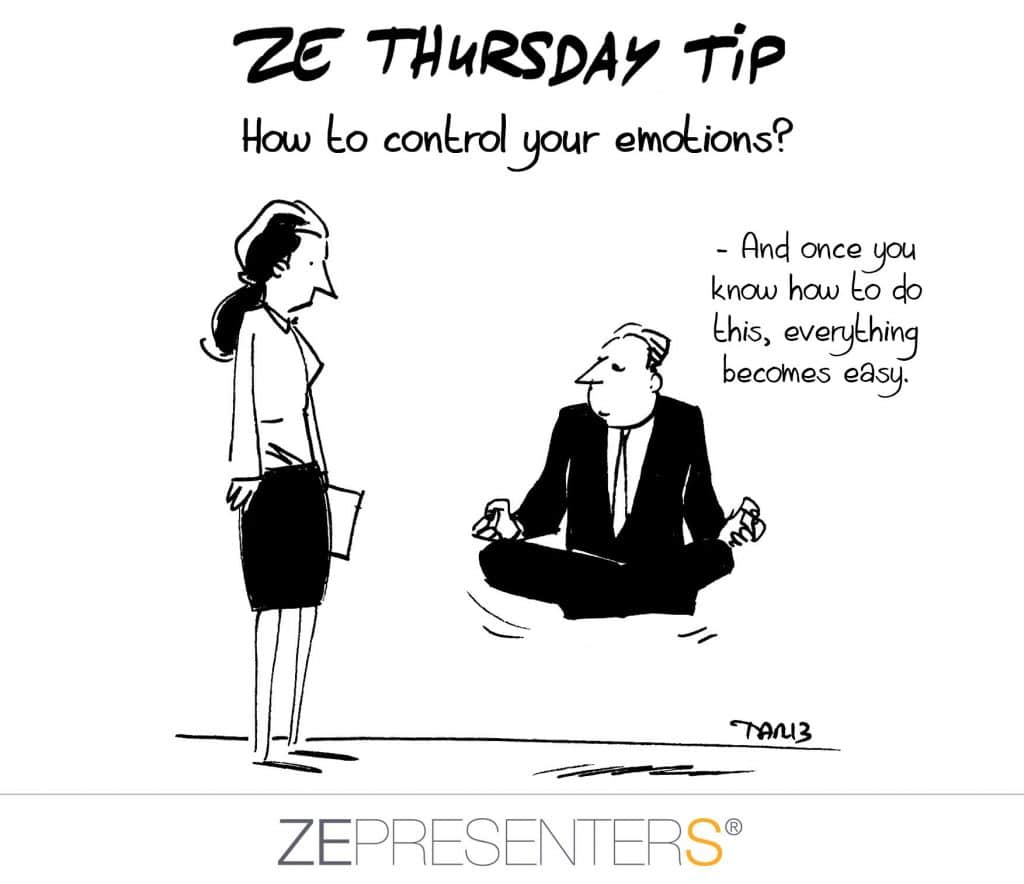 How to control your emotions?
Public speaking terrifies many of us. Yet in fact, the act of speaking is rarely the real problem. However, it is undeniable that it fosters situations that we try to avoid every day: Making mistakes in front of others, not being liked, being judged, being challenged, being mocked, showing weakness, not being up to the task, showcasing, talking for the sake of talking… these situations are what frighten most speakers. Though some of these situations don't pose a problem, others, however, are clearly considered as absolute taboos. They are instilled in us during childhood due to a situation that generated ridicule and shame and made us say to ourselves, usually unconsciously: "never again."
When we find ourselves faced with one of these taboos, it is always difficult to control our emotions. The simple fact of evoking a taboo can sometimes instigate fiercely negative feelings. We are so unprepared to cope with these situations that we spend our time trying to make sure that they don't occur. But sometimes these personal taboos stand in our way and prevent us from fully fulfilling ourselves. Emotional management is the subject of countless theories and publications. For simplicity sake, here are three steps to identify the causes of your negative emotions, and to gradually learn to free yourself from them.
Identify an avoidance situation. This is not an easy task, especially as we develop unconscious strategies of systematic avoidance. A good means to test yourself is to find in others what annoys you, what you find ridiculous or, conversely, what you admire when you're in the position of a spectator. Once you have identified something – "he's showcasing," "he slouches," "he speaks too loudly…" – imagine yourself doing these things in the speaker's place. If it is unthinkable for you to adopt this behavior, congratulations, you have found a situation of avoidance.
Assimilate the reason for avoidance. Identifying avoidance is rare because we do everything precisely for the situation not to happen. Once identified, it is interesting to assimilate it, to imagine how it has influenced our life: how it could have made you either succeed or fail. It is also interesting to identify how you compensate this avoidance. And ask yourself what this compensation has enabled you to gain or to lose. If it is still difficult for you to voluntarily face this situation, it is time to move on to the next step.
Confronting the forbidden. Behavioral therapies have demonstrated proven methods to address these situations. Including through acting. From now on, you will have to find a playing partner. Even simulating can seem overwhelming for some of us. But it is a fundamental step in re-writing a positive emotional experience about the behavior identified as prohibited. With time and work, what may seem impossible today, will gradually evolve from difficult to worth considering, to embarrassing and finally, doable.
This is a lengthy and involved task. This is why it is recommended only in cases where avoidance is an obstacle to your fulfillment. Yet, remember that what holds you back from calmly speaking to an audience can be an obstacle impeding your leadership presence and limiting the impact of your influence.