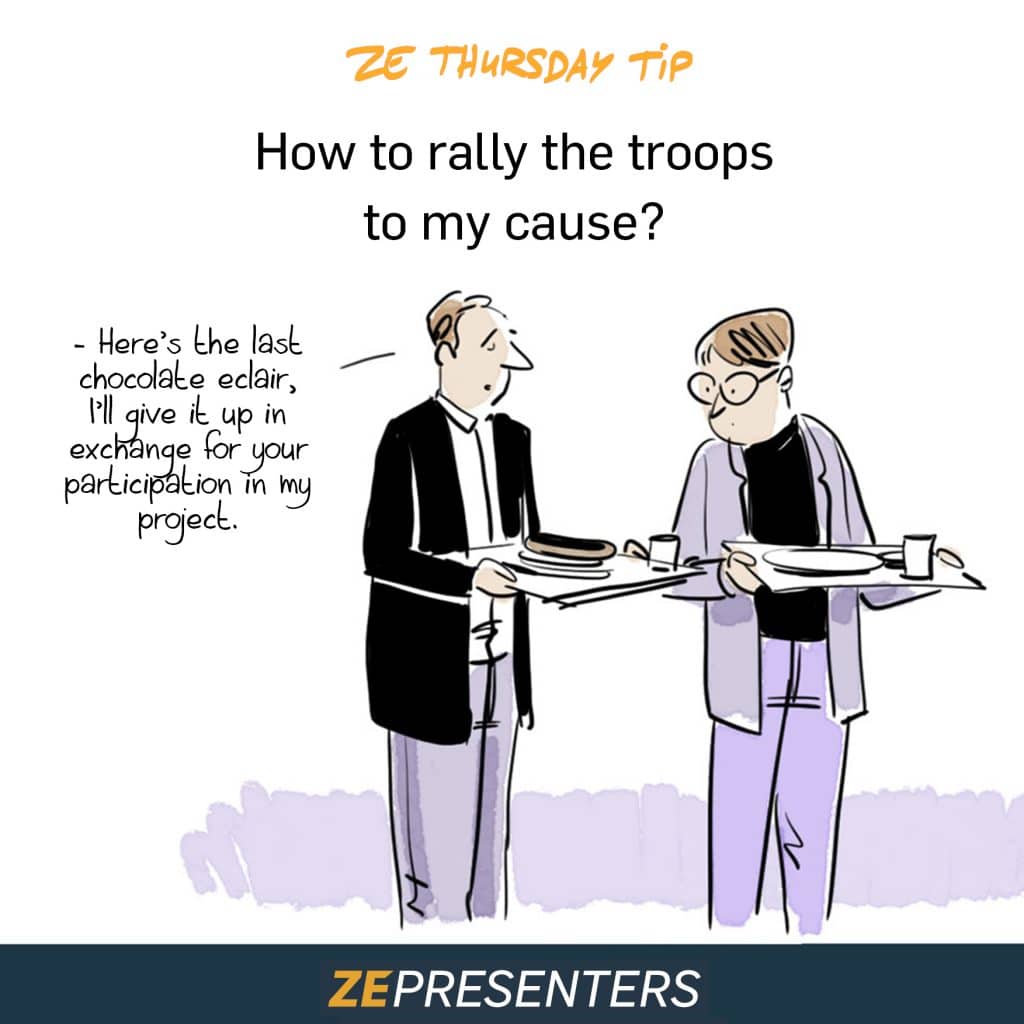 How to rally the troops around my cause?
Ah, it's January! The new year brings opportunities and good resolutions. This is an opportunity to relaunch the projects that you thought you didn't push for enough in 2019. Only, you cannot do it alone, you have to motivate an entire team to lead this battle. But how to you rally the troops? How can you start in 2020 what didn't work in 2019?
To start off the year on the right foot, here are 4 steps that will allow you, under any circumstances, to present your projects more effectively, so that your colleagues get more involved.
1- Mobilize them around a common problem
Capturing attention is easy: just make a noise and everyone watches you. This is also why it's so easy to lose people's attention. The important thing is to capture their interest. When you do, your audience even forgets that they are listening to you and is fully focused on what you have to say. To accomplish this, there's only one solution: talk to them about them and the issues that affect them personally. Concretely, formulate the common problem that your project will resolve. It is because your project provides a solution to a problem that affects all the parties concerned, that you will be able to get them moving.
2 – Defend a common cause
To get everyone moving, we must now generate involvement. We must make them want to participate in solving this common problem. To do this, you must share what inspires you, what gives meaning to your commitment and which can inspire those around you. And it comes at the right time: meaning and stakes are the two main drivers of change management.
As Antonio Damasio said: "emotions choose, reason justifies." You have to stir emotions about your project by proposing a common cause to defend. This way, your teams will find the necessary motivation to overcome the challenges before them.
3 – Define a rallying cry
Your project is competing with many others. Hence, people have to remember that, and therefore, a slogan is a powerful memorization tool. Don't panic, there's no need to be an advertiser. The slogan can be a simple phrase in the form of a rhyme, or an analogy that illustrates your project. Thanks to an impactful and often offbeat slogan, it becomes a rallying cry that you can use everywhere: in your presentations, your brochures, your emails… it increases the recall of your interventions and facilitates the teams' assimilation of the project.
4 – Enhance the benefits for everyone
To finish getting your teams on board, you need to be clear about the benefits that your colleagues will derive from your project. Concretely, you have to provide the answer to the questions: what's in it for us? For you? For your colleagues? Your clients? Your partners? The more beneficiaries, the stronger the conviction that your project is important. And don't forget that a presentation must create movement. Always end by presenting the next concrete steps, the inescapable moments, where those you need to mobilize will have to play a role in the story you are writing.
To conclude, the best way to get people around you on board is to engage them around a common issue, cause and benefits. Let us insist on what brings us together, rather than on what separates us.