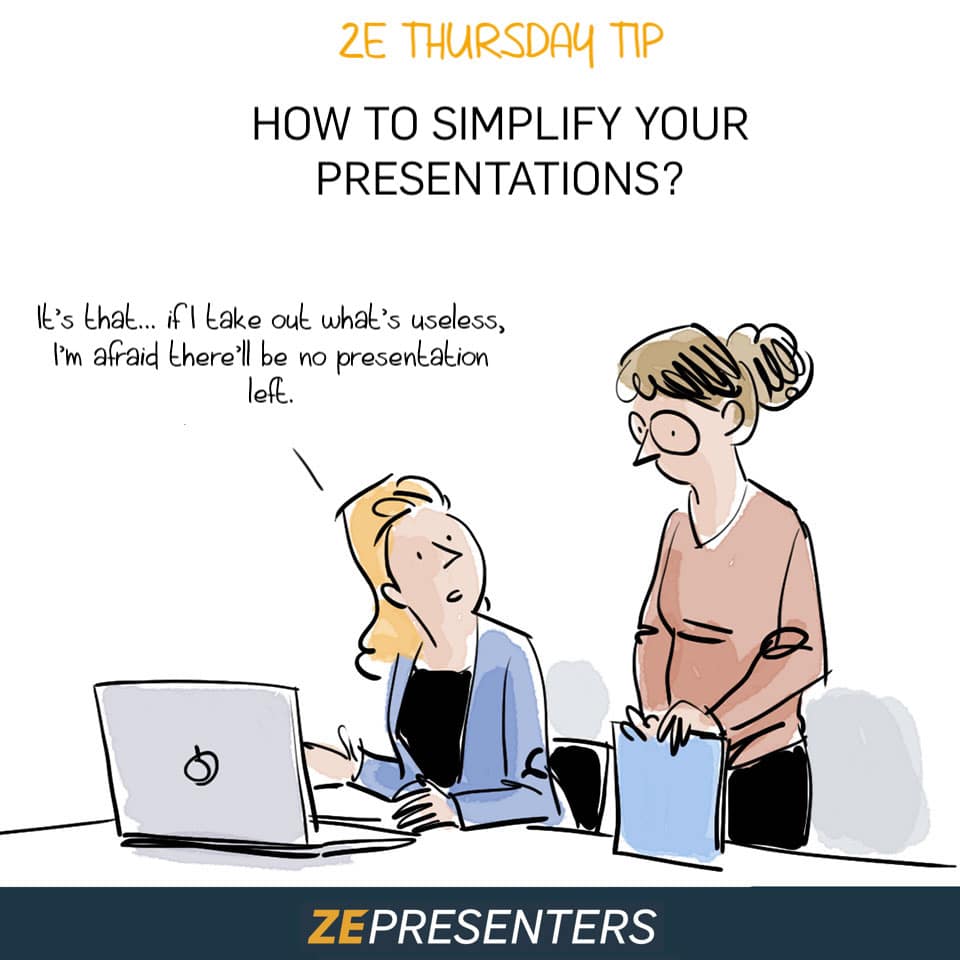 HOW TO SIMPLIFY YOUR PRESENTATIONS?
D-2 before your next speech. Your presentation is ready, your speech is well developed and you even have a venue and time slot that have just become available. Good news, you'll be able to rehearse!
Then suddenly you realize that you're in front of your PowerPoint presentation and even you can't understand anything that's displayed. Maybe because you took over a presentation that was sent to you 15 days ago with all the notes showing on the slides. Or, because you somehow tried to put two presentations together as best you could. Or, because you were told to add a bunch of stuff and so now there's too much information… Whatever the reason, you must, at all costs, simplify your presentation otherwise it's going to be a guaranteed flop!
Simplify to amplify!
If you had to retain only one piece of information from this ZE Tip, it is this: simplify to amplify. Whether it's your speech or your visual aid medium, the more you simplify what you say or show, the more likely your message will be understood by as many people as possible. It is crucial to put in the minimum to have the maximum impact.
But where to start? Because simplifying is not ultimately easy, and you still have to find the right amount of simplicity, neither too much nor too little. To help you, here are some tips that will allow you to simplify your presentation effectively.
1 – One idea per slide
Simplifying means making the message you're conveying understandable. This is why it is essential to share ONE piece of information at a time, which amounts to your visual aid showing only one idea per slide.
To achieve this, ask yourself the following question for each of your slides: what is the idea? By answering this question, you will select the correct information to put on the slide. If there are several ideas, separate them by spreading them over several slides. For example, 5 bullet points in a row can become 5 slides with a sole main idea for each.
Another tip: to guide your audience and make it easier to understand the message, you can also play with the visuals to show the different information as you go.
By doing this you position yourself as a guide who accompanies his audience on the path of his ideas.
2 – Favor the seen…
To simplify your presentation, the second tip is to favor the seen… and not the read! According to a marketing study*, an individual will remember 10% of what he/she hears, 20% of what he/she reads and 80% of what he/she sees! Our brain therefore functions better with images.
To promote what is seen and to write as little text as possible, you have several levers of action before you. The first is to separate what you are going to display from what you are going to say. Thus, you will be able to integrate the comments you have in the notes, so as to keep only 3 levels of information maximum on your slide. The second lever is to shorten the sentences to make them understandable; very short sentences that immediately make sense. Finally, the third lever is to prefer everything that is visual: photos, pictograms…
As Confucius would have said, always remember that "a picture is worth a thousand words."
3 – Eliminate the superfluous
To simplify is also and above all, to sort through your ideas.
To do this, when your visual aid is ready, ask yourself what you can remove. To help you, a question that is often asked in our coaching sessions is: what is essential? What is important? If it's essential, you keep it. If it's important, you can bring it up in the discussion or Q&A period.
You can also validate the relevance of your slides with your colleagues, friends or family by performing the 5 second test. Display a 5 second slide, then mask it: what do we remember? Anything that people don't remember, you can remove.
Removing the superfluous allows you to keep only the key points that are essential to understanding your message. However, remember to keep the more concrete elements of your presentation – examples, analogies, anecdotes – because the semantic level will allow you to simplify the theoretical aspects while increasing the understanding of your messages.
Finally, never forget that to simplify is to give a gift; first to your audience because you're giving them the opportunity to easily understand, memorize and share a project that may be of interest to them; and secondly to yourself, because by doing this, you increase a priori confidence, as well as the chances of seeing your project succeed. So, simplify, why deprive yourself?
* Study conducted by LK Conseil