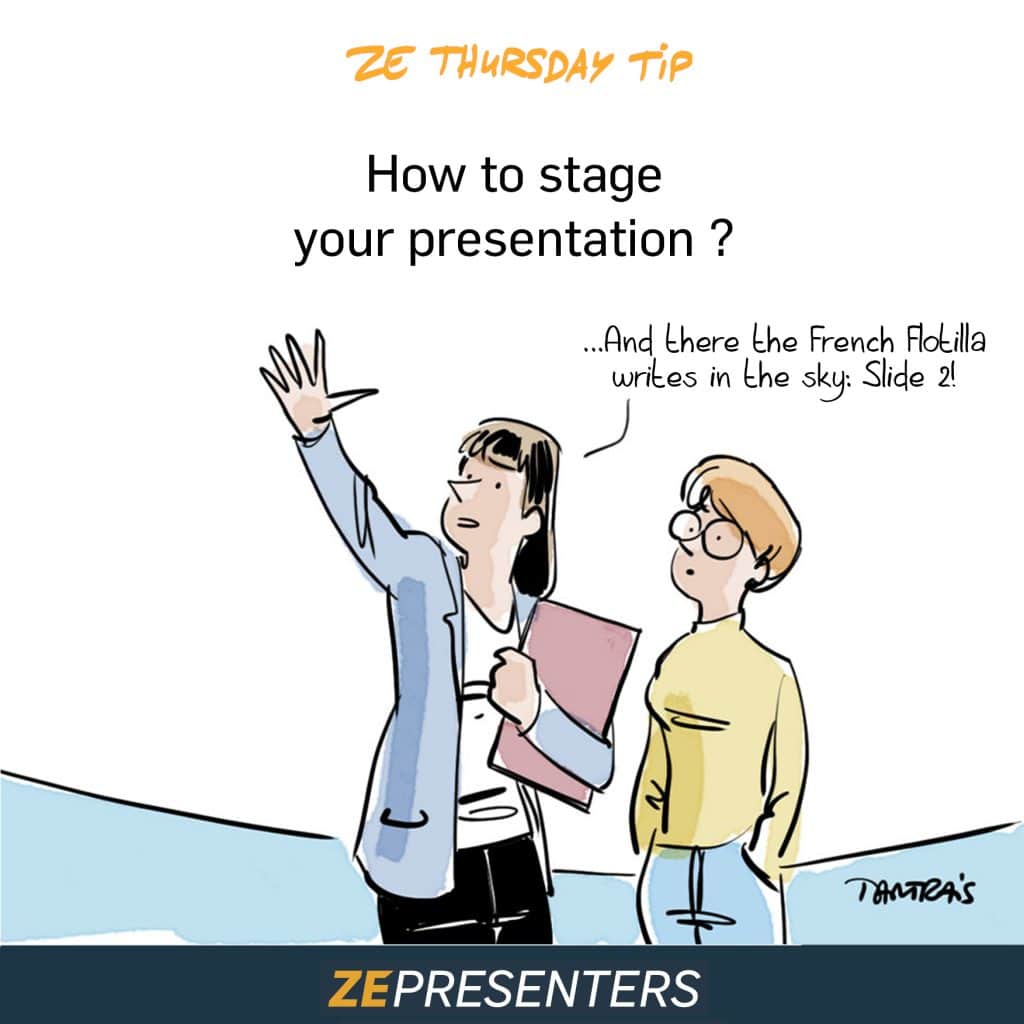 How to stage your presentation?
When we talk about presentations, the first reflex is often to think of PowerPoint and how to create an innovative and unique slide design. However, your goal is not to be told that you have great slides, but rather that your idea is great! How to think about staging your presentation as a global experience serving your idea?
Everyone wants to have a "modern" PowerPoint" presentation with "wow" effects. But at ZEPRESENTERS we believe that the experience of your audience starts long before you have pronounced a single word on stage. If you follow us, you may already know the quote from Maya Angelou "People will forget what you said, what you did, but they'll never forget how you made them feel." Beyond being a pretty sentence, it is above all full of truth! It's the emotional journey that you'll bring to life that matters. And there are three main steps to consider:
First step: An invitation
Capturing the interest of your audience is the first phase of your presentation, as we have often mentioned. But you can also set the stage beforehand during the invitation phase. Whether it's a meeting, a seminar, or a conference, the experience of presenting your idea starts as soon as you talk about it. How do you invite your colleagues / superiors / prospective clients / targets, to come and listen to you? How do you make them want to talk about your subject? By taking care of your audience before you even have them in front of you, you are already ensuring that you're listening attentively by creating the desire to know more. This is an opportunity to test your pitch by making an ultra-compact version in a few lines. The invitation will influence their preconception of you and your project. And thus, condition the way they will present themselves on D-Day.
Second step: the presentation
It is obvious that the slide design plays an essential role in your presentation. That's why you should pay special attention to it. A visual aid that doesn't follow a few basic rules can be fatal to your credibility and the impact of your ideas. So be sure to create slides that amplify your point, and not distract or lose the attention of your audience.
But your visual aid support doesn't do all the work. The person putting on the show is you! It's you who people listen to and watch. The way you interact with your aids and your audience is an integral part of your staging. Be sure to watch the whole room and not just the first row, or worse… you screen! Capture the emotions of your audience, their laughter, their dubious airs. Their reactions are a treasure trove in order to create interaction.
Speaking of interactions, have you planned a specific one? A survey? A question? A Q&A moment?
It's a good technique for connecting with your audience and getting their attention. Depending on the size of your audience, you can choose to do it in direct exchanges (verbal exchanges or hand-raising). But if your audience came to listen to you in large numbers, in order to promote a fluid organization, you can choose to work with suitable tools such as Beekast or Klaxoon. Beyond modern means, you provide your audience with a real experience thanks to surveys, figures and graphs projected directly on screen, etc. Again, we are talking about experience!
Many other parameters have their importance in staged speeches: lighting, décor, the sequence of speakers, etc. Small details that make a big difference. There's only one leitmotif: create a setting adapted to paying attention to your audience by taking care of the details which count.
Third step: the post-presentation
The presentation experience doesn't stop at your last word, or even when you step off the stage. The work of remembering and reflecting on your intervention has only just begun. All the more reason to continue to groom the process!
How? Here are some good practices:
Send a summary document in order to render what you brought to your intervention more concrete
Follow-up with those who had questions to complete your discussions
If possible, stay in touch with those who can play a role in your project.
In summary, build the presentation that you would like to listen to, see and experience! Put yourself in the shoes of your audience and make sure you don't do too much or too little. There is no question of copying Johnny's (Hallyday) arrivals on stage, or conversely, hiding behind a desk / podium. Always keep the primary objective in mind: to showcase your idea. All the work you do must serve that purpose.