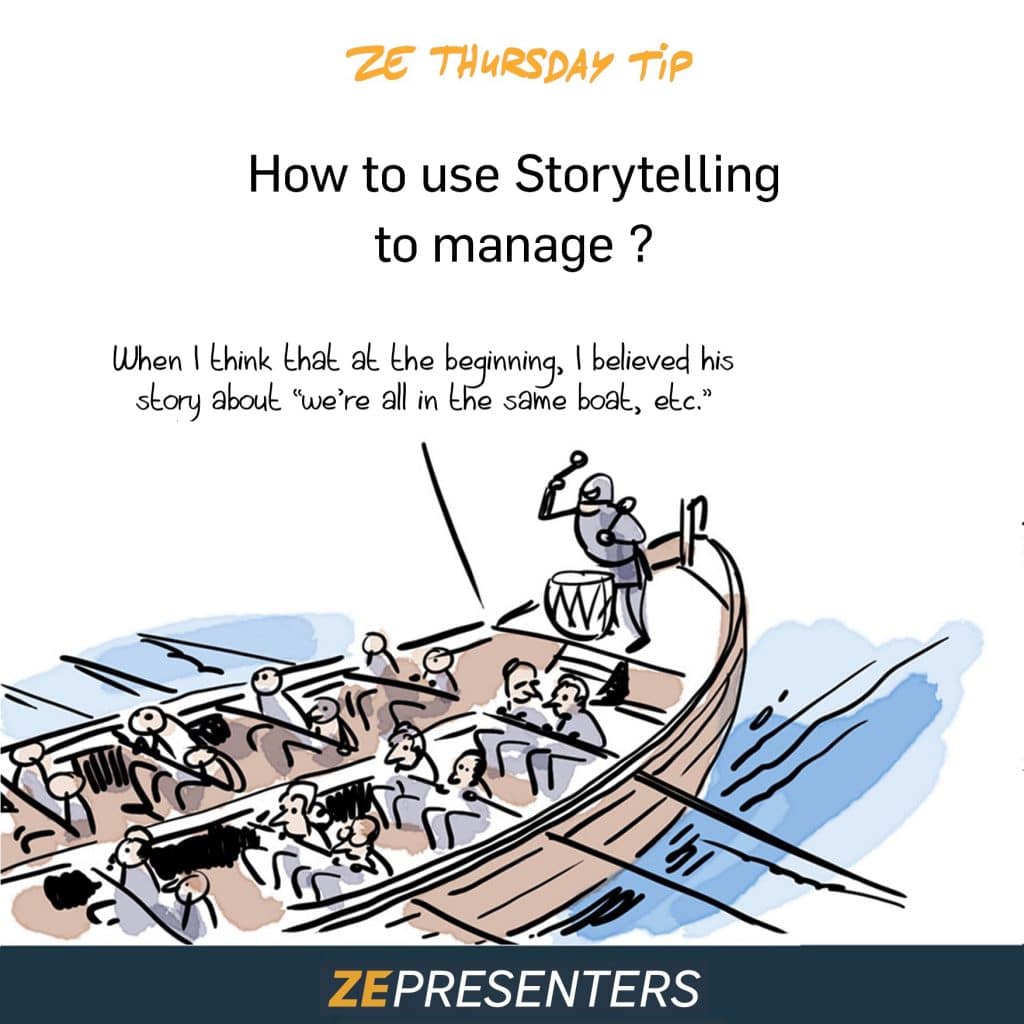 How to use Storytelling to manage?
Storytelling is a great communication tool for telling stories, but not only that. When you manage to give meaning to your ideas, generate interest in your projects and defend an inspiring and desirable promise of change, you're doing much more than communication. So, in concrete terms, how can you use storytelling to manage your teams?
After many weeks organizing, as best you could, the continuity of your business and the management of your teams via video conferencing, your troubles are not over. Even "de-confined," the return to normal isn't planned for immediately and the recovery will be long and painful. In the meantime, we will have to hold on, redouble our efforts and not be caught up in the waves of discouragement and demobilization. But what can you do as a manager to rekindle enthusiasm, action and life in the hearts of your employees, when everything seems to be going wrong? What tools do you have to rekindle the commitment of your teams and supervisors in a difficult context? It is certainly not the first thing you would have thought of, but in the meantime, it will be your best ally in managing and supporting your teams during the change: Storytelling!
Storytelling to get my teams moving
Your role and duty as a manager, is to clearly communicate with your teams, create links, to facilitate and motivate, all in the interest of achieving defined objectives. In a crisis situation, your function remains the same but the context doesn't simplify your task. However, your teams need your involvement all the more. This is where Storytelling comes in to give you a helping hand.
Storytelling adapts and structures your communication in the form of a unifying story, which generates approval and commitment and promotes movement. Going into story mode is a natural human reflex, which for thousands of years, has shown formidable effectiveness. It therefore finds its place perfectly in the corporate world, where speaking and presentations are reputed to be "boring" and not very engaging. We need a tool that can capture and maintain the attention of our teams, promote their recall and accelerate decision-making.
By practicing storytelling when speaking to your teams, you're giving your message, your idea, your project even more chances of coming to fruition. You're bringing your audience on board with your story, appealing to their emotions and making a strong impression on them. Not only is your speaking more impactful, but you are also helping to breathe new life into your company. Because indeed, Storytelling is not just for you!
Storytelling to allow my teams to carry out their projects
Storytelling is not only useful for managers. It is for anyone who has a project or an idea to defend. On the other hand, it's frequently observed in business that public speaking isn't managed sufficiently. And this is a mistake, because Storytelling is a skill like any other that must be learned, and managed, and which will bear fruit if it is well practiced.
By allowing your teams to train in Storytelling, they will gain a valuable tool to carry out their own projects with their colleagues and supervisors. In the same way you got them on board, your teams can do the same.
It is a very rewarding and mobilizing tool because it enables teams to take initiatives and develop their leadership skills. Effective storytelling mobilizes both the speaker and the audience, and develops the speaker's own confidence as well as that of the audience's toward the speaker.
Storytelling is a super power than can be shared. The more people you have around you who are knowledgeable and trained, the easier it will be to identify good practices and initiate continual improvement in everyone's skills
Storytelling, OK, but how?
Managers, you will understand, it is in your interest to use Storytelling in your formal and informal communications. But it's not about telling stories for the sake of telling stories. This is why the HUBSTORY® method, created by ZEPRESENTERS in 2013, defines principles of effective storytelling. So, here is an exclusive applicable storytelling framework for managing your teams in 4 steps:
1. Capture the interest of your teams
Your teams will only listen to you if you have managed to capture their interest and pinpoint the problem that specifically concerns them. Be clear and transparent about the issues, even if the reality is harsh. Your teams are not waiting for you to tell them everything is fine. But they are waiting for you to understand what is preventing them from sleeping at night.
 2. Restore meaning
When nothing is going right, people cling to the essential, to values, to meaning. As a manager, you must be able to give meaning to your teams. Restore the meaning of the mission of the company and restore the meaning of your teams' role. Focus on the "why," the common values and the essence of your business. If your teams are clear about why they get up in the morning, they'll be better able to deal with the uncertainty of the moment.
 3. Be clear about the means and the action plan
If making sense is crucial, so are the means to succeed. As a manager, you must both be clear about the direction, and what will allow you to get there: your means and your action plan. The more clear, concrete and distinctive your means and your action plan are, the more they will be credible and the more you will inspire confidence.
 4. Anchor the benefits
Your action plan must meet a concrete objective: expected results. Be clear about these expected results and benefits. Encrypt them if you can. Create steps to measure and track your success. Your teams must know concretely what should result from their work. The more positive these results, the more desirable your idea and your project will be and the more your team will want to get involved.
By applying these 4 principles to your public speaking events, you further increase your chances of engaging your teams in the change you promise. These 4 principles can also serve as a reading grid when you manage the speaking engagements of your teams. Example: If Fred's presentation lacked impact, offer him a debrief guided by your Storytelling reading grid. To improve his next speech, Fred may need to dig into his action plan to make it more concrete. In short, with storytelling you are equipped and ready to equip your teams to continue to move forward and give life to projects when everything is going wrong… or right!