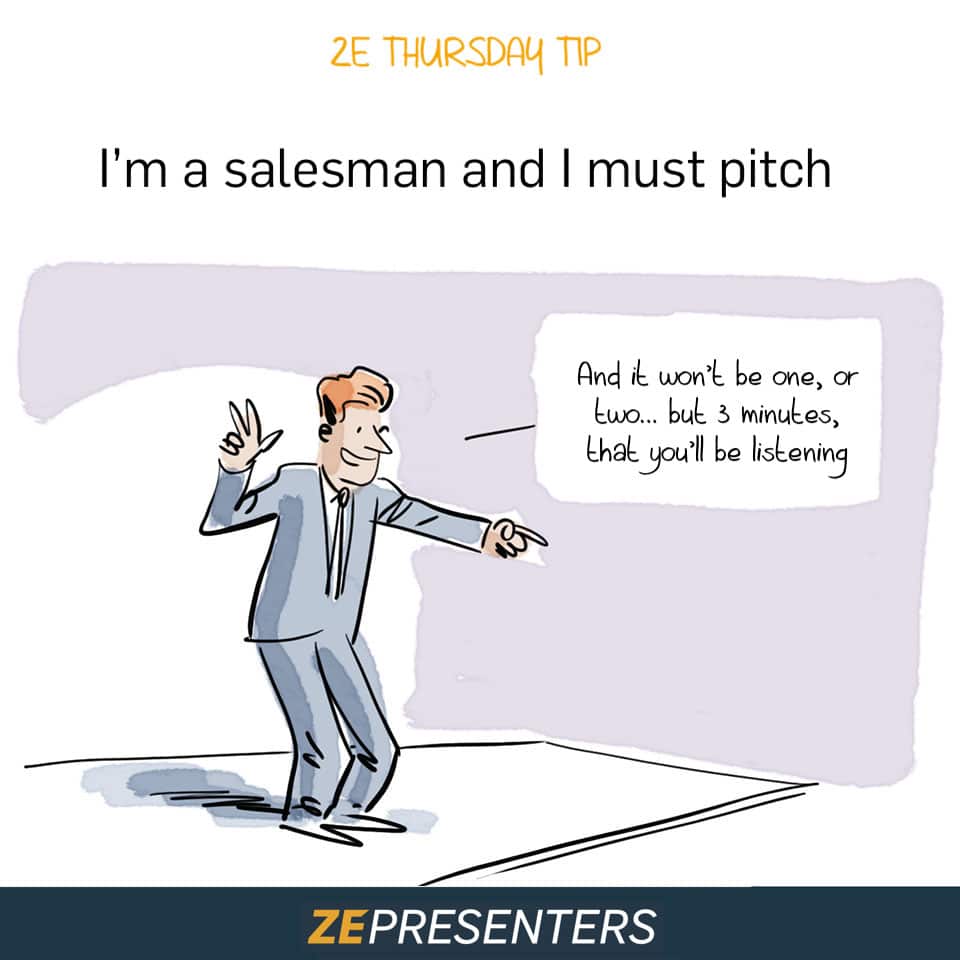 I'm a salesman and I must pitch
As part of our missions at ZEPRESENTERS, we are regularly called upon to work with salespeople. Creating desire and making people want to hear more is at the heart of their profession. Usually, we are greeted in two different ways: Either with a "great! It'll be the occasion to challenge myself." Or, by "I'm fine, I do this every day. It is my job by the way; I don't think I need you."
And yet, when we suggest to anyone (salesperson or not), to take 5 minutes to pitch their offer, the first reaction is always the same: "oh no, that's too short! I need more time to develop my selling arguments."
*BEEP*, bad answer! If you've been following us for a while, you know that a Pitch is not the same thing as sales arguments. There's no point arguing with someone who doesn't want to listen to you. This is why a Pitch is intended to create the desire to know more and to structure everything you are going to say before you start to argue.
So, why Pitch when we're salespeople?
First of all, you are rarely given an hour of meeting time to present your solution. Before this important step there was a lot of contact work, during which you had very little time to make your interlocutor want to know more. And this is where the Pitch comes in! It is those precious minutes when you will be able to trigger this meeting that he will grant you, in order to conclude your sale.
But practically, how do we actually do it?
Whether on the phone, at a trade show, at a seminar, or wherever, you have only yourself, your voice and potentially a business card to count on. You must therefore be extremely clear and impactful, so that your interlocutor will grant you some interest:
1 – Do not start by talking about yourself
Before talking about yourself and your product or service, talk to your interlocutor about him! No one likes to be sold something. On the other hand, everyone loves to buy a solution to a problem. So, what problem are you going to solve for him?
2 – Make your offer desirable
If you're a Simon Sinek Golden Circle aficionado, now is the time to talk about your "why" and your "what" Why this product or service? Concretely, what does it change for the person before you?
3 – Don't summarize your offer
A summary will make the other person feel like they understand everything you're doing, so they won't need you anymore. On the contrary, they must feel that they need or even want to know more.
4 – Don't close the conversation
As a salesperson, you certainly know that it is essential to open the discussion with a longer appointment. Always end with a "call to action": offer a demonstration, a longer meeting, a meeting with the technical teams… in short, invite your interlocutor to extend this discussion.
In a profession where Pitching is a daily exercise, knowing how to sit down and rework the core of you message, is an essential moment in order to not lose sight of the basics: what is the idea?