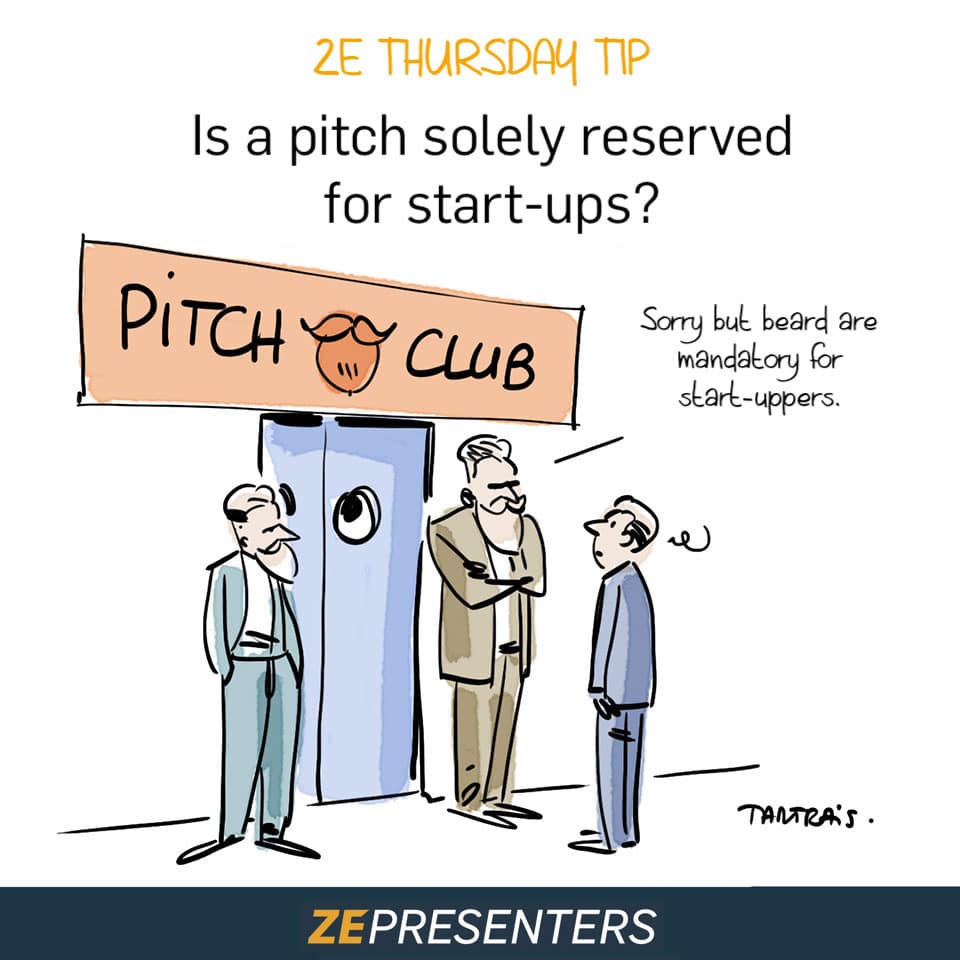 IS A PITCH RESERVED SOLELY FOR START-UPS?
A common exercise in the world of startups, the Pitch, has long been wrongly considered as a start-up tool and not suitable for more established companies. Today we are dismantling another stereotype of the public speaking world. On your Pitch, get set, go!
The term "Pitch," like its cousin, "the presentation," is still too often misunderstood in France. In 2019, we discovered, following our survey in partnership with Opinion Way, that 1 in 3 managers didn't know what it meant. How about getting back to basics? What is a Pitch?
"To Pitch" in English, means to throw. Pitching your idea therefore amounts to throwing it to the person in front of you. And, when you throw a ball to someone, who is not looking at it, what happens? Chances are good that it will fall to the ground. Your idea is the same! Whether you toss it to someone who isn't paying attention to it or doesn't want to receive it, it will probably not get caught.
But how does a "Pitch" differ from a Presentation? Again, going back to its roots, the word pitch in English can also mean "intensity." And that's exactly what a Pitch is. A short and intense presentation. The Pitch is the ristretto of your presentation: short, intense, and tasty!
Recommended duration: no more than 5 minutes.
It is for this reason that the Pitch has quickly become an essential strategic tool for startups. In 2019, there were more than 10,000 startups in France. The founders have faced enormous competitive pressure: 25% of them are looking into fundraising. They therefore have every interest in quickly creating a desire to invest. And the same goes for customers! Being more educated and accustomed to marketing techniques, consumers are subjected to advertising pressure and to an increasingly wide choice, and have become more difficult to convince. For all these reasons, five short minutes can make a big difference for a start-up.
Creating desire and kindling commitment, isn't, until proven otherwise, reserved for startups. The Pitch is the same!
If you're a manager, by nature you need to engage your teams on new projects. You need to
quickly convince and stimulate motivation.  And it is by sharing the meaning and the convictions that drive you, in a brief period of time, that you will succeed in getting your teams on board.
If you are a collaborator with new ideas, you need to bring the project to your superiors, for the initiative to be known and brought to fruition. There are not always meetings allotted to your topic, but there are opportunities that arise in the corridors, at the coffee machine, between two meetings…You then have little time to stimulate the desire to know more.
You are parents and you want your children to eat vegetables without them grumbling about it? You have to make them want to eat them!
In the end, we all need to Pitch! Whether it's for our own company, our own project, or our own ambitions, we have to make others want to follow us every day.
To learn how to pitch, you can start by reading our ZETIPS on this subject; but, you can also train at one of our training courses.