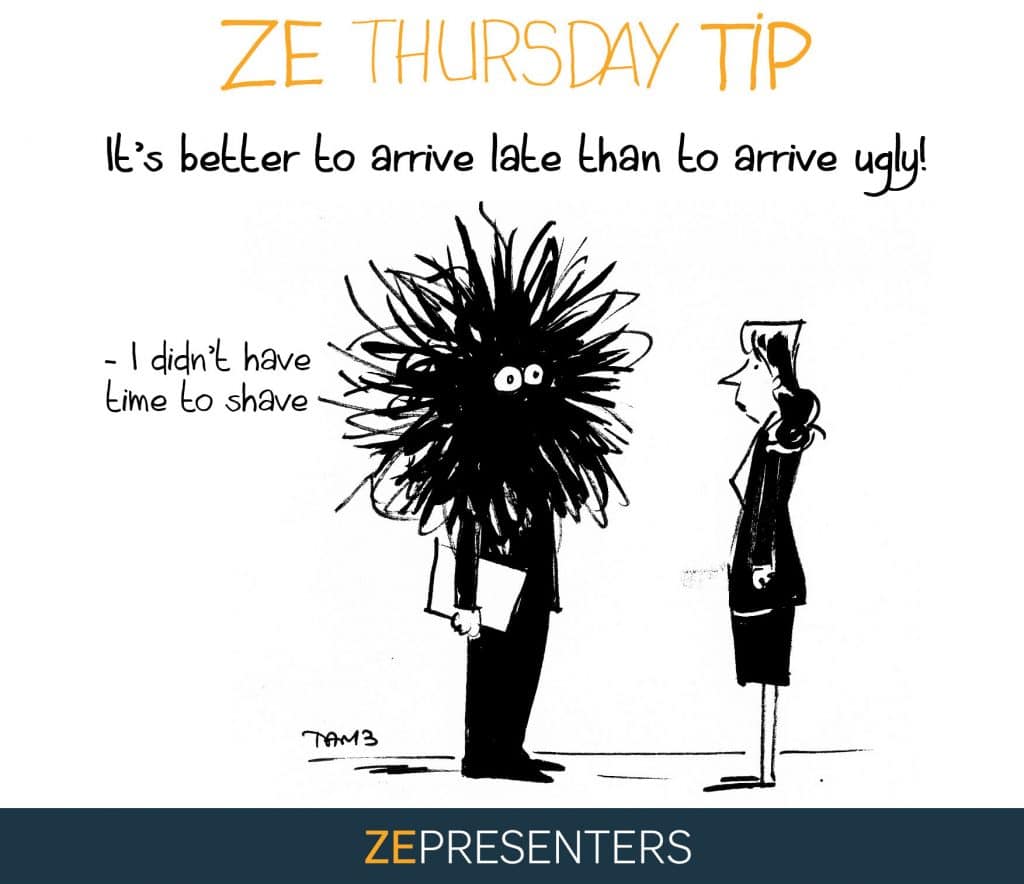 It's better to arrive late than to arrive ugly!
You must be wondering what has gotten in to us! And yet this title reveals one of the fundamentals that drives us: the ability to perform well regardless of circumstances.
Many public speaking methods promise that you'll learn to feel at ease and get rid of stage fright. This is not our position. Though serenity is desirable for all of us, it is rarely realistic when it comes to public speaking. And given the pace of our professional lives, the goal of having no stage fright is seldom pragmatic. So with the M.P.G. (minimum presence guaranteed) approach, we favor a performance objective: whether you have the jitters or not, whether you like to speak in public or not, the goal is to increase your ability to put yourself entirely at the service of your message, whatever the circumstances!
This notion of circumstances is fundamental. Because there are many instances, during a speech, where you can be perturbed by events that are in most cases completely independent of your will. And quite often, they can even disrupt you to the point of harming your message. Here are some typical situations that can be very destabilizing and in which it is often not too complicated to come up with an appropriate response.
If the slide projector is not working or the computer crashes right when you begin your presentation: Who is more destabilized? Is it the audience, whose goal is primarily to be inspired, guided and informed? Or is it you, who created your slides to be the major support of your notes? Obviously, you are not to blame if the equipment doesn't work. But the more your speech is designed with a narrative thread, the more it will be coherent and the better you'll be able to express your points clearly and distinctly without your visual aids. Simply ask for a few seconds to write an outline of your presentation on paper and you can take off again. You'll surprise yourself as much as you'll surprise your audience.
If just when you're about to begin presenting your project, scheduled to last 45 minutes, your interlocutors announce nonchalantly that in fact they can only give you 10 minutes: Who is more disturbed? Is it your audience, who is openly putting you in a tight spot? Or, is it you, who prepared the speech and learned it almost by heart the night before? Again, you had nothing to do with the situation, and yet, it is the way you react that will make all the difference.  The more your presentation will be designed around the core messages that compose it, the more you'll be able to sort through it when necessary. Don't let it get you down. Sometimes, you have to take time in order to gain time. Note down the key points of your presentation: the stakes, the values the means, a concrete example on implementing your idea and the list of those who will benefit from it.
And what if, on the big day, the one you've been waiting for, for several weeks, where all the board members are finally gathered to hear your project… you're stuck in public transport, without network access to let someone know! Again, you're not to blame. And yet, you cannot help imagining them waiting for you and getting impatient. Anxiety, anger, despair, you successively go through all the stages of stress. It would not be surprising that, once you're freed, you take the final meters at a run, even accelerating at last few steps to prove to your audience that you had nothing to do with the situation and that you've paid for it personally. But in what state will you enter the room?  What legitimacy and leadership will you portray after having apologized twenty times for something you couldn't control? On the contrary, slow down, catch your breath. Of course your audience will certainly be feeling that it has been wasting its time. But it is above all your project that will have less time to gain the approval of an audience that is a bit wound up. Assume the delay; acknowledge that everyone's time is valuable, but that your project deserves to be heard, and that you'll take it upon yourself to cover the essential messages within the originally allotted time. You will assert yourself as someone who can take responsibility and who offers solutions.
Remember that speaking means having power. When you have it, what will you do with it?