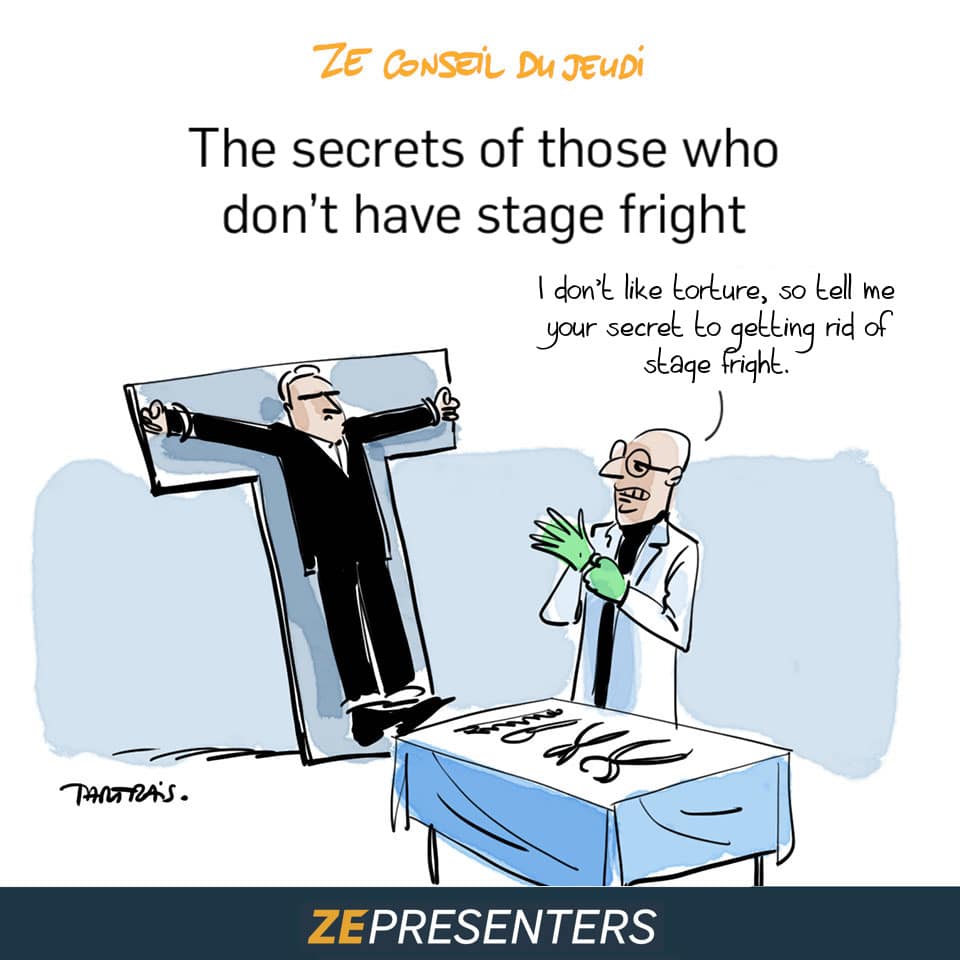 The secrets of those who don't have stage fright
Stage fright is an expression of stress, in other words, a reaction to a complex or even unknown situation. Logic would have it that the more one learns to manage these complex and unknown situations, the more one can approach them with serenity. This suggests to us that it is possible to get rid of stage fright. But how? And how long does it take? In the meantime, the most pragmatic solution is to tame your stage fright so that you can use it to improve your speaking skills.
A few weeks ago, we cited an American study, which shows that 75% of Americans are afraid of speaking in public, a fear second only to the fear of death. This study, already interesting in and of itself, is even more so in view of the study we conducted with Opinionway*. Indeed, in France, more than 65% of the managers interviewed felt comfortable speaking and said they didn't experience any particular fright. Only 35% of the respondents said they felt uncomfortable! Clearly, these results are completely out of synch with what we observe. But as Mark Twain liked to point out: "there are two types of speakers in the world: those who are nervous and those who lie."
Why be afraid of saying you're afraid?
When it comes to speaking, many of us think we're more stressed than others. This is a result of a cognitive bias that leads us to think that others are "naturally" more comfortable than us.
But what's really going on in the minds of those who don't appear to be nervous?
Those who speak with someone who's more stressed than they are.
When we speak as a team, if we identify someone more terrorized than ourselves, we feel weirdly more reassured. This is completely normal, given that we have the reflex to try to be reassuring. This mechanism doesn't make stage fright disappear, but it makes it more bearable compared to what the colleague experiences.
Those who are stimulated by the adrenaline
Some people say they are not nervous. In reality, they are experiencing an adrenaline rush, which is exciting and non-inhibiting. These people are thus positively stimulated by the stage fright.
Those who take beta blockers
Beta blockers are drugs that limit the impact of emotions and physical reactions of the person taking them. And yet, conveying emotions is one of the main stakes for the success of a speech. By decreasing the force of one's emotions, one decreases the effectiveness of the speech, the intensity of empathy shown and, more generally, the impact of the message conveyed.
Those who have done it so many times
When the same presentation is made regularly, the feeling of nervousness diminishes. By repeating the same statements, you gain enough experience to make the relationship with your audience something familiar and therefore less stressful. Be careful however, not to relax too much. It only takes a room that's larger than usual or a specific audience for stage fright to come galloping back.
Those who simply don't dare say it
Finally, there's the taboo, fear: not daring to say it. This is a real vicious circle, because not daring to admit that you have stage fright, sometimes makes the situation worse. You're going to speak, hoping that your fear is not visible and thus you take the risk of focusing on the wrong goal. You have to learn to tame your emotions, to accept them, in order to be able to express them. By doing this exercise you will undoubtedly increase the impact of your next public speaking engagement.
Stage fright is the result of an emotion that we must learn to listen to. Yes, public speaking will always be a complex and unknown exercise, even if you have a lot of experience. But never forget that stage fright is an opportunity because one it's mastered, it becomes our best ally.
* Study conducted by OpinionWay for ZEPRESENTERS from August 9 to 23, 2019 on a sample of 400 executives from service industry companies with 20 or more employees. The sample was drawn up according to the quota method, with regard to the criteria of sex, age, region, sector of activity and company size.