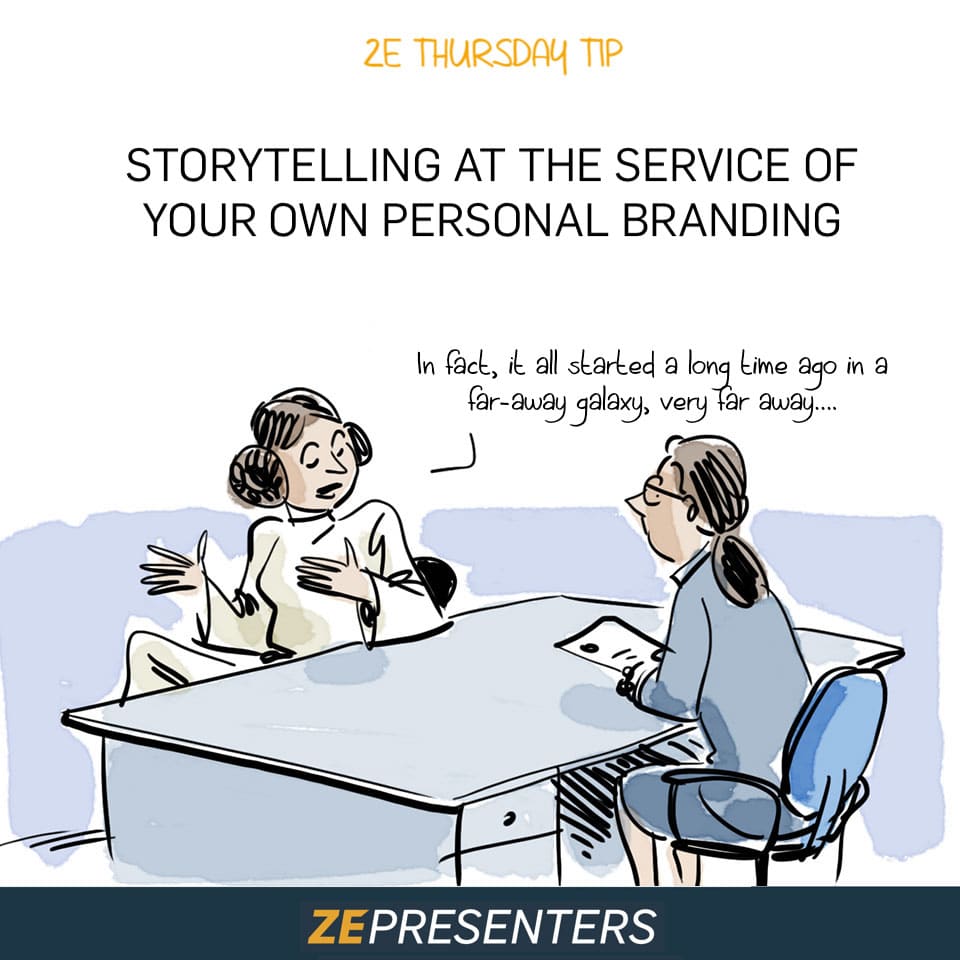 STORYTELLING AT THE SERVICE OF YOUR OWN PERSONAL BRANDING
Practiced since the dawn of time, Storytelling continues to weave its way into our daily lives. On TV, in the subway or in the supermarket, Storytelling is now "everywhere" to emotionally connect consumers and brands, while leaving a strong imprint in people's minds. Its impact is powerful, brands would be wrong to do without it! There is one brand in particular that would benefit from doing it: this brand is you!
Personal branding and storytelling: a winning duo!
Indeed, your "personal brand" is not something to be taken lightly. You built it throughout your career and enriched it through your personal and professional experiences. This brand is also the one you will "market" to advance in your career, expand your network, or succeed in your job interviews and thus land the job of your dreams! Whatever the outcome, your goal remains the same: make people want… you! And, in order to create desire and capture the lasting attention of your interlocutors, while leaving a distinctive and indelible mark in their mind; Storytelling is your best asset.
So, you're been invited to a job interview, and are ready to apply storytelling techniques to your "personal branding." Let's see how you can create a memorable and remarkable brand in 3 steps:
Step 1: Capture the interest of your interlocutor
Unfortunately, you'll never have the chance to make a good first impression twice. This is why you must take special care of your first exchanges, to get the attention of your interlocutor and embark him directly into your universe.
Even if the first few minutes are not everything, the first feeling that you will anchor will condition how you will be perceived for the rest of your exchange. It's not fair, but it is in your best interest to pay attention to this moment.
Now that you've gotten the attention of your interlocutor, capture their interest once and for all, by identifying the problem, for which you are likely to be seen as THE solution. Slip into the shoes of the employer and ask yourself:
What is the company looking for?
What is it missing?
What might have aroused the need for a new recruit?
Cleverly reformulate the issues, to which you will be able to respond… The success of this stage depends on your ability to understand the issues of your interlocutor and to focus on him, rather than on you.
– Step 2: Create the desire… for you!
Now is the time to put yourself forward as well as the change you promise to bring by joining the company. Before delving into the concrete details of your personality and areas of expertise, you must first take a step back and tick two boxes:
– Your "why"
It is crucial to start with your "why": what meaning do you give to your candidature? What inspires you to join the company? Why did you choose this path over another?
– Your "how"
Then follow up with your training and personality traits that set you apart and have enabled you to achieve your goals. What is the peculiarity that makes you the best candidate for the desired position?
Once you are clear on your why and how, you can finally recall, in the form of anecdotes, the encounters and experiences that will highlight all the skills that are expected for the position. There is nothing better to show your credibility than giving examples of situations you have been confronted with, rather than listing your skills with confidence, which gives the impression of over-justification. "But I assure you, I'm a great listener!"
– Step 3: Anchor the benefits you bring
As important as the beginning, the end of your interview needs to be taken care of too. It is the last impression you will leave with your employer. Talk about what you hope to accomplish by joining the company and point out all the benefits you will bring when hired. Ask the questions you have prepared beforehand and conclude by reiterating your motivation for the desired position. Your mission is accomplished if you have anchored in the mind of your recruiter that this first interview is only the beginning of a long, beautiful story between you and the company.