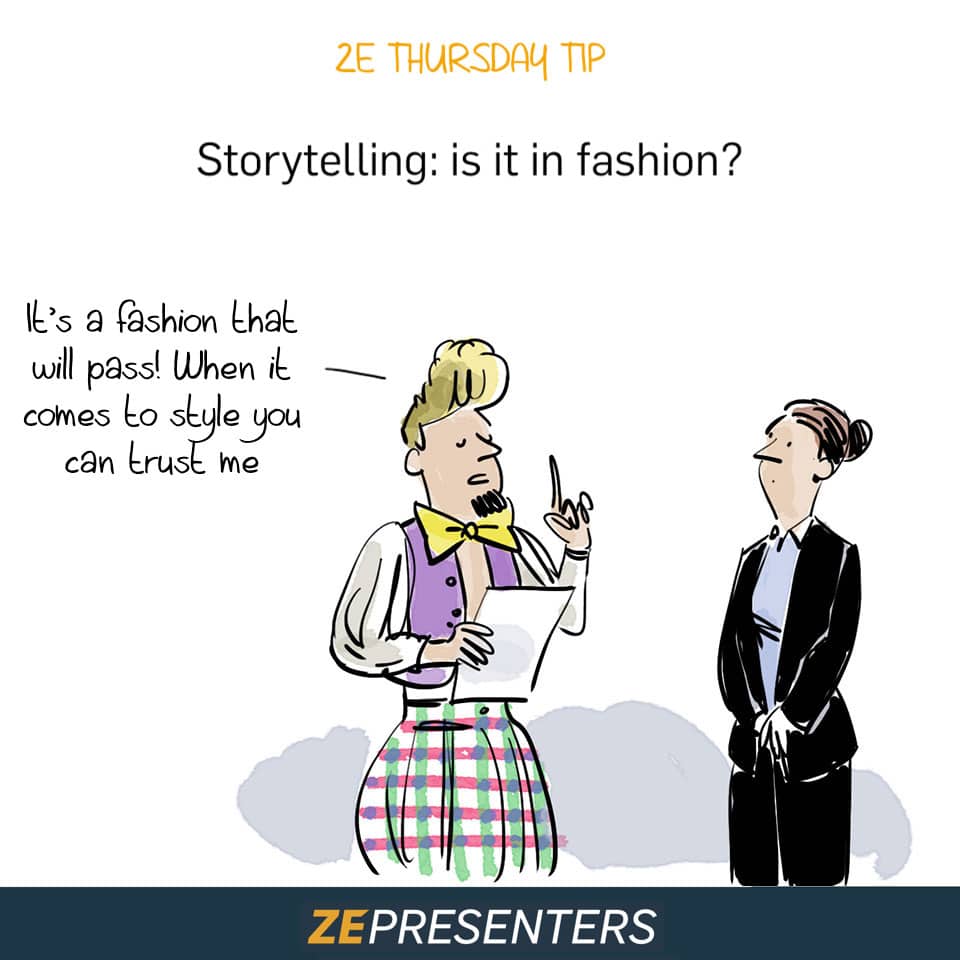 Storytelling : is it in fashion?
"Storytelling" is like a Pitch, you hear it everywhere, you see it everywhere. This communication technique has been on everyone's lips, from agencies to advertisers, for several years. We have heard many times, during our speaking events: "yes, this is the new trendy thing," or "yeah, I'm not very convinced, it's just another marketing technique." These reactions are quite understandable. Is it a fad or a powerful technique? As you can imagine, at ZEPRESENTERS we already chose our side a long time ago.
Why do we try so hard to infuse storytelling everywhere?
Spoiler alert: Storytelling is already everywhere. Yes, we are sorry; this technique has been spread since the beginning of mankind… the art of storytelling is still part of our history today.
Storytelling: boosts recall and transmission
Ancient civilizations passed on their knowledge from generation to generation through stories. "An old person who dies is a library that burns," (Amadou Hampâté Bâ) is not just a pretty metaphor. Stories carry knowledge, values, awareness.
Stories have the particularity of making us experience emotions. They can make us happy, enthusiastic, sad, angry or scared; a multitude of mingled feelings. And this is precisely what anchors the data we receive: our emotions. Emotions guide us, give us the impetus for decision-making, and they anchor facts and memories in our minds.
Storytelling: a means of interpersonal communication
When on Monday morning, after a very eventful week-end, full of unforeseen developments, you arrive in your office and run-into a colleague, all you want to do is tell him! The verb "to tell" is far from being there by chance. You would never say to your colleague: "hey Michel, I'm going to tell you about my weekend and present all the twists and turns to you. First, I'll talk about the departure, then I'll tell you about the rental, and then I'll finish with the weather." Fortunately, you would never do that! You would very naturally tell your story: "Michel, you'll never believe it, …" When we were in the countryside this week-end, just about everything went wrong, right from the start when we left the house…" and so on. By nature, we all know how to tell stories, but this ability seems to escape us, as we prepare our presentations.
Storytelling is everywhere, except in our presentations:
In the end, stories follow us everywhere, only to stop at the doorstep of our companies. However, as we have just seen, storytelling is a powerful tool for transmission and recall. Be it a strategy, a process, or a project, if you tell the story of the IDEA, then your voice will be much more effective.
So yes, storytelling has been fashionable for several thousand years. So, it's a safe bet that the trend is not about to pass!