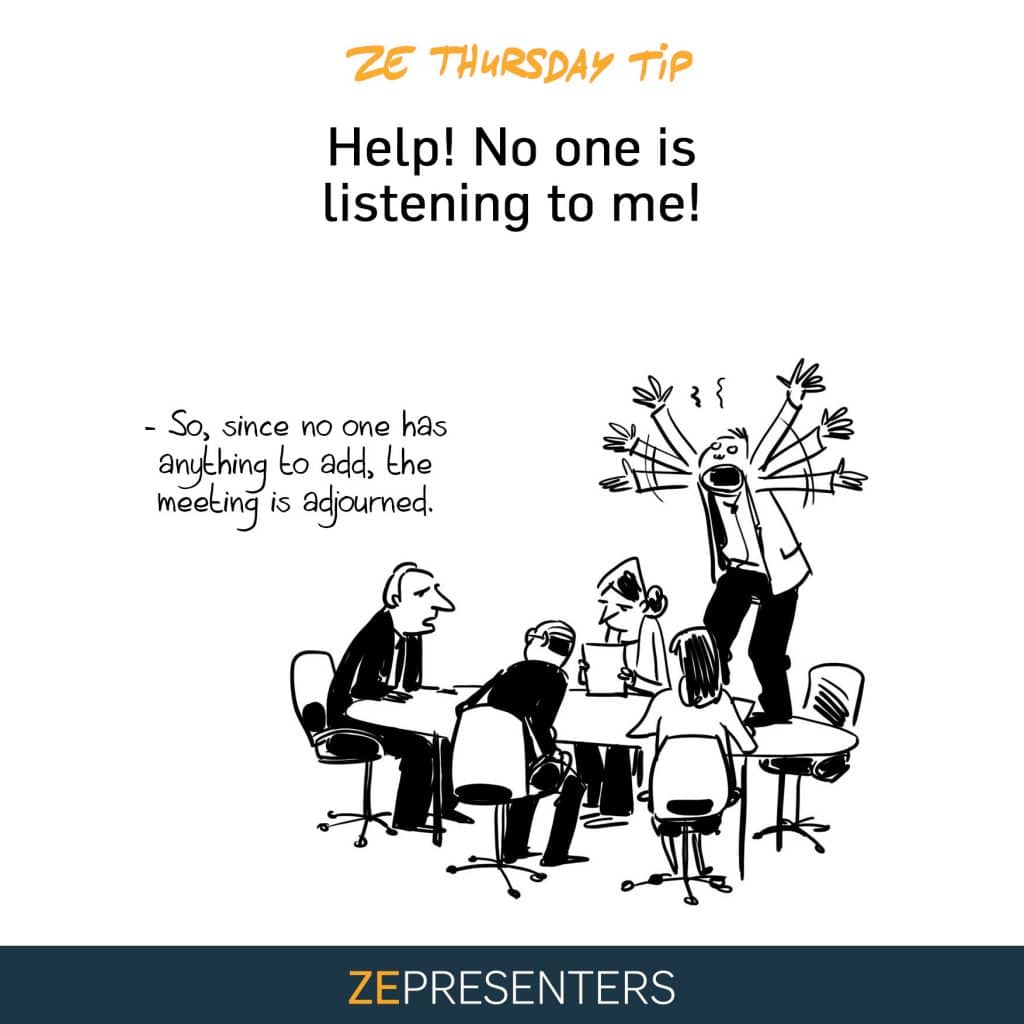 Structure, confidence and preparation: a winning threesome!
This tip is part of a series of three articles that will address the almost inevitable fears related to public speaking, to better understand and overcome them.
Fear of being the one who speaks in a vacuum
Fear of being the one who talks too much
Fear of being the one who has nothing to say
Nobody likes to talk in a vacuum. And yet, this has already happened to all of us…
Imagine yourself in an animated meeting: More or less relevant ideas circulate, passions flare and tensions rise as time goes by. But the IDEA that eases everyone's mind is slow in coming. Suddenly, with a flash of genius, you hold THE solution and you hasten to share it with your team. A silence follows your proposal, then the conversation resumes, as if you had not said anything…
We're guessing this situation is probably familiar to you…And for good reason; we have all lived this moment of loneliness and impotence at least once in our life! So, we feed a legitimate apprehension, and sometimes we dare not speak. And it's even more annoying nowadays when speaking has become a necessity on all fronts, to bring out new ideas, solve problems or create new offers…
Today, as you well know, we are going to look at the fear of not being listened to, understood or heard. The hard truth, whatever might be said, is that if your audience does not listen to you, you probably have not expressed your idea in the right way. We can always find good excuses – an audience that is too hostile, circumstances that are too complex – but it will always be the responsibility of the speaker to adapt to his audience. But how can we capture the attention, under any circumstances, of someone who is not necessarily ready to listen?
An idea is like throwing a ball. We do not throw a ball to someone who is not ready to catch it! Yet this is what we do by expressing our ideas too quickly and throwing ourselves too early into an argument that others are not ready to hear yet. So, instead of letting your ideas fall on the ground, without anyone being interested, here is a winning combination: Confidence-Structure-Preparation
First, have confidence in yourself
When working as a team and needing to speak out, it is common to start doubting oneself and one's ideas. We are afraid of being judged, of not being good enough and our remarks suffer for this. But the best idea in the world will never succeed if its spokesperson does not fully believe in his potential. How do we expect to be trusted if we give off the impression that we doubt ourselves? Once again, the enemy is not the other person but ourselves. We do not always have to listen to that little voice in our head. The idea is not to take to the floor in order to put ourselves forward, but to be useful and to bring our contribution to the debate.  Have confidence in yourself and your ideas, believe in their impact. It does not matter if we will not remember your idea later but it is unacceptable to not have heard it. So, don't hesitate to jump right in and speak; you won't risk anything. And it will come easier than you thought…
Structure your speeches
It is not because your speech is improvised that it shouldn't be structured, quite the opposite. Those who perform well with improvisation are those who can rely on a robust structure to build their remarks. Begin by reformulating the issues: what is the problem that concerns us here? Why is it so complicated to solve? What are the risks if we cannot solve it? Once you have the attention of your audience, resist the temptation of arguing your points too soon. The more you give the impression of wanting to be right, the more you will interfere with the attention given to you. You must first arouse interest and make your proposal desirable by sharing:
Your belief: what inspires you, your quest, your fight, the cause you're defending;
Your means to get there: what makes your idea possible, the values that guide you, the ingredients to succeed.
And finally, your solution: what your idea will concretely change and the arguments in its favor.
And all this made easier since you made the effort to…
Prepare every day
Feeding the confidence that we give ourselves and structuring our speeches is not innate. It's substantive work that must be enriched on a daily basis. And preparation plays a key role, because we don't speak on a whim while praying that it goes well. In the long run, it is essential to increase the opportunities to speak. On a daily basis, you can also get a step ahead by developing an actual requirement to express yourself more during more informal interpersonal exchanges.
And the spontaneity in all this? A key rule in theater stipulates that improvising is preparing! So, don't hesitate, bet on the winning threesome: Confidence-structure-preparation and get started! You will love being listened to!