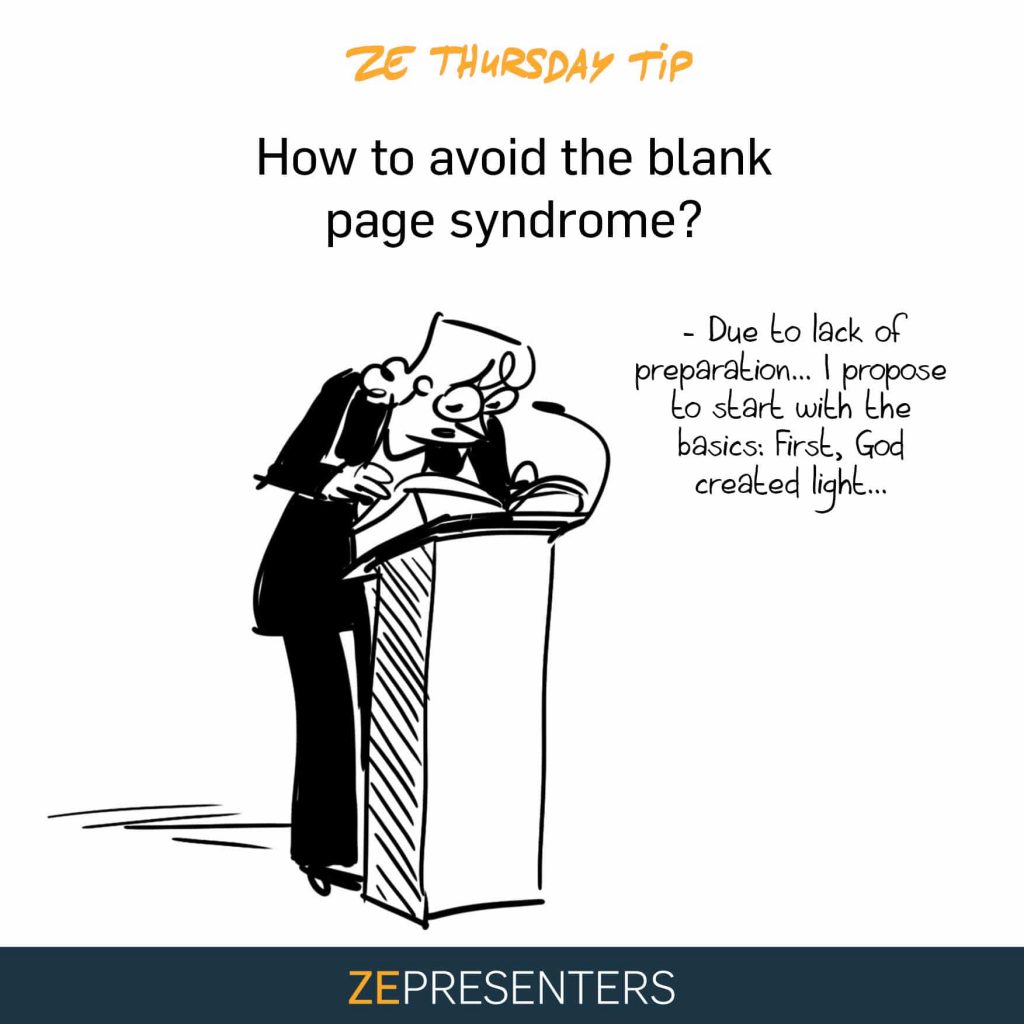 The blank page remedy in 4 steps!
Your presentation is fast approaching and you still have no idea how you're going to do it. After procrastinating for weeks, you finally get to work. But you get the syndrome of the blank slide: ideas multiply and you become unable to prioritize and order everything you have to say… where do you start? Here are 4 steps that will help you defeat the white blank slide syndrome.
1 – The idea first
The mistake is to want to start from the beginning. This may sound counterintuitive but it is very complicated, or rather inconsistent to build a story from the beginning. The first question you have to ask yourself is: what is the idea? Regardless of the issue and the nature of the audience, if you're speaking, there's an idea to defend. So, what is the idea? And what will it change for those listening to you? The answer to these two questions is what we call the Promise of Change. The clearer your Promise, the more you will be able to build a solid and consistent story that you will enjoy telling.
2 – The beginning next
Once your Promise is ready, you can then go back and write your introduction. The beginning is important because you will have to capture the attention and interest of an audience that is often dissipated by chatter, emails and social networks. Start strong and reach out to your audience to get their attention. The goal is to get to the problem you propose to solve with your ideas and what is at stake if you do not succeed as quickly as possible. Thus, you will build the perfect introduction to showcase your ideas. You now have a pitch designed to make your idea more attractive.
3 – Argumentation after
Having an effective pitch is an important step, but it is not enough. Your idea will solve problems, that's great! But it will also generate resistance and you must provide answers. It is normal not to like resistance. And yet, it is what spices up your story. Each attempt at resistance then becomes an event that allows you to recall the issues, highlight your arguments and talk about the benefits of your approach.
4- The end, finally!
Never forget to use the magic phrase "in conclusion," which announces the end of your presentation and will bring renewed attention. This is the moment to firmly anchor the goal you are aiming for into your audience's mind, and the benefits of change that your idea will provoke. All you have to do is add the final word and say that this is just the beginning of a great adventure, in which your audience has an important role to play.
So, before you know it, while you didn't know where to start, here you are with the entire structure of your presentation in your hands. So, the next time you're in front of a blank slide, don't forget to ask yourself: by the way, what's the idea?