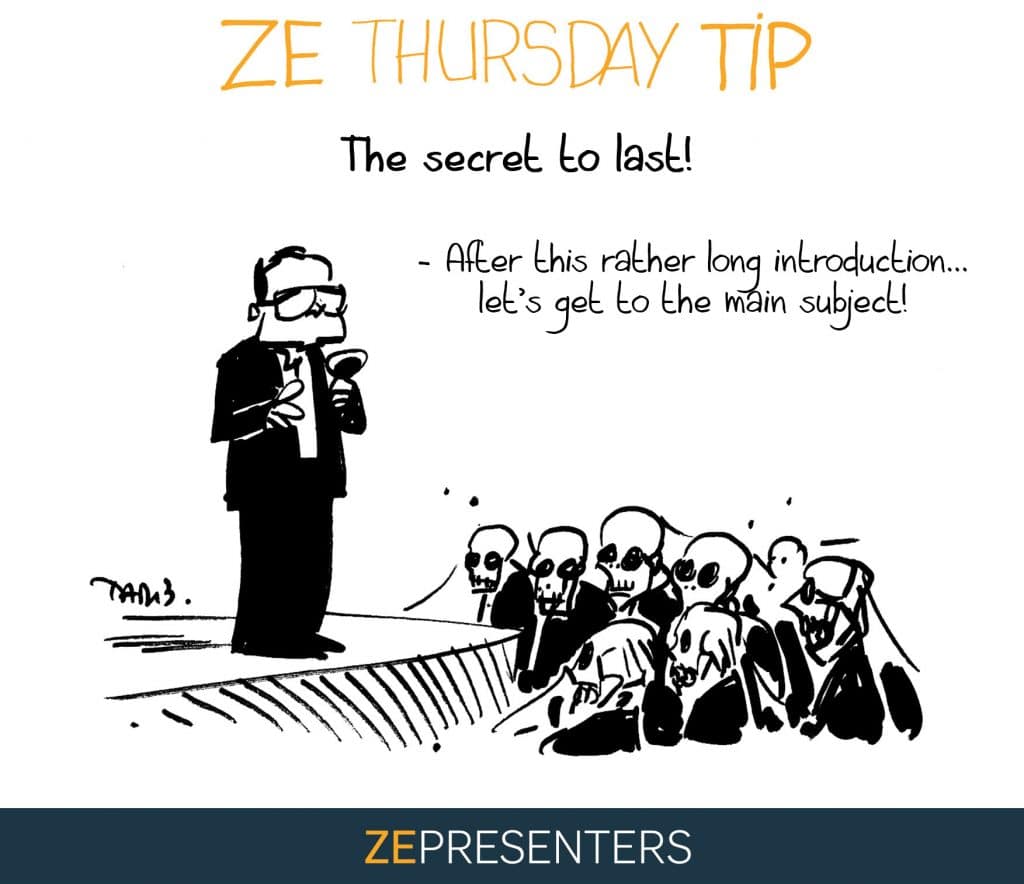 Two weeks ago, while we were preparing the release of our second book, we realized that we would be publishing our 100th Zetip today! We naturally felt that time had sped by too quickly. It was at the beginning of 2014, one week after the official start of ZEPRESENTERS, that we decided to create a weekly rendezvous devoted to the presentation of ideas.
Those of you who know the 'behind the scenes' of ZE Thursday Tips, or who have had to produce written material on a regular basis, know that it is often heavy and demanding to maintain such a pace. Every week, you have to come up with a subject, find the right idea to illustrate and to write… while maintaining the pace of your other missions and business appointments.  But it's always with the same pleasure that we press the key "publish" every Thursday, to contribute to the dissemination of ideas. This experience has inspired our tip of the day: "the secret to last!"  What alchemy has enabled us to successfully keep up the pace? And more generally, is there a secret to lasting over time?
The subject matter obviously has its importance. The exercise of giving a presentation concerns around 400 million people daily, worldwide. The themes of presenting and public speaking are completely timeless while remaining inescapably topical. Rare are the professional fields, where it is just as relevant to mention Aristotle, Spielberg or the results of a neuroscience study.  We have lacked inspiration many times, having had the impression that we'd already examined the issue from all angles, and feeling that perhaps we aught to move on. And then, all it took was an anecdote, a meeting or a question via email, for the wheels to start turning again for several more weeks! Stay alert and curious about everything that is essential to fuel your editorial lines over time.
And also, you have discovered very specific notions concerning our methods. You have been introduced to notions such as "the ideal, the magic sword, the promise of change, stage presence goals…" that stem directly from our consulting process: the HUBSTORY® and M.P.G.®. Beyond the characteristic vocabulary, you have had the opportunity to familiarize yourself with our positions and the fundamentals that drive our approach.  Originality is an indispensable factor if you want to last. It allows you to distinguish yourself and strongly stamp your identity.
But a good subject, even treated in an original way, is not enough to ensure longevity. A few weeks ago, we talked about the need for your activities to be driven by a strong ideal to give them meaning and coherence. The reception reserved for ZE Thursday tips attaches great importance to the vision that guides them: bring to those who innovate, thanks to their ideas, concrete advice for designing their presentations. This vision directly participates in keeping the ideal of ZEPRESENTERS alive: "good presentations spark innovation!"  This belief that innovations are always accompanied, at one time or another, by a presentation, drives us to be ever more clear, pragmatic and inspiring. This motivates us to make more people aware of the requirements that call for the exercise of presenting.
And finally, here's a very practical tip: regularity.  The choice of a forced weekly rhythm is an essential factor in the longevity of ZE Thursday tips. Publish your article on a Friday and the bulk of your editorial line is meaningless! Without this constraint, keeping such a demanding weekly appointment would have been difficult given all the other daily obligations. Teamwork is also essential: cross checking subjects, choosing illustrations, proofreading, translating… the more people mobilized in your editorial the easier it is to make the deadline.
Vision, distinction, relevance and regularity! These are the ingredients that work for us. We hope that they will also ensure a long life to your ideas.