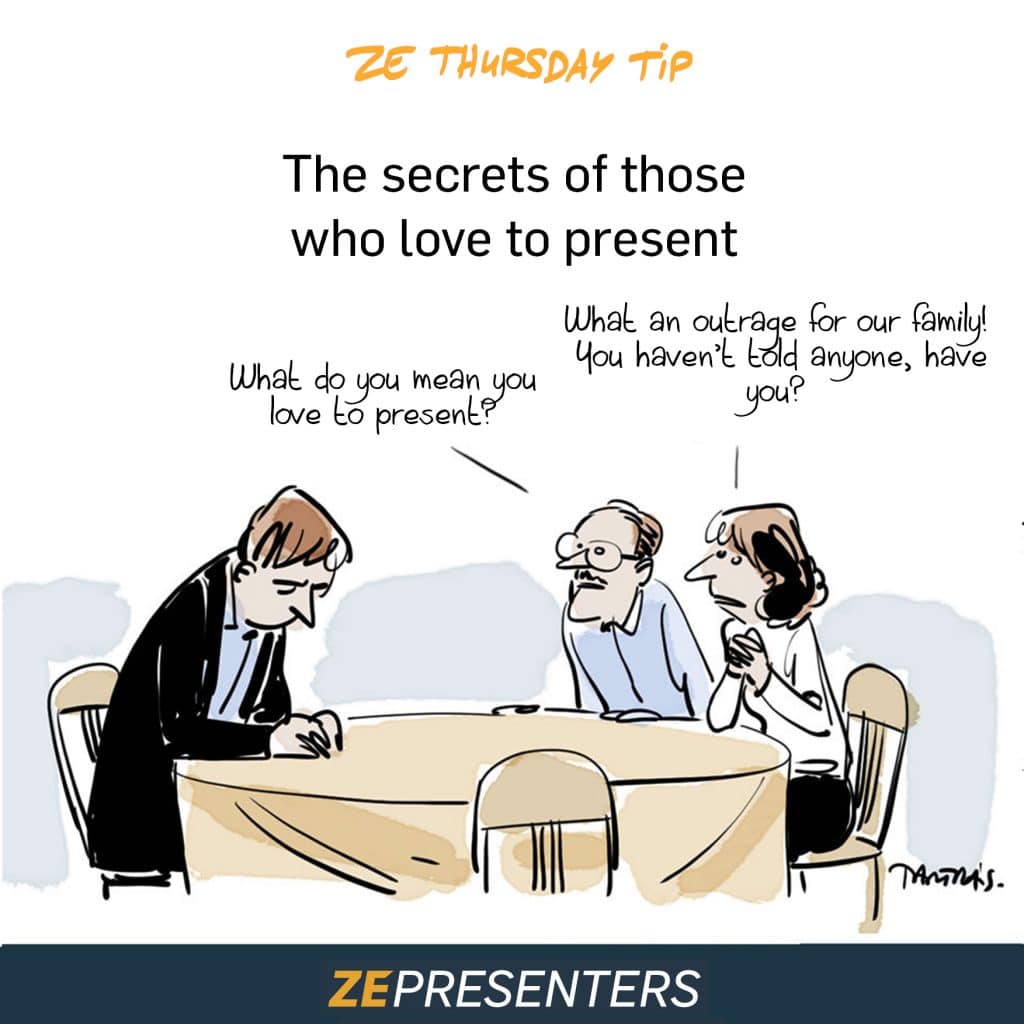 The secrets of those who love to present
People who really enjoy speaking in public are not the most extroverted, contrary to what one might think. However, they have understood something precious for all those who have ideas to put forward and who do not dare to get started. So, what is the secret of those who love speaking in public?
Yes, people who like to speak in public do exist! In a previous tip, we talked about the infamous words: "it's easier for extroverts." Indeed, the exercise is more stimulating for extroverts, since they draw part of their energy from social relationships. But we also showed that it didn't make them the best speakers.Know that among these UFOs (unidentified voluntary speakers), there are not only extroverted personalities. What then are the secrets of those who LOVE speaking?
At the risk of disappointing you, there are no big secrets: they are prepared. Preparation is the key recipe for enjoyment for both the speaker and the audience.
The 1st ingredient: they have clear ideas!
Speaking is always a source of stress whether or not you like the exercise. Getting ready is therefore essential, so as not to overwhelm yourself with unnecessary pressure. This is why you must be clear about the issues of the presentation. What are the ideas you want to defend?
Structure your remarks using a Pitch. If you have little time to engage your audience, make them want to know more. If you have more time, the Pitch will be a good foundation to structure your remarks and serve as a great introduction.
2nd ingredient: they structure their presentation
When we speak longer than 5 minutes, we tend to focus more on the presentation, rather than the Pitch. The longer the presentation, the more its structure has a fundamental importance to maintain the audience's attention. Imagine 2 hours of a disjointed presentation, at the end of which, you have already forgotten what you were there for (I saw you yawn!).
It is for this type of presentation that it will be essential to maintain a cause and effect link between the main parts of your speech. Be sure to oil the wheels of the stakes-action-consequences loop  and thus the path will only be more pleasant for both you and your audience,
3rd ingredient: They understand that the exercise enables them to showcase their ideas
We have already mentioned that speaking in public (or by video) is a highly stressful exercise. But after the initial adrenaline rush, it is above all a great opportunity to convey your ideas and generate engagement around it. Who better than you, can speak about the ideas and the convictions that inspire you? It's your job as a speaker to convey this commitment to your audience.
Bonus ingredient: They applied the best practices of ZEPRESENTERS
Okay, this one's a gift to ourselves! But there's some hidden truth to it. Every Thursday we give you concrete advice so that you too can have fun presenting. Public speaking is a great opportunity, so seize it!