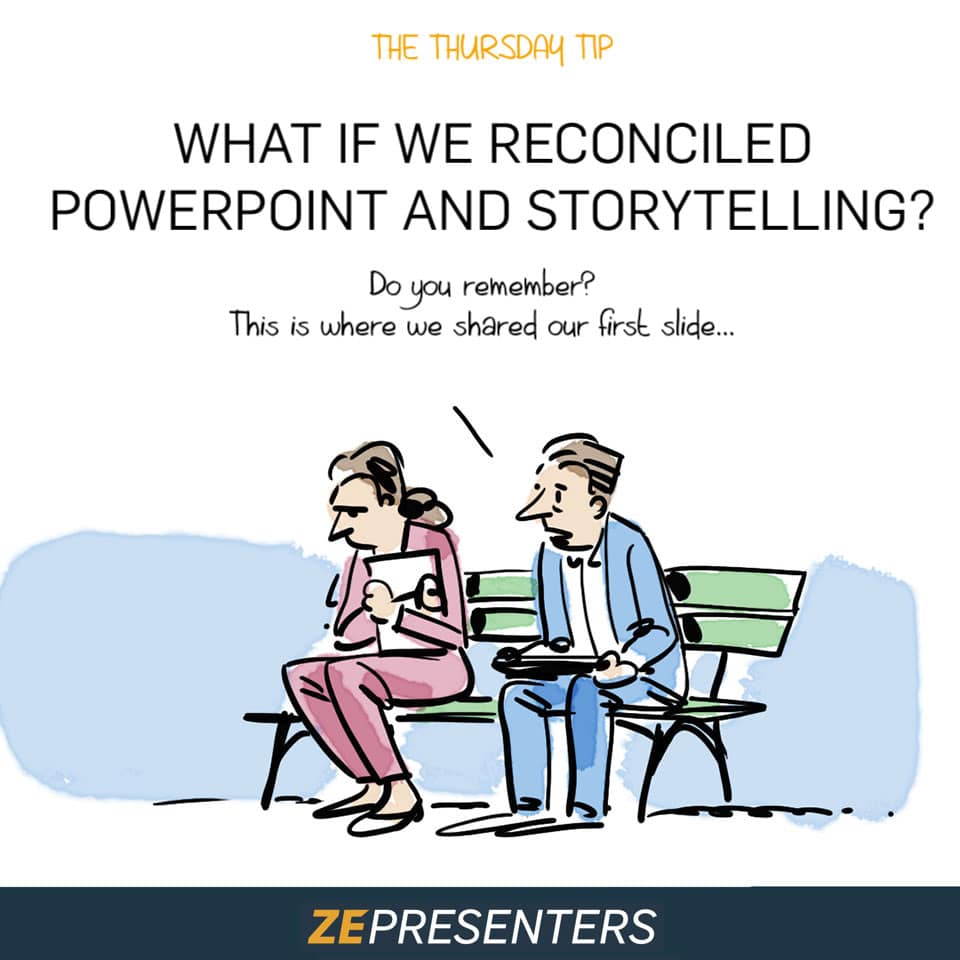 WHAT IF WE RECONCILED POWERPOINT AND STORYTELLING?
PowerPoint is a highly criticized tool… and that's not fair! It's not fair because it never promised to help us create great stories that inspire, nor to help us sell better, persuade better or engage better.
The truth is that today, PowerPoint is associated with long, painful moments, where everyone is board, presentations are immaterial, and speakers comment on their own slides. To blame PowerPoint is like blaming a hammer for hitting us on the fingers because we missed the nail…
Herein lies the real problem: we don't know how to use this tool. Indeed, more often than not, presentations reflect the entirety of what the speaker has to say. Consequently, the slides are exhaustive, faithful, word for word, to what the speaker is saying.
This poses a serious problem, because the audience reads faster than they can hear. As a result, they are ahead of what the speaker is about to say. The speaker effectively turns into a commentator of his own visual aid, with an audience that very quickly understands where he's going; this becomes a perfect opportunity to stop listening.
How to reconcile PowerPoint and Storytelling?
Stop doing Slide Designs
Slide Design often leads to optimizing space, or even to decorate, which is useless. To make good use of PowerPoint, go from Slide Design to Story design, the 3rd step of our HUBSTORY® method.
Story designing means changing the paradigm. It means considering that PowerPoint is at the service of the story and the speaker, not of the subject. So, each slide is there to amplify a key moment in the story. With this conception, the speaker is always one step ahead of the audience, since he is the only one who knows where he is going.
By having this head-start, you can play with transitions (between slides) and sequencing what's projected (within your slides). This enables you to increase the impact of your idea by posting just the right amount of information at the right time. By doing this, the slides are naturally pared-down because they only say what needs to be remembered. Like an iceberg, the slides are only the visible part, the submerged part is what you want to say overall.
Within this framework, we can make PowerPoint a powerful tool for designing slides that, sequence after sequence, will mark all the highlights of the project that you're sharing with your audience
Separate your story from the tool
Be careful, if you want to use Story design, remember that your presentation must be built in a story form.
The first mistake we make today is using PowerPoint to build our presentations. PowerPoint is just a tool for designing slides, not for constructing your subject! Indeed, the sequential construction of the storyboard only works if you have already structured your speech in the form of a story. If your talk is intended as a demonstration with an analytical plan, you will end up with an exposé, like you did in school… no wonder it's boring for everyone.
PowerPoint, even when used by the god of graphic design, won't do Storytelling for you, if you haven't built a story first. And to prepare for this first step, we invite you to join us ice.