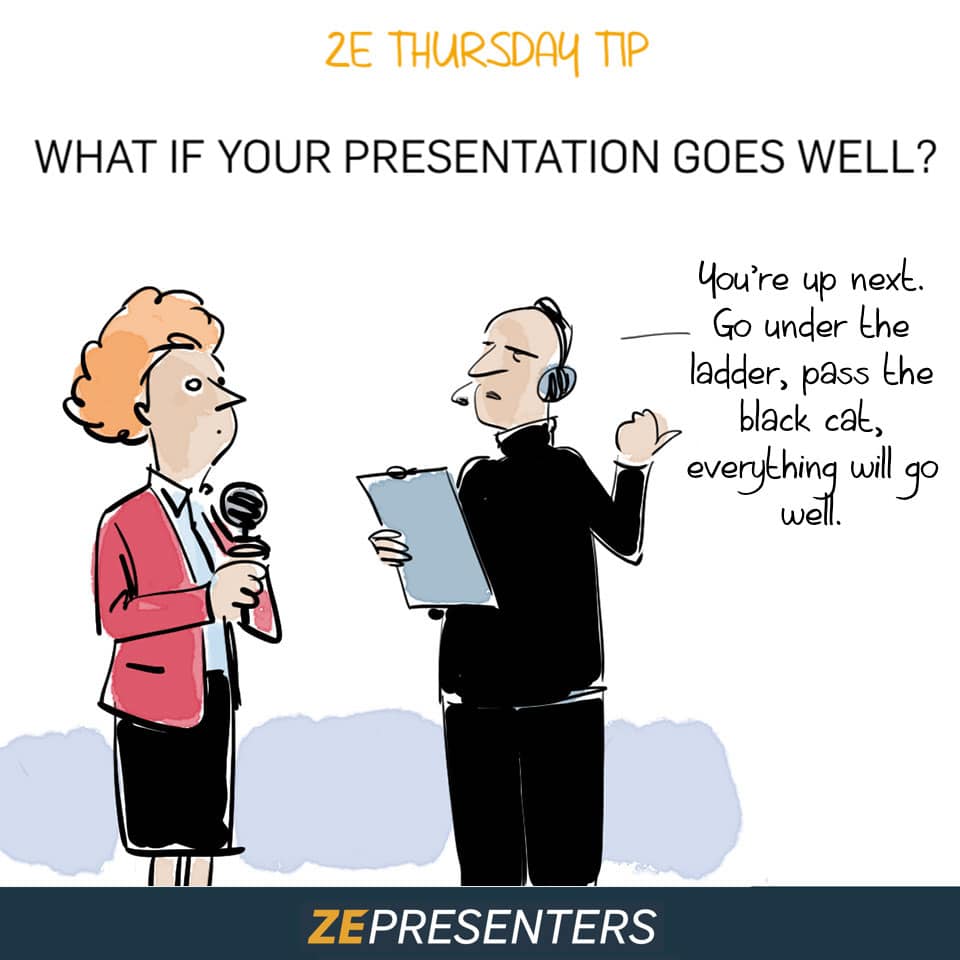 WHAT IF YOUR PRESENTATION GOES WELL?
Today is D-Day! You're expected early in the morning to present the project you and your team have been working on for months, to your management committee. Your future in the company, as well as that of your team, depend on this presentation. No pressure!
Along the way, as you try to rehearse your remarks one last time, your concentration is strained. You catch yourself having a nightmare with your eyes wide open, imagining you're in a scenario worthy of the failed (but legendary) presentation of Michael Bay at Samsung…
The nightmare
You enter a room where all eyes are on you. No one looks happy to see you and you begin your presentation with a trembling voice. As soon as you start, you find that your display screen is not working and you'll have to do without your notes. Panic on board, you lose control and allow free rein to your stress, leading you off course: black hole, buckling knees, desire to flee… you pretext an urgent situation and run for your life, leaving the audience hanging, helpless and dazed at what they just witnessed…
We are indeed many, who imagine the worst before a high-stakes presentation. A bit as if we enjoyed hurting ourselves, by projecting ourselves into all the most negative and unpleasant situations, which fuel our anxiety all the more and in no way promote a positive framework conducive to success. So yes, for many, "we can't help ourselves!"  and our vivid imagination takes us to dark, undesirable recesses…
So, what if we put our imaginative qualities to good use? What if, instead of imagining the worst, we imagined the best and prepared for it?
The dream
Positive thinking is indeed an effective solution for relieving stress, especially during an anxiety-provoking situation. Based on meditation methods, its principle is simple: visualize and imagine the situation you're apprehending from a purely positive angle. When speaking before an audience, simply ask yourself, "what if my presentation goes well?"
So, what could a presentation where "everything goes well" look like?
A clear and desirable idea. Very quickly, your audience knows where you are going. Your project makes sense, you have the means to achieve it and you provide a concrete solution to a concrete problem that concerns your audience. At the end of your presentation, this same audience is able to clearly relay your message, and does so with a lot of enthusiasm as you have been able to make them want to be part of your project.
A coherent and engaging common thread that holds interest over time. Even beyond your idea, the chosen narrative structure is optimized for your message. In other words, the story you choose to tell is the right one, and is addressed to the right audience, in the right way (link to article on storytelling), to keep them interested over time.
A captivated, engaged audience that adheres to your idea and lets itself be drawn into your story. Your audience doesn't need to be asked to follow you. It naturally lets itself be drawn into your narration, and lets itself be carried away by the twists and turns of your story. Your story brings out the emotions you're feeling and want to convey to your audience. You can read on the faces in front of you, the frustration felt by a particularly high-stakes, complex issue. You can also see the relief following an identified ingenious solution and the satisfaction from concrete and positive results.
An optimized slide-speaker duo. Your slides go by with great fluidity and amplify your remarks. Instead of giving the impression that they are impeding you, or turning you into a simple commentator of your visual aids, your slides highlight your key ideas, are projected at the right moment and help retain the attention of your audience.
Staging that highlights your message. In addition to your slides, your overall staging amplifies your impact. Your remarks hit the target and you won't let your audience go without a document that recaps the key points of your speech. From a technical point of view, there are no problems to report: the video projector works wonderfully, your computer too. Not to mention the room that has been allocated to you: you couldn't have asked for better, an ideal volume, a latest generation screen…
A project, fully embodied by a confident speaker who inspires trust. You took the time to prepare thoroughly and rehearse over and over again. When it comes time to get started, you are calm, clear about why you are there, and in complete control of your storytelling and emotions. And it shows! Your credibility is unchallenged and your audience automatically feels comfortable and ready to listen to you.
The reality
We have seen the nightmare and we have seen the dream. Obviously, reality generally doesn't correspond to either one or the other, but to a more or less mix between the two. If imagining the worst is to be avoided, imagining the best is recommended, but with caution. Indeed, the dream is by definition an ideal to aim for but difficult to achieve. In addition, a presentation that is "going well" doesn't have to meet all the requirements for a perfect presentation. Because very often, the reality is that everything doesn't always go as planned.
You have to accept this reality. This sometimes means downscaling your expectations, in particular according to the time and tools available during your preparation. After all, not everyone can improvise Steve Jobs! He dedicated nearly 80 hours to preparation for his presentations and surrounded himself with the best advisors to achieve the effect we know well.
In short, the key to making your presentation go smoothly is to set the conditions for everything to go well, while accepting that everything will not go as planned.