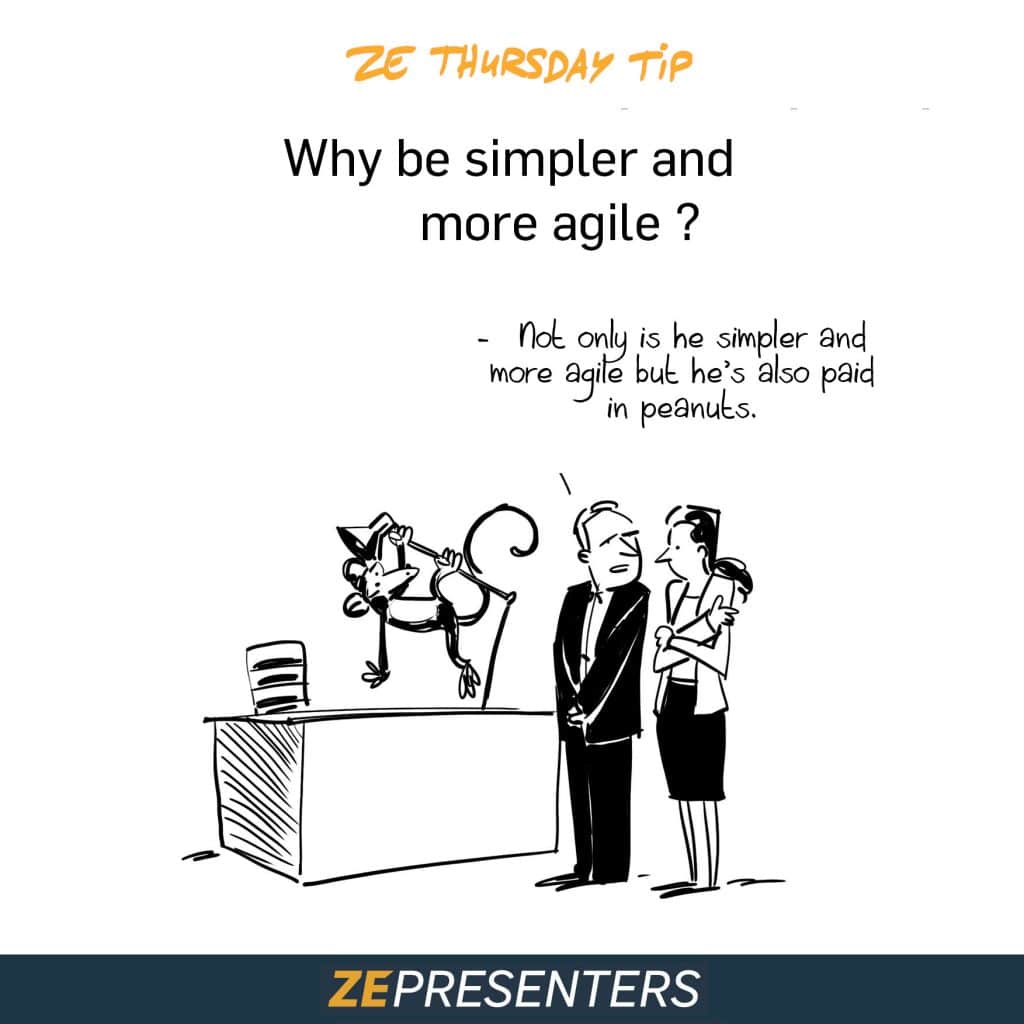 Why be simpler and more agile ?
If you assiduously follow us on the networks, it will not have escaped your attention that we have just launched the 3rd version of our HUBSTORY® method. Since its creation 6 years ago, the HUBSTORY® has allowed us to accomplish hundreds of consulting missions, which helped us in return to enrich and refine our method. Today, HUBSTORY® 3.0 focuses on simplicity and agility to better coach you and make your ideas even more attractive.
Choosing simplicity and agility is far from trivial. Most of our clients use our services for a common problem: Company transformation/change. Today, everything goes faster, time is short, communication channels are multiplying and tasks are more easily combined. Employees face constant work overload and bottlenecks that slow down initiatives, while at the company level, competition increases to meet the demands of an increasingly fickle customer base.
And traditional working methods in facing these challenges simply don't work anymore! Hence the need to integrate agility into our working methods and apply it to preparing our presentations.
Quésaco Agility?
No, this isn't about introducing mandatory yoga lessons to help your employees gain in flexibility and agility.  This said… yoga has its advantages! The term "agility" is on everyone's lips these days, but few really know how to define it.
Agile work methods for managing projects are pragmatic, repetitive and collaborative:
Pragmatic: Because they place the needs of the client/buyer directly in the center, allowing for a greater responsiveness to demands. Very effective in facing a fickle client!
Repetitive: Because they allow you to work in a sprint, that is to say, in short stints with short-term goals and concrete deliverables on top of it. Each sprint makes it possible to take a concrete step toward the global objective, in the pursuit of continuous improvement. Responsiveness and exemplary flexibility guaranteed.
Collaborative: Because they make it possible to involve all the members of a team through a process of co-creation where everyone is responsible and involved.
These are the assets that help us meet the challenges of our businesses today. When well implemented, agility puts an end to work bottlenecks, revives internal communication and co-creation, and responds better to client's needs.
How to switch to Agile mode?
We don't go into agile mode overnight. Agility works if everyone on the team, or even the company, lends itself to the game. And it necessarily requires a general awareness, followed by a change in culture. On your scale, it requires adopting agile reflexes that you will contribute to the overall transformation of the company:
Operational thinking: What does your client need and when? What are your means to satisfy the demands in due time? How can you divide the project into short and concrete tasks to carry it out effectively?
Short-term thinking: What are the immediate priorities? What is my deliverable for next week and how can I improve it compared to the previous one?
Collaborative thinking: Who in my work entourage can participate in the realization of this project?
Agility for presenting?
No, agility is not limited to managing IT projects. Preparing a speech or presentation lends itself perfectly to agile methods, hence the evolution towards an even more agile HUBSTORY® method.
To prepare your presentation in agile mode is to consider that you will have to go through 4 repetitive loops for an effective preparation. At the end of each step, you will have a ready-to-use concrete deliverable in your hands, which will serve as a starting point for the next step.
The pitch to clarify your ideas. At the end of this step, you will be able to answer in a clear and impactful way to the key question: "What is the idea?" And thus, give your audience the desire to know more.
Storytelling to structure your idea. The goal of this step is to build a complete, structured and impactful story that will keep your audience in suspense over time. Whether it's about briefing an agency, preparing a video script or hanging on to the thread of your speech, you hold in your hands a story that deserves to be told and listened to.
Storydesign to stage your presentation. At this stage, you include your presentation into a global experience, from the point where you were invited to speak, to the thankyous, by way of the visual aids of your presentation.
Leadership to embody your project. This 4th and last step helps you develop, under any circumstances, a sincere and committed stage presence.
By segmenting the preparation of your speech around four key moments, you never start over from scratch, you advance towards your final goal, and optimize your preparation time by favoring shorter more regular and efficient work phases. To get more details about our 4 steps, go check out our new webstite: www.zepresenters.com
So, if you're tired of getting down to your presentations the day before, not being able to follow through with your ideas or worse: if you are one of those who reassure themselves by saying that they've always done it like that, it's high time to rethink your work method and give agility a chance.