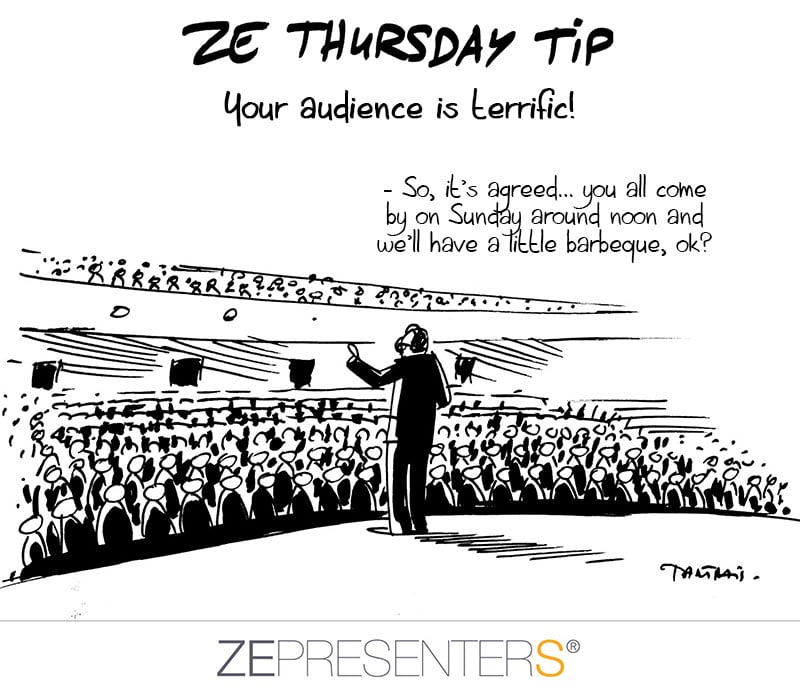 Your audience is terrific!
In the difficult area of negotiation, whether it's for commercial or law enforcement operations, public speaking is of considerable strategic importance. In any other field, such as improvisational theater, public speaking is an opportunity for verbal sparring, primarily intended to distract. As distant as they are, these two areas have one common golden rule: always value your partner. Whether we're talking to a competitor, a hostage taker or a comedian, respecting and valuing others is critical in keeping their attention, holding on to the thread of the discussion and spreading trust.
This rule is equally valid in the field of presentations. Even if your partner is actually a large gathering, remember that a compliment or a word of encouragement is always welcome. Obviously, it's not a question of being complacent or misleading, which the audience seldom forgives. But by giving value to those who listen to you, know that they will naturally, in turn, give value to what you tell them. This simple attention lays the foundation for mutual respect that can only be beneficial for your speaking engagement and how it will be perceived.
Hence beware of speakers who look comfortable and who tend to put on a "show". Even if they appear successful, by dint of their single focus on their performance, their lack of consideration may, sooner or later, be seen as arrogance. The opposite excess is also possible. This usually affects very empathetic people who tend to parent their audience. This attitude infantilizes the audience who can very quickly get annoyed.