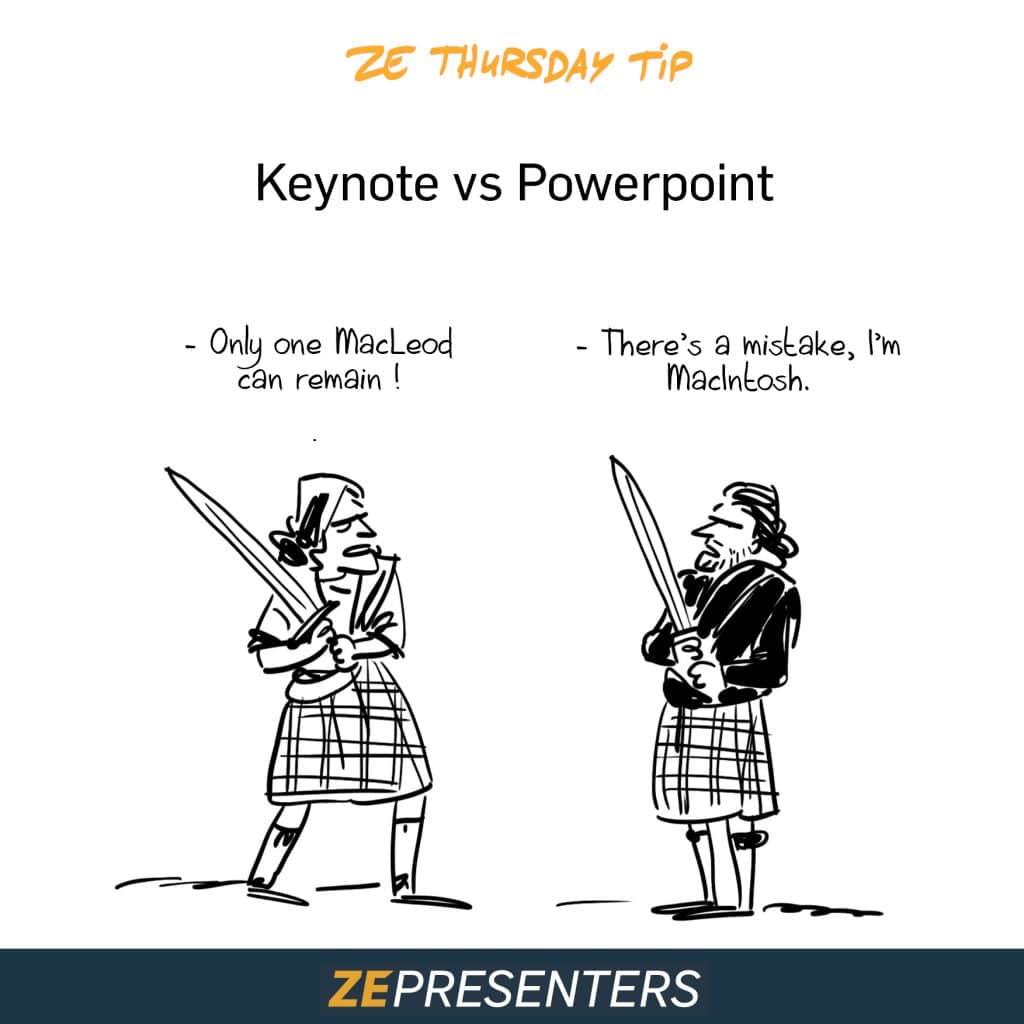 Pitting PowerPoint against Keynote means much more than comparing two software tools; it means the opposition of two companies, two strategies and two leaders who stand out for their distinctive vision.
We are regularly asked which one we prefer. But for us, the question is not about the choice of software but its usage. This is why we have decided to referee a friendly match in 4 rounds between the two titans of presentation tools, to draw out the strengths and weaknesses of each. 3, 2, 1… let's go!
Availability
Unquestionably, PowerPoint wins this round. PowerPoint is installed on probably 99% of computers on this planet, while the Apple Tool is only available on Mac. The reach of PowerPoint is well beyond that of Keynote. In line with its strategy, Apple has opted for a more exclusive and premium use of Keynote, which naturally excludes many users from its spectrum.
Simplicity
Over the years, Apple has succeeded in imposing its streamlined and simplified vision of design and user experience. Keynote is no exception to the rule. The alignments are fluid and instinctive. The features are easily accessible and the options are limited to what is really useful. A novice Keynote user can very quickly grasp the tool. The same cannot be said for PowerPoint, whose features are scattered behind a multitude of tabs and windows that change from one version of the software to another.
Power and sophistication
Simplicity has its cost: the drastic limitation of features and customized options. As for power, PowerPoint is quite logically unmatched. The richness of this tool is considerable because of the variety of options it offers and the precision of the parameters. Because of its possibilities, PowerPoint can compete with graphic design software. The only downside is that most of its functions require a real knowledge of software and thus quickly becomes very time consuming.
Staging and showbusiness
PowerPoint is the power of bullet points. Keynote is the power of staging. Steve Jobs understood before everyone else what the usage of slide design software should be to stage a presentation by optimizing the duo: speaker / slides. Spectacular visuals and transitions, dark backgrounds, sleek templates, everything about Keynote breathes staging and showmanship. Like Steve Jobs' presentations, VIP speeches are now call "keynote" talks, while "PowerPoint" presentations are associated with painful and boring moments.
Verdict: 2 to 2, the ball is in the center!
While Keynote stands out for its simplicity and staging ability, PowerPoint's strength is in its power and sophistication. In conclusion, our advice is to use the tool with which you feel most comfortable and which enables you to be more effective. And never forget the compatibility issues that you may encounter when you have a client whose hardware you are not familiar with. Finally, in terms of our personal preference at ZEPRESENTERS, our strength is to be bilingual above all and to play on the various assets of the software tools according to their use and the desired results.