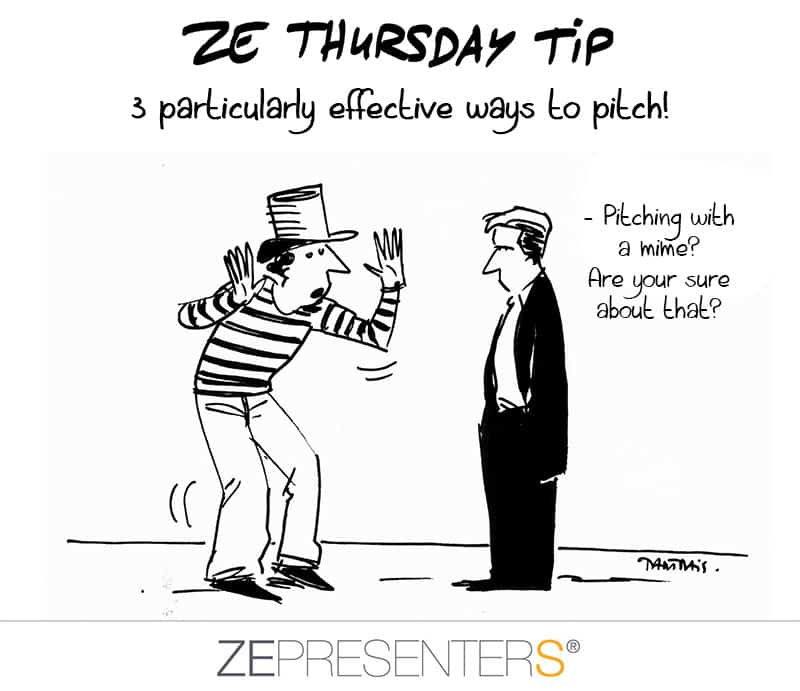 3 particularly effective ways to pitch!
Knowing the pitch of your presentation allows you to answer in a concise, clear and inspiring manner, the inevitable question that will be asked of you in a hallway or elevator: what's your idea? Being able to whip out an effective response under any circumstance will spark interest, establish your credibility and participate in leaving a strong impression of your intervention. When we regularly practice this exercise, it is precious to have a sense of the formula of your pitch. Among the many ways to pitch, three forms are particularly effective: a rhyme, a question and a single word.
Using a phrase that rhymes is particularly effective. First, a rhyme is easier to remember. Second, it has been shown that a sentence that rhymes is perceived as more plausible than another sentence with the same meaning but that doesn't rhyme. Advertising has understood this concept, using and abusing the process. Don't we say: plop, plop, fizz, fizz, oh what a relief…difficult to forget!
Another very effective technique is to pitch in the form of a question. On our website you can find the sentence: can we take the risk of badly presenting our ideas? Obviously not… One cannot be indifferent to the interrogative form because it forces you to get involved. Also, if the answer goes in the direction of your remarks, it will influence the decision making process and thus boost commitment.
The third method is to combine your idea into a single word. It is regularly used by brands to anchor an everyday word into the public's mind. Clearly the real difficulty is the extreme conciseness that must be obtained: a word. But if successful, you are certain to permanently anchor your idea. Obama used this technique in his two presidential campaigns. The first was "Hope" and the second "Forward"…
To find out more, read Daniel Pink's book: "To sell is human"