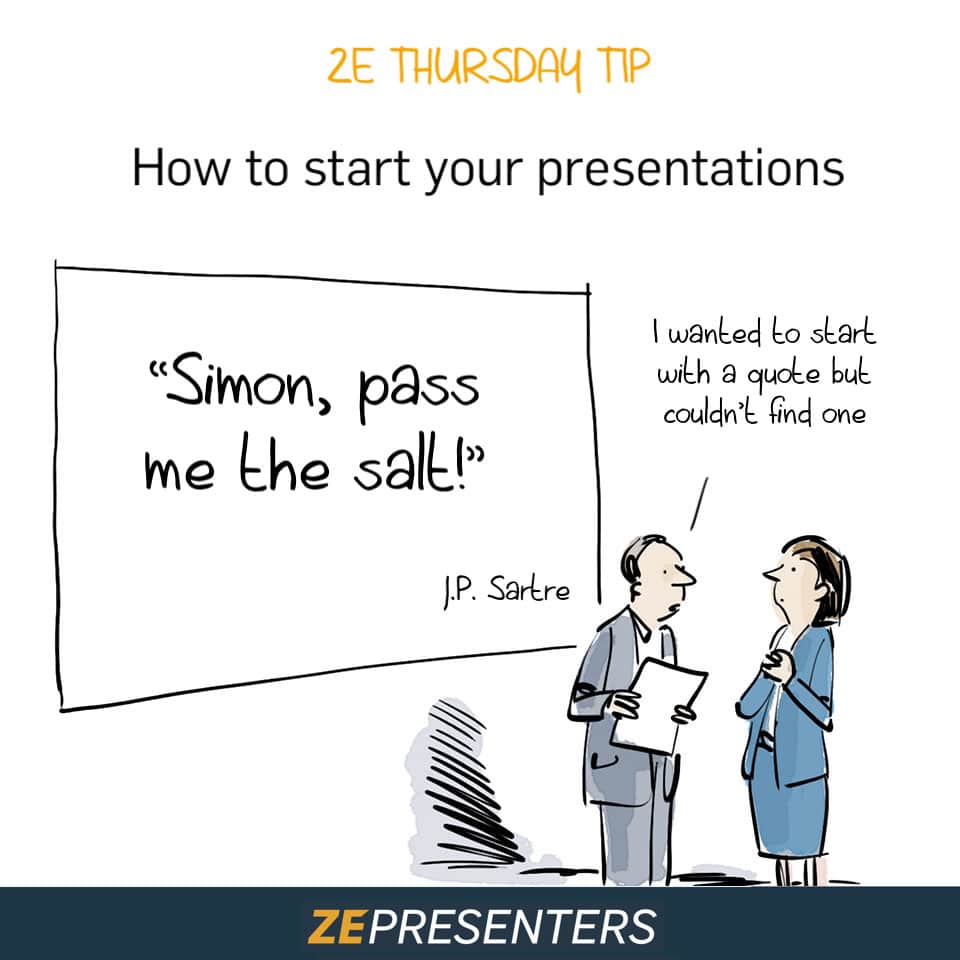 "Hello, let me introduce myself, my name is Henry…" this sentence must be banned from the start of your speaking engagements.
Your very first sentences are decisive for the rest of your presentation. Indeed, we rarely have the opportunity to make a good first impression twice. As unfair as it may seem, the first impression conditions the attention and preconceptions that we will have towards a person, whether in the professional or personal spheres.
It is always possible to raise the bar after the fact, but you might as well put the odds in your favor to avoid rowing against the tide.
We usually say that we shouldn't dwell on capturing the audience's attention, but rather focus on capturing their interest. Attention is an extremely fragile thing. It goes towards anything that makes more noise or moves more than you do; it's a natural reflex. What we need to look for is the interest of your audience, that moment when they forget that they're listening to you, so they can follow you on the path of your idea. It's a bit like when your children interrupt you during an unmissable game, a captivating series, or a latest announcement on health precautions… At this moment, any sound or visual intrusion is eliminated, as quickly as possible, in order to return to what you are interested in.
But in order for the audience to be interested in you, they need to listen to you first. This is why your first words must be carefully weighed. The long presentations of "who am I? What do I do? And why am I here?" only push back what everyone is expecting: the moment when it gets interesting!
To capture interest without straying from the purpose of your presentation, there are 3 particularly effective techniques.
QUESTION
Interacting with your audience amounts to putting out information, to make them react and/or interact with you. There are several ways to do it:
Share a figure
Ask a question
Conduct a poll with a show of hands
Affirm something
Video examples: Will our children go to eugenic schools, tomorrow? During his speech at TEDxParis 2014, Laurent Alexandre began with a powerful statement. We therefore wondered where he was heading. He then had our full attention to listen to the rest.
GET ON BOARD
Getting your audience on board means bringing them to you, to a particular subject that will prepare them to receive your message. You engage your audience by telling a story or an anecdote, by sharing a conviction or by sharing something personal. In short, it is a "soft" technique designed to spark the curiosity of your audience.
Video: Rafi Haladjian
"The internet of objects" Rafi Haladjian
This short personal story sparks our curiosity. Not only does it make you want to listen to the rest, but it quickly gives credibility to the speaker, without even talking about his diplomas or achievements.
SURPRISE
This last technique is as powerful as it is dangerous. Being bold is a good way of "playing down" a sensitive topic or handling an awkward situation. This translates into a joke, or a shocking remark or behavior, with the sole purpose of making the audience react.
Here's an example:
A guest at the Molière's ceremony, comedian Fary used humor to deal with a particularly sensitive subject: the lack of diversity in the industry. Of course, he didn't only receive compliments on his performance. However, he totally captured the interest of everyone listening to him, and much more.
Finally, there are many ways to start your presentation. The important thing to remember is to create an atmosphere that's consistent with the point you're going to deliver, while making sure to get to the heart of the matter as quickly as possible.