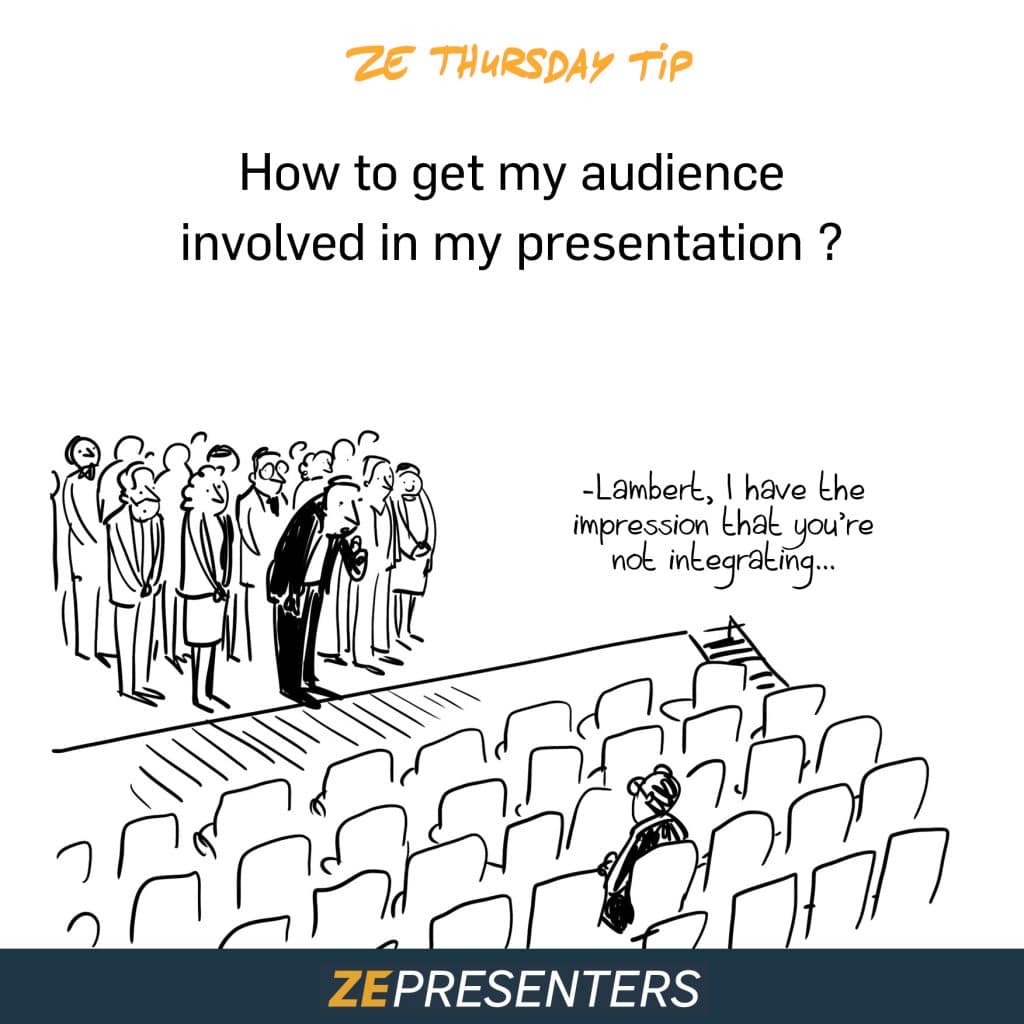 How to get my public involved in my presentation ?
When you present, you are not there to put on a show; you're there above all for your audience. If this concept is not at the heart of your concerns you risk missing the mark. Indeed, a good presentation is one that involves the audience. And to involve your audience nothing beats following these 4 steps methodologically:
1- Formulate the problem your audience faces
To get your audience involved in your story, you need to make it feel like you understand it. The best way to do this is to build a presentation that responds to the problem it faces. To put your finger on it, ask yourself the right questions: what prevents my audience from sleeping at night? What is the problem that brought us together? In what way does my idea enable my audience to get back to sleep? By answering these questions, you directly engage your audience and put all the chances of capturing its interest on your side.
2- Identify the common cause
Now that you have captured the interest, you will have to present your idea as a solution to the problems your audience faces. But this is not enough. It is also necessary that the implementation of your ideas becomes an opportunity to defend a common cause, the objective being to obtain a "yes, that makes sense!" from your audience. This cause can be a fight, a quest, or a conviction. Whatever the nature of the case you are defending, the more it affects your audience, the more it'll feel involved in your presentation.
3- Remove any resistance from your audience
Knowing how to involve your audience is also knowing how to put your finger on what blocks. Indeed, your audience probably has objections that will have to be answered to. In order to do this, try to answer these questions: what is my audience resisting to? Is it rational or emotional? What arguments will I use to alleviate the resistance? Never forget that the resistance of an audience is a gift. It allows your arguments to be heard while taking care of your audience at the same time.
4- Anchor the benefits for each beneficiary
Finally, in order for your audience to feel completely involved in your presentation, you will have to show them what they have to gain with your project. To do this, link it in relation with you, your team, or your company, by showing the benefits that your project will bring to your audience (figures, performances, key arguments…). By doing this, your audience will leave with clear ideas about what your project will bring.