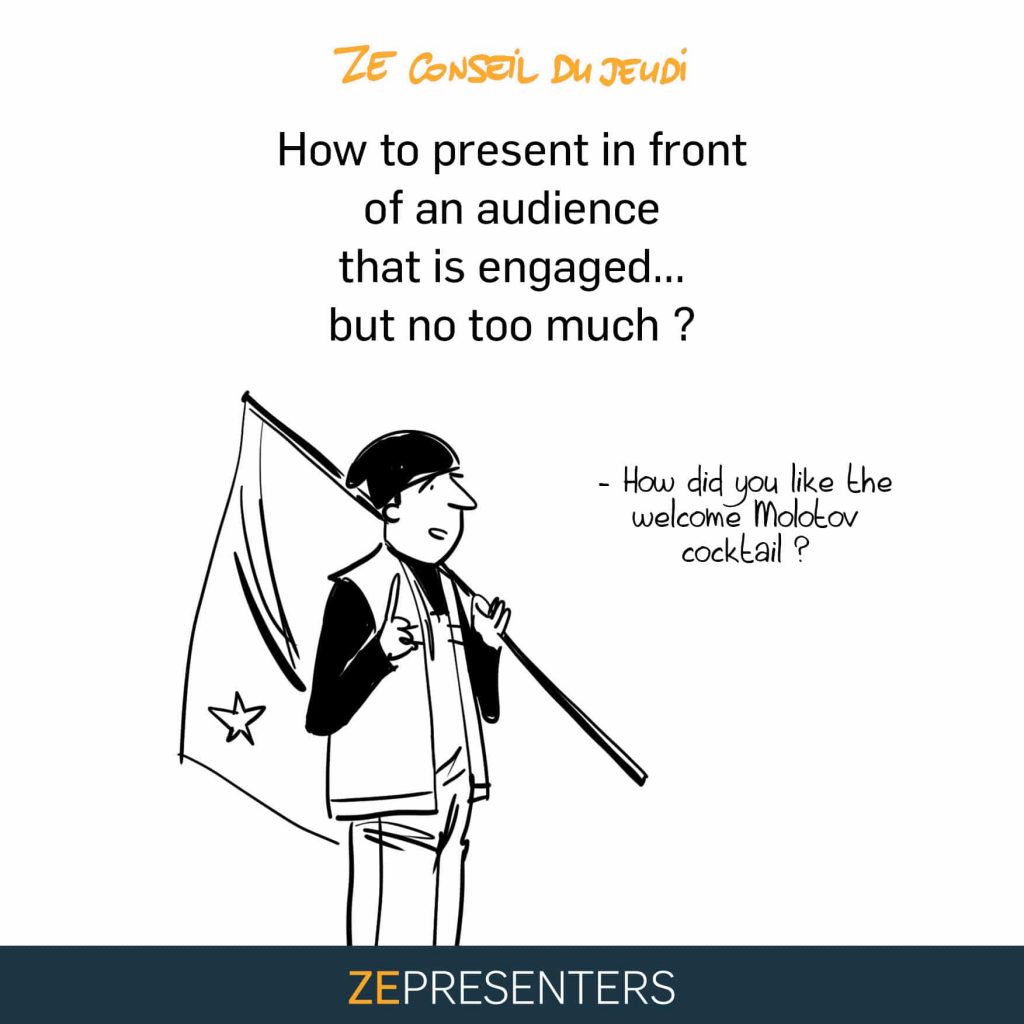 Can an audience be "too easy to please"?
After having overcome the challenge of a hostile audience last week, you feel invincible, ready to conquer any audience, assuming that no matter what happens, you have lived and conquered the worst and that therefore, nothing can stop you.
If it's true that presenting in front of a hostile audience – because of the stress that it generates, – can prove to be a real test of leadership, be careful not to approach a presentation before a more benevolent audience like a walk in the park!
Because, on the other side of the audience spectrum, hardships remain to be overcome. Here again, anticipating and understanding the profile of your audience, in order to adapt accordingly, is crucial in generating the commitment and the desired approval you're seeking. The good news in facing a rather positive and engaged audience is that it already likes you and that its preconception of you is by definition rather good. But the bad news for you is that you are more likely to disappoint an audience in your favor than an audience that doesn't like you at first. The stakes are high and you will have to consider them to meet the expectations of your audience.
There are two types of engaged audiences: the influenceable, who appreciate you but can easily change its mind; and the fervently convinced, firm in its position, it likes you, full stop!
MY AUDIENCE IS ENGAGED BUT NOT TOO MUCH
It's an audience that already likes you a lot, that's a fact. But, it's not a given! If the opportunity arises, this is the type of audience that could easily change its tune and go see if the grass is greener elsewhere.
Your mission during your speech will be to reassure your audience. You will need to draw on a shared past, all your shared success, to maintain the flame of trust and confirm that yes, your audience is right in subscribing to your project. If your audience is soothed by its choice, it can easily project into the future with you.
MY AUDIENCE IS ENGAGED, PERHAPS TOO MUCH?
This audience loves you more than anything! It loves you, supports you, drinks your words and admires you! But beware of taking it for granted. It may not require much effort, but you cannot afford to trivialize that trust.
A committed audience is a gold mine, in which you have to invest. Motivate it, fuel it, offer it new challenges and you will see that naturally, its energy and passion will lead new and precious "fans" in its wake.
The main idea behind this tip, is to adapt to your audience and make each speaking engagement an opportunity to nurture the relationship with those who trust you.