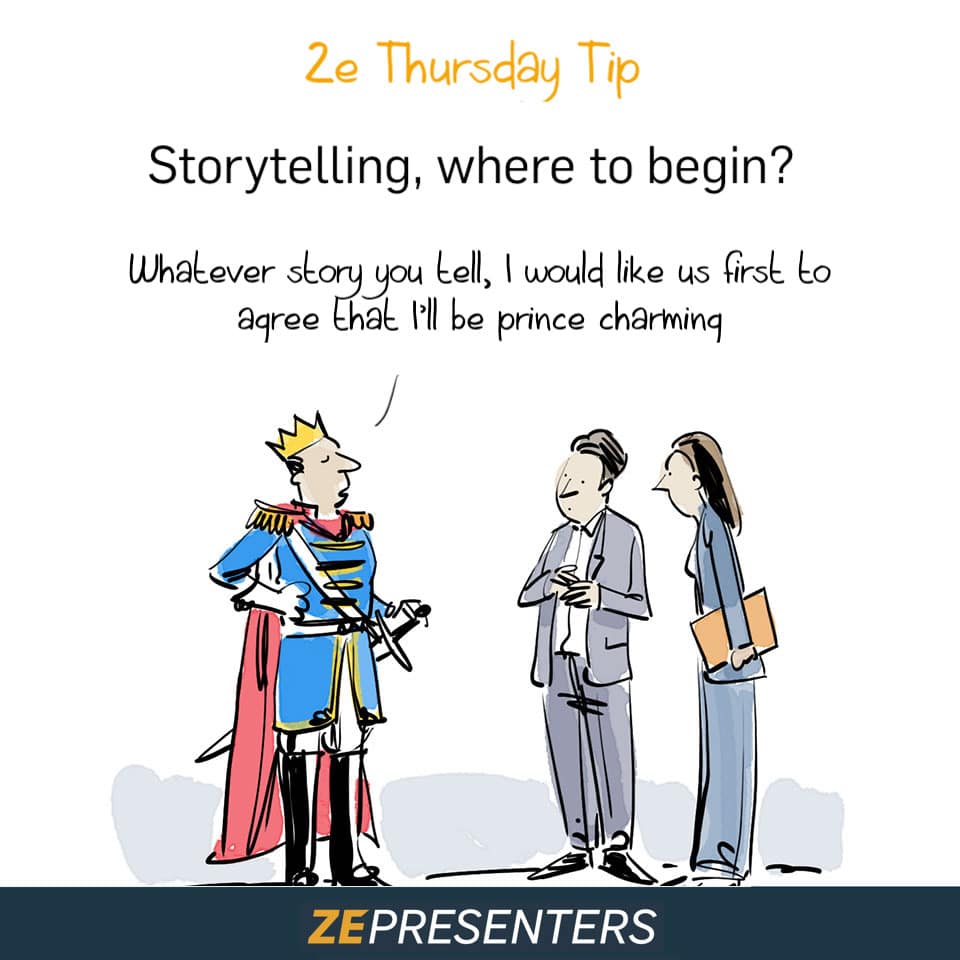 STORYTELLING: WHERE TO BEGIN
If you don't know it yet, storytelling means literally giving a speech with a narrative structure. Recognized as a technique at the end of the last century, storytelling is everywhere today. Advertising abounds in it, marketing abuses it and it is becoming more and more entrenched in companies. In fact, long used in providing feedback, this practice in now becoming common in advance of the debriefing phase, particularly during the launch of a product or project.
Though sometimes controversial, under the guise of "BS" or manipulation, storytelling has established itself in recent years as a major method of communication in business. Because, whatever the issue, communicating through storytelling has become essential in leaving an emotional trace (link to storytelling tip: a trendy practice?) – verifier le titre en anglais) with your audience and make them want to know more.
When we created ZEPRESENTERS in 2013, companies didn't have an operational method to apply storytelling in the field of public speaking. This is why we created the HUBSTORY® method (link site), that enables you, step by step, to transform your idea into a clear, inspiring and embodied story.
Here are 3 tips from this method to ask yourself the right questions and concretely apply storytelling in your business.
1 – Start by identifying your promise of change
Every story is a story of change. This method is powerful because it allows you to approach your topic not as a series of ideas to share, but as a real promise of change for those listening to you. The stakes here are therefore to know the following:
What will the topic of your presentation change for those who will listen to you?
What change in how your audience feels? Perhaps through the emotions you'll share?
What change in what your audience thinks? What can this speech change in the way people perceive things?
What change in what your audience does? What people need to implement now, what are you expecting of them?
With these questions in mind, it is possible to directly measure the impact of a speech on your audience. If you've changed the way people feel, you'll see it in their eyes. If you've changed what people think, you'll see more questions, more interest, more interactions. And if you've changed what people do, you'll immediately see it in their actions.
2 – Start by structuring your story
Once you're clear on your promise of change, all that remains to do in your speech is to tell the story of that change. To help you structure your speech, you can ask yourself 3 questions:
What keeps my audience up at night? This question helps highlight your audience's problem and value the need for change. It helps build an intro that capture's your audience's attention from the first few minutes.
What is your promise of change? The answer to this question makes it possible to concretely express what will change and how it will be put into place. This is about developing your presentation.
What can be gained? This third and final question helps build your conclusion. Here you'll share the consequences of the change – the results, the KPIs – as well as the new opportunities brought about by this change.
Nota Bene ! This structure is only effective if you don't destroy your story with some bad practices. It is therefore essential to know which traps to avoid!
3 – Start by getting into conversation mode with your audience
The stage fright associated with speaking in public often leads the speaker to focus solely on his/her own feelings. Will I remember my text? Will they notice I'm shaking? Getting into conversation mode with your audience means putting the comfort of your audience before your own.
So, just like a conversation with friends or colleagues, ask yourself these questions:
Are they listening to me? In other words, ask yourself if they're in the right physical and mental state to receive your message. Your audience's discomfort doesn't have to be explicit. If you perceive any discomfort, you can always look for the cause behind it.
Do they understand me? Here, ask yourself if the message you want to share is accessible and understandable by everyone. If not, invite your audience to ask questions, so that you can clear up any misunderstandings or incomprehension.
The more attention you pay to your audience, the more attention they'll pay to you in return. Attentiveness will enable your message to be understood, remembered or even shared.
And, it you need support to get started, our HUBSTORY® workshops and training sessions are here to help!